9 of the Best All-in-One Nonprofit CRM Software Solutions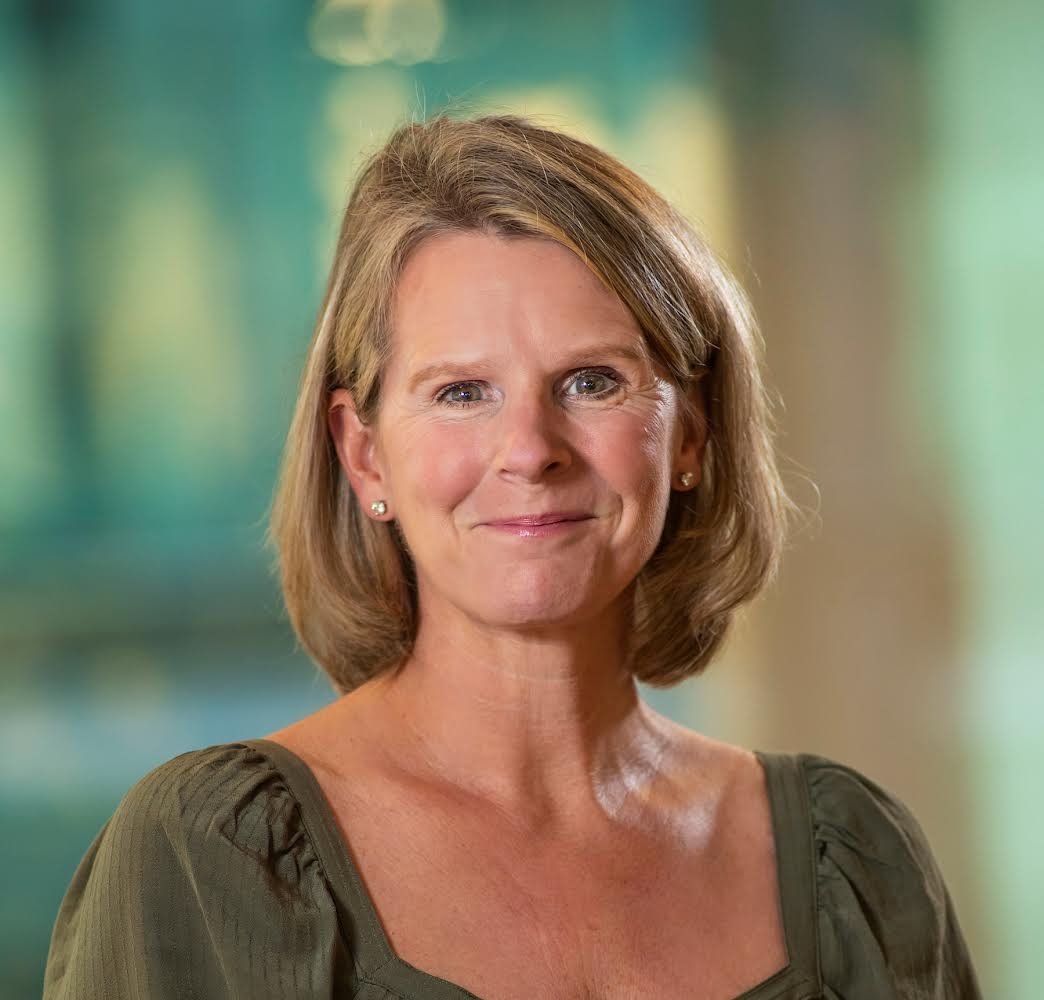 by Julie Kennon
Thinking about a new CRM? Here's a list of companies to consider. This article will help you find the perfect technology for your nonprofit!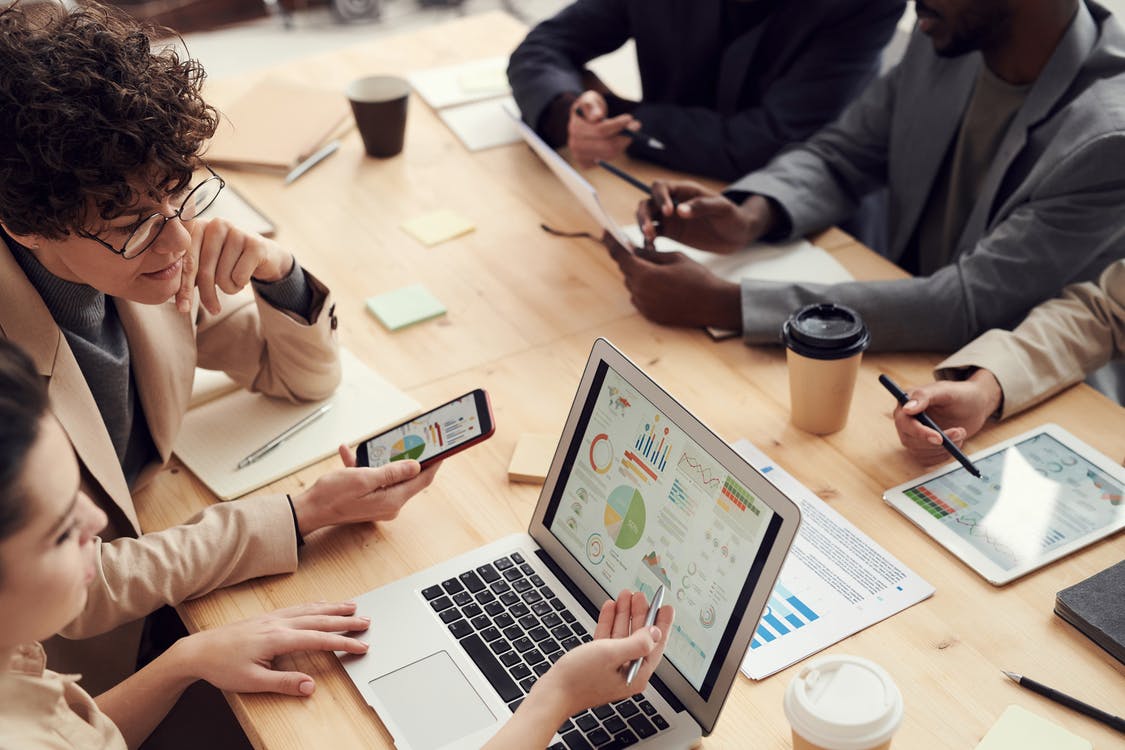 Maybe you need a new Constituent Relationship Management (CRM) platform. Maybe you don't have a donor management system and need to look into your first CRM solution. You've done your research; you have a general idea of how to select a nonprofit CRM and you might have even looked into how much a CRM might cost. Now you're ready to shop! But what are your options? Which are the best nonprofit CRMs out there?
We've been helping nonprofits with donor management solutions since 2014 and we have a great product. But there are also some other vendors offering excellent solutions. Our goal is for technology to help nonprofits change the world, so we're happy to help you create a shopping list.
So here's a guide to the best nonprofit CRMs. You can also read a guide that focuses on the selection of a CRM. We will point out which ones might be a good fit for you depending on what you need. And remember that your CRM has to be a workhorse if you will use it for daily donor management, common outreach campaigns, and even all-hands-on-deck year-end campaigns.
After reading this, you'll be an educated consumer, ready to match your pain points to the right CRM solution. Your next step is to contact any of the companies that seem suitable and book a demo so you can see their software in action.
What Do I Need to Know Before Searching for a Nonprofit CRM?
Just as it's wise to take stock of your kitchen and make a grocery list before you head to the market, it's important to look at your organization and make a list of CRM features that will solve your most pressing problems. Here are some questions to consider before you read any further:
What are my biggest goals? Start with your mission statement and drill down into specific priorities until you have a clear list.

What does my nonprofit look like? How many contacts do I have, how many emails do I send, and what's my revenue?

What are my most important upcoming initiatives? Will I need email automation, peer-to-peer fundraising tools, or advocacy software?
Knowing the answers to these questions will frame your list and help you decide which of the following CRMs check the right boxes.
Key Nonprofit CRM Features to Look For
While most CRMs come with basic data management and communication features, not every solution comes with the complete toolkit you need out of the box.
For most nonprofits, an all-in-one solution will fill your organization's CRM needs in addition to fundraising, payment processing, communication, major gift management, and more.
Let's dive a little deeper into these key nonprofit CRM features.
Payment Processing
Do you really want to process donations externally? When your CRM features a built-in payment processor, you can ensure successful and secure processing and timely information updates.
An effective built-in payment processor will enable your organization to:
Automatically update credit card information. With a built-in payment processor, you can automatically update your donors' credit card on file when it changes or expires. The CRM should recognize the same donor giving with a new card, enabling you to add that card to your existing records.
Securely process donations. When assessing security, be on the lookout for PCI-compliant and PCI-certified payment processors. Of the two, look for a provider with a PCI certification. This means the provider has been evaluated and tested by a third party to ensure their security meets the highest standard possible. In comparison, PCI-compliant testing is more frequently completed in-house.
Significantly reduce costs. A built-in processor can significantly reduce payment processing costs by cutting out third-party fees.
In addition, by creating a seamless flow of billing data into your CRM with a built-in payment processor, you'll have a complete 360-degree view of all of your financial information for accounting purposes.
Communications Management
Your CRM should make it easy to segment your donors and communicate directly with them through multiple channels. When looking at a new nonprofit CRM platform, look for tools that allow your organization to leverage:
Email campaigns. Be sure you can personalize the emails by automatically populating your supporters' names in the header based on their profile in the CRM. Ensure your CRM offers email customization to represent your organization's brand.
Direct mail marketing. Direct mail isn't dead! A combination of both direct mail and digital strategies helps build multiple touchpoints with supporters, establishing brand recognition and allowing for more calls to action.
Automated messages. Make sure you're able to immediately thank donors for their contributions by sending a quick confirmation email right after they give.
Instead of transferring contacts and donor segments to a different software solution for effective communication, nonprofit CRMs with robust communication management tools can pull contact information directly from the supporter profiles.
Major Gift Management
Whether your nonprofit has one hundred or one hundred thousand supporters, you've likely noticed that the bulk of your funding comes from a handful of donors. In fact, most nonprofits receive approximately 80% of their funding from 20% of donors through major gifts.
With so much riding on your nonprofit receiving major gifts, your CRM should support your efforts with features that make it easy to track these gifts from beginning to end:
Beginning of the engagement. Very few major gifts are given by an anonymous stranger. Most major donors start as average donors, making a contribution to a cause they believe in.
Prospect research. Your CRM should integrate with a prospect research database. This will help you identify supporters who have the potential to become major donors.
Cultivation. Once you've discovered prospective major donors, begin stewarding a relationship with them. The cultivation phase is a direct attempt to build and steward a relationship with a major prospect. Your CRM will allow you to track each interaction with supporters, helping to build and document the relationship.
The gift. Record mid-tier and major gifts in your CRM under the donors' profiles. Be sure you thank them and determine the next best steps to continue furthering these relationships.
Major gift cultivation requires a human touch, but your CRM should help record and manage your efforts. While simple solutions with less functionality may appear less expensive upfront, the truth is that an all-in-one solution can earn your nonprofit more in the long run.
9 Top Nonprofit CRMs to Explore
Without further ado, to help you explore and find the right CRM for your nonprofit, here are eight solutions to consider.
Best Nonprofit CRM for Donor Retention: Bloomerang/Kindful
Bloomerang was founded in 2012 and prioritizes donor engagement and retention. Clients can easily embed customized online giving forms on their website and create and launch email marketing campaigns to reach donors. For an additional cost, Bloomerang can integrate with DonorSearch to offer an Engagement Meter, which gives you an overview of a donor's engagement with your organization, and a Generosity Score, which scans publicly available data to help you identify top prospects among your constituents.
The selling point of Bloomerang is donor retention. With the ability to build smart reports, mine social networks for insights, and integrate with almost any content management system, Bloomerang is a good choice for small and growing nonprofits. The company recently acquired Kindful to manage fundraising tools and says that the combined companies have 200 employees and support tens of thousands of nonprofit professionals around the world. As we would note with any acquisition or merger, the user experience can be a little rocky until things are settled.
Bottom line: if you're a small nonprofit and donor retention is a concern, Bloomerang/Kindful might be a good option.
Best Nonprofit CRM For Democratic and Liberal Organizations: Salsa/EveryAction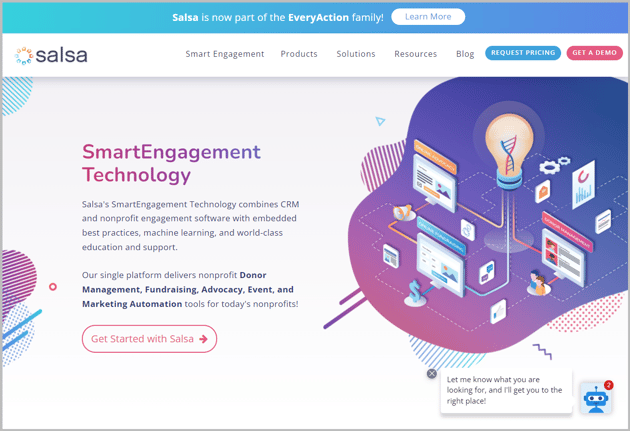 Salsa recently announced that it has joined the EveryAction family, making EveryAction the second-largest nonprofit software company. Due to their corporate structure, both Salsa and EveryAction systems will not support organizations labeled conservative or right-leaning. For the foreseeable future, Salsa will continue to offer donor management, fundraising, advocacy, event, and marketing automation to nonprofits.
There are three different product buckets with Salsa:
SalsaEngage

offers a nonprofit engagement system without the CRM. Clients have access to online fundraising, multi-channel advocacy, digital marketing, and peer-to-peer fundraising. This offering can integrate with most existing CRMs.

SalsaEngage for Salesforce

is for clients who use Salesforce and will benefit from tight integration between Salsa and Salesforce. You can customize the integration to meet your requirements and there's a smart content matching feature to make sure you don't have duplicate records.

SalsaCRM + SalsaEngage

combines donor management software (the CRM) with SalsaEngage. Clients can build donor profiles, run reports, and track all donor engagement. It's worth noting that these solutions do integrate several independent solutions, so you need to know you're dealing with different systems as some clients want a seamless all-in-one solution.
EveryAction offers tools focused on phone banks, giving days, and outreach to political action campaigns.
Bottom line: If your corporate politics don't disqualify you and you anticipate needing more than just a CRM, the backing of EveryAction means that Salsa can do more than just donor management.
Best Nonprofit CRM for Small to Midsize Organizations: Neon One
Neon One specializes in small to midsize nonprofits. How to know where you fall? Go back to the questions you asked yourself. We tend to think of small to midsize nonprofits as having fewer than 100,000 contacts and less than 500,000 emails a month, so if you fit in those parameters, you might be a good match for Neon One.
There is an extensive product suite available through their ecosystem of integrated, separate systems and you can match up with different products. For example, there's a CRM, fundraising software, "giving days" technology, a membership management solution for both nonprofits and associations, and software designed to support the impact of performing arts. They offer workflows for clients, meaning you can match the standard workflow with what you're trying to do, such as welcome a new donor. There are many options, but these aren't customizable and might be limited to the number of workflows included in your subscription.
The company just launched a rebrand to reflect its recent growth. Neon One includes four different software companies, seven unique products, and more than thirty integrated partners, and they're focused on growing their ecosystem of products, integrations, consultants, and resources.
Bottom line: If you want a large company and need a broad range of tools (and don't mind that the tools come from third parties and aren't native to the CRM), Neon One might be a good fit.
Best Nonprofit CRM for Custom Reports: DonorPerfect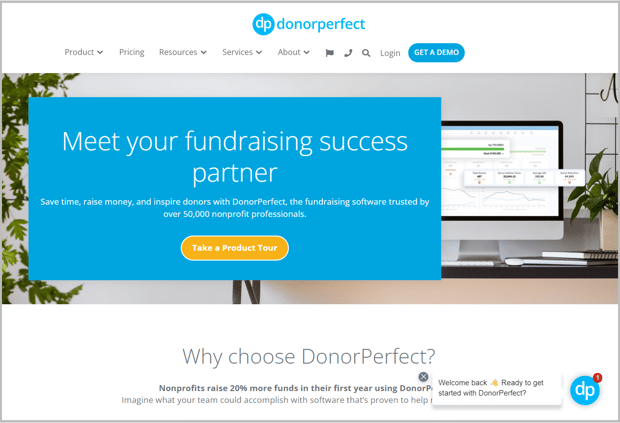 DonorPerfect offers donor management and fundraising tools that allow nonprofits to manage donors, raise money online and offline, and automate administrative tasks, all in the same CRM. It features a large network of partners to provide solutions that range from prospect research to auctions to website management. The organization's reach extends throughout the United States and Canada and to the United Kingdom.
Clients like the ability to select parameters for reporting and the fact that they can create campaigns through partner sites such as Constant Contact. Recently, the company has branded their Donor Perfect Processing, but it's important to note this isn't an all-in-one solution as they still utilize a third-party payment processor.
Bottom line: If you know your way around CRMs and know how to set up and maintain records, DonorPerfect will provide the technology.
Best "Smart" Nonprofit CRM: Blackbaud/Raiser's Edge
Nonprofit professionals have likely heard of Blackbaud and their comprehensive CRM, Raiser's Edge. Raiser's Edge offers cultivation tools to find new supporters, analytics to offer donor insights and "smart" recommendations, and data enrichment services that help you complete missing donor data. Raiser's Edge is a solid off-the-shelf CRM; they use significant integrations to offer extensive functionality, but the system isn't highly customizable. Raiser's Edge NXT is a cloud-based product for medium-sized nonprofits.
Blackbaud owns and provides separate fundraising and donor management tools for different size nonprofits. Offerings include Blackbaud eTapestry®, which offers a simple fundraising and supporter management solution to small nonprofits, and Blackbaud Altru®, which offers ticketing, fundraising, and membership management software.
Recently, Blackbaud has branded their payment processing as BBMS (Blackbaud Merchant Services) but uses separate third-party systems to process payments behind the scenes.
Bottom line: If you like the growth strategy of acquiring companies when there is a gap in a suite of products and you have the capability to customize and troubleshoot in-house, Blackbaud should stay on your list.
Best Nonprofit CRM for Tech-Savvy Organizations: Salesforce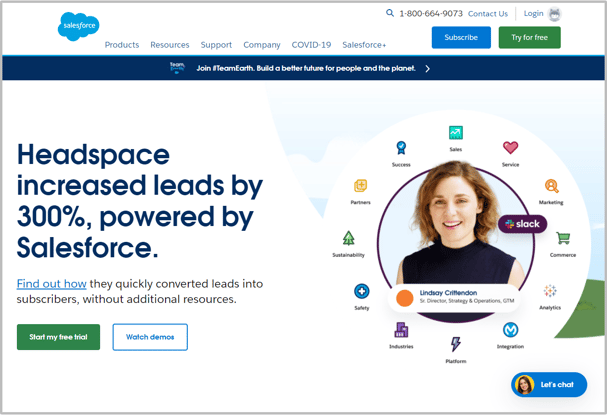 Considered by many to be the most well-known CRM for sales, Salesforce integrates well with third-party systems but will need to obtain a variety of separate subscriptions to operate. Clients can use the Nonprofit Success Pack to customize Salesforce for nonprofits; this solution is then known as the Nonprofit Cloud. Salesforce is relatively new to the nonprofit space (having launched this solution in 2018), but they've been an industry mainstay for more than 20 years.
Software-developer-level of knowledge is required to make any adjustments or configurations to Salesforce, which is not always available for small and mid-size nonprofits.
Bottom line: if you've got a large organization and you have in-house IT/software developers on staff, you might want to consider Salesforce's nonprofit services.
Best Nonprofit for Continuous Improvement: Virtuous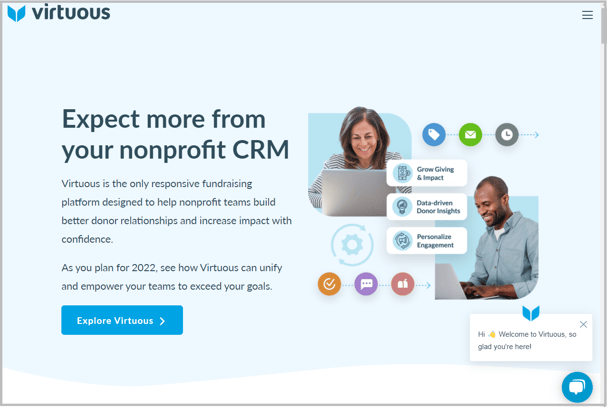 Virtuous offers fast data entry, data health tools, and process automation. An all-in-one CRM, Virtuous does use a significant network of partners to provide full functionality. Clients like that the platform is always improving and Virtuous is often offering fixes for various bugs and quirks. The company doesn't have a native reporting tool but offers that functionality for an additional fee.
Bottom line: Virtuous has a solid CRM and they're constantly evolving to meet customer needs.
Best Nonprofit CRM for Building Your Website: Classy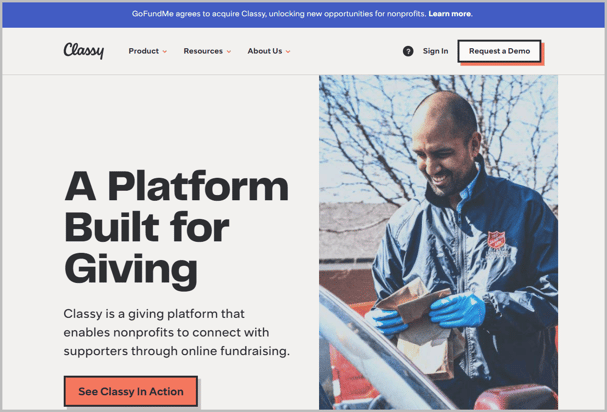 Classy, recently acquired by GoFundMe, calls itself a platform built for giving, and it does this through forms and payment processing. Classy is not a CRM but integrates with a variety of systems, including Raiser's Edge and Salesforce. The company offers several options for third-party payment processing so you can compare rates to find the lowest option.
Bottom line: if you want forms and e-commerce on your website but don't need a full suite of donor management services, Classy could be a good fit for you.
Best All-in-One Nonprofit CRM: CharityEngine
Of course, we don't think a list of the best all-in-one nonprofit CRM solutions is complete without adding CharityEngine to the list. CharityEngine is the only fundraising CRM with native tools, making it a true all-in-one solution. This helps you leverage data to enrich donor relationships, raise more money, and increase your impact on the world.
CharityEngine's clients have missions that serve causes as national as Wounded Warrior Project to those who are more focused and local, like Shelby Humane Society, Built exclusively for fundraisers, CharityEngine offer large-scale email and marketing automation capabilities, tools to amplify monthly giving, and competitive, secure payment processing.
Bottom line: if you're looking for an all-in-one nonprofit CRM that includes large-volume email automation, reporting and advanced analytics, and enterprise billing and payment processing, take a look at CharityEngine.
That's a lot to consider. Is a nonprofit CRM worth it?
As you have read, there are a lot of CRM options out there for nonprofits. And we can honestly say there aren't any bad choices! Our industry is a friendly one behind the scenes, and we think all our competitors do a good job. Finding the system that will best suit your needs might take a little shopping, but we can promise a good nonprofit CRM is well worth the effort.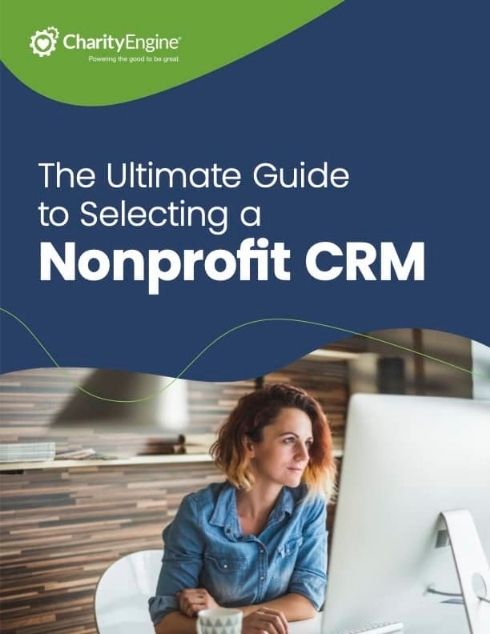 Topics:
Published on February 15, 2022