Events are a key part of your nonprofit's fundraising strategy. Not only do they help you raise money as a part of your campaigns, but they also provide an opportunity for stewardship to help your supporters feel more involved with and connected to your mission.
How can your organization make sure your next event runs as smoothly as possible? The first step is to ensure your event management software stack is complete.
Your software stack should be comprised of solutions that are customized for the specific needs of your organization. That's why we've compiled our favorite event management software into this article and organized them by the type of event or organization that would most benefit from each solution. Use the navigation below to jump to software solutions that best apply to your organization's needs:
Completing your nonprofit's software stack ensures the planning of your event goes smoothly. But it also helps ease the registration process for your attendees and streamline the processing of important data between software systems.
Ready to learn which one of these solutions for event software for nonprofits will complete your nonprofit's software stack? Let's dive in.

Our Favorite Nonprofit Event Software: CharityEngine
Overview of this fundraising event software
There's a lot that goes into nonprofit events. As you work to maximize your fundraising, stewardship, and overall impact of your event, you'll realize how many tools you need to ease the process of planning an event from start to finish. Luckily, CharityEngine offers features that will help streamline this entire process.
Your organization can organize everything you need within the same solution, a unique aspect of this software that especially helps nonprofits accurately report metrics about your event from the beginning to end.
For instance, when someone purchases a ticket through a CharityEngine event page, that information will automatically transfer to your digital guest list. Then, you can quickly and easily see how the additional attendee will impact your venue capacity, food and drink orders, and the marketing material list segments.
CharityEngine is also a CRM, where you can record information such as the number of events a donor attends, the additional gifts donated at such opportunities, and other interactions they've had with your organization. This provides a holistic view of their engagement levels.
What nonprofits love about this event management software
With CharityEngine's robust event management tool, you can plan out each and every detail of the event preparation process. For instance, these tools will help your nonprofit:
Raise money before the event.

Set up a peer-to-peer fundraising campaign leading up to your event. Get a headstart as you work towards your fundraising goals while marketing and spreading the word about event registration opportunities.
Create a landing page for registration.

As you send out marketing materials in emails and social media posts (also through CharityEngine), you can link back to an event registration/ticketing page that is branded to your organization.
Keep track of event details.

Plan out all of the important details about your nonprofit's event in advance. For instance, keep track of information such as the event location, venue, and speakers. Plus, if you're hosting an auction, track the various auction items and bids in a single location!
Check on data regularly.

CharityEngine's comprehensive reporting and workflow automation make it easy to manage the intricacies of your events with detailed dashboards and analytics reporting.
With extensive tools to help you manage your upcoming event, your organization will also collect a lot of data to help you gain further insights into your nonprofit supporters as a whole.
Working with CharityEngine provides the tools your nonprofit needs to encourage supporters to embark on and continue their donor journey with your organization.
Key takeaway
Many organizations have many different software solutions to help them accomplish various aspects of their nonprofit strategy. But when every aspect of your nonprofit's strategy works together to help reach your goals, why shouldn't your software do the same thing?
CharityEngine provides an all-in-one solution that will not only help your organization manage your event but also show how that event plays a part in your larger nonprofit strategy.

Nonprofit Event Software for National Organizations: Blackbaud
Overview of this fundraising event software
Blackbaud is a world-renowned software provider for nonprofit organizations. Their many solutions integrate with one another, creating an entire software ecosystem.
With a complete ecosystem of solutions, your organization's event data will be recorded alongside the other important metrics. National organizations and large nonprofits benefit from this type of system because it helps better incorporate event plans as a part of the larger organizational strategy.
What nonprofits love about this event management software
As we stated before, Blackbaud has many different products to choose from, all of which integrate together. Typically, Raiser's Edge is the first solution these organizations invest in, launching their relationship with Blackbaud. Raiser's Edge is a donor management and fundraising solution that integrates with other Blackbaud event management tools such as:
JustGiving.

JustGiving powers Blackbaud's peer-to-peer fundraising platform. This smaller platform is built for nonprofits who have just gotten started with Blackbaud. It integrates with Raiser's Edge and makes it easy to raise money leading up to your event.
TeamRaiser.

TeamRaiser is Blackbaud's comprehensive event platform. With both peer-to-peer fundraising and event management tools, your event will be better managed and information communicated between systems.
Luminate Online.

Luminate Online is Blackbaud's marketing platform. With this tool, you can easily get the word out about your organization's event. Plus, you can reach out to your peer-to-peer fundraising donors due to integrations to encourage them to also attend the event.
Raiser's Edge will help your nonprofit get started collecting donations for your event, and integrating with other tools will help your organization plan the event for success.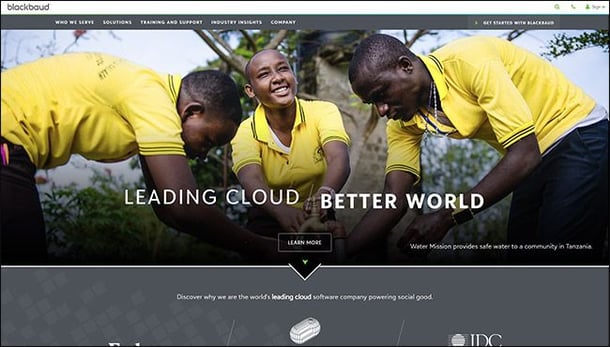 Key takeaway
Large national nonprofit organizations find it easier to invest in a complete Blackbaud system. When you have all of the proper tools, you can effectively organize events and incorporate them into your larger strategy. This system takes some extensive budgeting to obtain all of the relevant Blackbaud tools. However, once you have everything you need, Blackbaud will enhance your event management strategy all-around.

Nonprofit Event Software for Professional Organizations: Cvent
Overview of this fundraising event software
If you've done any research about event planning, the name Cvent has probably crossed your path. It's an incredibly popular platform for various organizations.
Specifically, this platform tends to be most effective for professional meetings, conferences, and similar get-togethers. Organizations like professional associations find the extensive features offered by Cvent to be helpful tools when gathering people from around the country or around the world to work together to develop individual professional skills and networks.
What nonprofits love about this event management software
Larger events often run into the issues of not having enough functionality in lightweight event management solutions. They need a more robust solution to manage all of the different aspects of the event such as:
Room block management.

If you have various speakers that will work in multiple rooms at your conference or event, plan out those blocks and streamline the communication process with the venue managers.
Travel details.

Coordinate travel details such as hotel rooms for your speakers or attendees to help your organization stay within budget.
Post-event surveys.

Send out a survey after the event to your organization's attendees for feedback about the event itself and how you can make it better next year.
Cvent takes the standard event management tool to a new level with additional features that make it perfect for large events.
Key takeaway
Associations and other professional organizations find Cvent to fit all of their needs when it comes to organizing a large networking or educational event. If you're hosting a big event with lots of intricate, moving parts, check out Cvent for your next software solution.

Nonprofit Event Software for a Time Crunch: Eventbrite
Overview of this fundraising event software
If your organization is short on time, Eventbrite is a great event software solution to get you started quickly and easily. Eventbrite makes it fast and easy to configure your event registration page and start selling tickets fast.
If you're hosting a free event, Eventbrite is also free!
What nonprofits love about this event management software
Eventbrite's event management software makes it easy to quickly configure an event page with all of the details about your event. With Eventbrite, your organization can:
Sell tickets online.

Link back to your core registration page so that people can buy your tickets in advance.
Sell tickets at the door.

Instead of relying on everyone to pay online beforehand, be sure you're ready to also sell tickets at the door.
Mobile ticketing.

Mobile ticketing allows your organization to save paper by sending a QR code straight to your attendee's phone.
The multiple ticketing options offered through Eventbrite make it a useful platform for selling. Plus, the ease of creating new pages makes it one of the fastest options to get started on your event.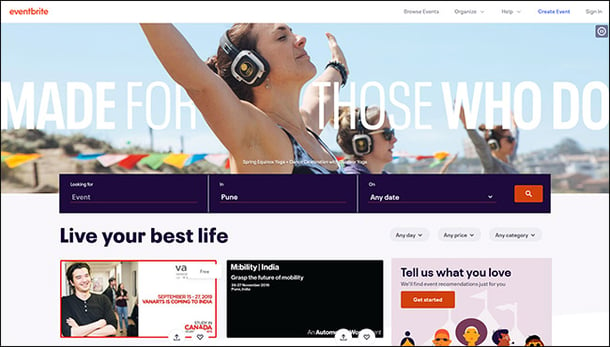 Key takeaway
Eventbrite offers the essential core features that any nonprofit needs to launch their event off right. But it's more than that! It's also a platform where you can post about your event, providing additional marketing for your organization.

Nonprofit Event Software for Small Nonprofits: Brown Paper Tickets
Overview of this fundraising event software
Brown Paper Tickets is a fair trade ticketing company. This event management software is designed to make it easy for small organizations or individuals to plan and execute events quickly, easily, and on their own.
This simplified, do-it-yourself system makes it easy to get started. Plus, their 24/7 support staff will help you with any questions you may have.
What nonprofits love about this event management software
Brown Paper Tickets has all of the features small nonprofits need to get started with their events. These features include:
Mobile Ticketing.

You can offer barcoded mobile tickets on the mobile phones of your ticket purchasers. Your event attendees can even purchase tickets for their friends then easily send the extra mobile ticket straight to them.
Add-On Donations.

Your nonprofit can collect donations in addition to or independently from ticket sales. Plus, there are no fees associated with these donations so long as your organization has access to a payment processor.
Event Promotions.

Brown Paper Tickets has their own daily email list, alerting tens of thousands of people about your event. Plus, their staff is happy to help provide advice about any other event management questions you may have.
Website Widget.

Include the Brown Paper Tickets widget on your nonprofit's website so that it's easy for your attendees to click through and find your ticket sales.
Brown Paper Tickets is completely free to get started. Your organization will have no set-up fees, sales fees, or long-term contracts. Instead, there's a simple low-cost fee of $0.99 plus 5% added to each ticket sale. This means ticket sales are completely free for your organization and cheap for purchasers.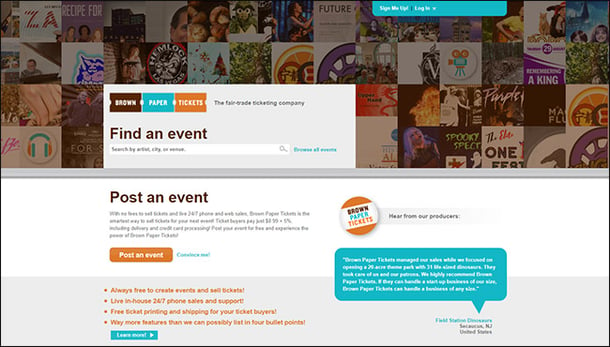 Key takeaway
Brown Paper Tickets is a perfect solution for small nonprofits or one-off events. Their completely free platform makes it easy and cheap to get the most out of your ticketing system. The do-it-yourself software helps organizations get started quickly and start getting the word out about the event faster.

Nonprofit Event Software for Charity Auctions: OneCause
Overview of this fundraising event software
OneCause is a complete event solution for organizations hosting an auction event. With OneCause, your organization can plan out all of the important details of these events and even combine your online and in-person auctions for the best fundraising outcome.
What nonprofits love about this event management software
OneCause offers all of the tools your organization needs if you're planning a charity auction, from the first mention of the event to your supporter until after the event itself. Some of the features that help with this engagement include:
Ticketing and table management.

Sell tickets to your auction attendees and make sure there's capacity for everyone at the venue with table management. You can even offer VIP tables for your special guests.
Auction item management.

Keep records of all of the auction items purchased or donated for the auction. Then, swipe credit cards and provide email receipts after the auction ends and you can send the guest home with their prize.
Unlimited auctions.

When you invest in OneCause, you're not just investing in a one-time event solution. You can use their software to plan your current auction as well as all of your future events, helping you get more from your investment.
When you set up your auction with OneCause, you give your attendees the power of mobile bidding. There's no need for a loud auctioneer or to leave seats and bet on silent auction tables. Instead, everyone can keep their seats, mingle with other guests, and place bids from their phones.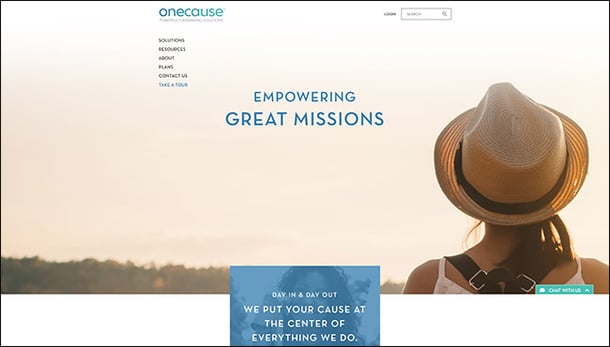 Key takeaway
OneCause offers everything your organization needs for your upcoming auction. Promotion tools get the word out while management tools keep you organized. Mobile bidding and simple ticketing make the process easy for your attendees as well. Everyone wins!

Nonprofit Event Software for Conferences: Regpack
Overview of this fundraising event software
Regpack is a comprehensive event software solution perfect for organizing complicated conference data in a single location. When you plan a conference, you need to keep records of information such as scheduling, venue, to-do lists, speakers, and lots of paperwork. Keep all of this stored together and communicate the important information effectively to attendees.
What nonprofits love about this event management software
Regpack is designed to help keep your organization well-organized and your events well-managed. Some of the key organization features that help with this process include:
A centralized database.

Store all of the important information about your event attendees in a single centralized location. Then, all of this information is at your disposal for the event and can be easily downloaded and uploaded to your CRM.
Personalized event registration.

An attendee's answers on your event registration form impact the next questions on the platform. This helps you collect only the most important and relevant information from each registrant. Plus, these forms are mobile-optimized so attendees can register from any device.
With Regpack, your organization can store and communicate all of the important information related to your conference event. From venue rooms to scheduling times and organizing speakers, you can handle everything in a single system.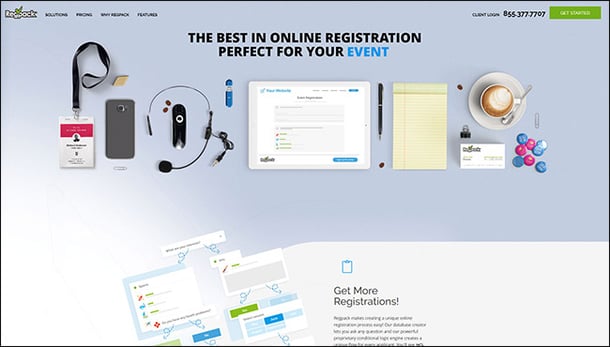 Key takeaway
Conferences have a lot of moving parts associated with them. Regpack will help you organize all of this key information in a single location while ensuring a positive user experience for your conference attendees.

Nonprofit Event Software for Salesforce Users: Soapbox Engage
Overview of this fundraising event software
Soapbox Engage is built to be used on one of the most popular CRM solutions available: Salesforce. When attendees register for your event through a Soapbox Engage-powered registration system, all of the registration information is automatically saved in the Salesforce database.
If your nonprofit is already using Salesforce for your donor database, working with a Salesforce-native event management app reduces manual input to sync records.
What nonprofits love about this event management software
With Soapbox Engage, your organization can create and manage an unlimited number of events. Don't forget to create an event calendar to post on your website and send out newsletters to keep your supporters up-to-date about upcoming events. Make sure they're aware of all of the opportunities you offer.
Some of the management features that will help ensure all of these events are well-run include:
Marketing analysis.

Set up marketing campaigns to promote your events, then check on their progress with the marketing analysis tool in Salesforce. After analyzing these metrics, you can adjust your strategy to better reach supporters.
Payment processing options.

Soapbox Engage offers freedom of choice when it comes to your payment processing solution. You can choose from top solutions like Braintree, iATS Payments, and Stripe.
Organization branding.

Soapbox Engage offers a standard template for your event registration page that can be easily updated to match the brand of your organization. This branded page is already mobile-optimized so that your supporters can access it on any device.
Soapbox Engage offers other tools that integrate with their nonprofit event management software. For instance, their donation tool, online store app, and online petition builder can all add exciting new elements to your organization's event.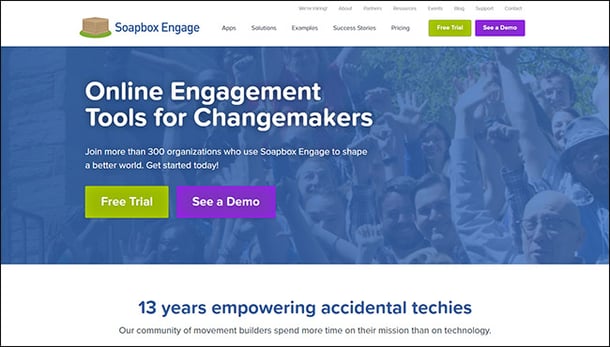 Key takeaway
If your nonprofit is already using Salesforce, you know about the vast array of apps and integrations with the CRM. Finding native solutions is key for collecting and storing the most important information in a convenient place. Soapbox Engage is that native solution.

Nonprofit Event Software for Museums and Zoos: Doubleknot
Overview of this fundraising event software
Doubleknot is an event management software solution built to meet the needs of specific industry verticals. While we tend to think of nonprofits as traditional charities for the community, to limit this definition also forgets about zoos and museums. Many of these organizations also exist in the nonprofit sphere, making it important to invest in the proper software.
Doubleknot offers software for these verticals. This system offers event management alongside a regular admission ticketing solution because it centralizes all of this important data.
What nonprofits love about this event management software
Doubleknot's event management software makes it easy to encourage your current supporters to get involved with your upcoming opportunities. Some of the features they offer include:
Package bundles.

Bundle various opportunities together at a discounted rate. For instance, you may offer a ticket to your upcoming event and an admission ticket to be purchased together at a slightly discounted rate than if they were purchased separately, encouraging more people to get involved.
Payment schedules.

Offer payment schedules that allow your event attendees to purchase their tickets using installments rather than paying all at once. This makes the event more financially available to some potential attendees.
Promotions/Discounts.

Automatically apply discounts for members or coupon-holders when they go to purchase a ticket to your event.
Another key feature Doubleknot offers is the ability to add on a donation to ticket purchases. At the end of the purchase, supporters can include a small gift to support the overall mission of the organization.
Key takeaway
Doubleknot's major advantage to the verticals they serve is that they offer event management alongside regular admission software. This means that consumers can purchase their event tickets very much in the same way as they do standard admission tickets.
This system makes it easier for the purchaser to buy the tickets and easier for your organization to keep records.

Nonprofit Event Software for Associations: ePly
Overview of this fundraising event software
ePly offers an event software solution that provides the tools to ensure the event runs smoothly and that the association's specific needs are also met. This software was designed with associations in mind, providing them all of the tools they need to succeed.
What nonprofits love about this event management software
ePly's core software was designed for associations, but their features are applicable to all sorts of organizations. Some of the tools they offer include:
A form builder.

Customize your registration form to include all of the important data you need about the professionals you bring together without inconveniencing them with additional information you don't need.
Attendee data management.

Data tracking through ePly helps your organization collect and store important information. Refunds, receipts, and regular reports can be accessed to analyze this data at any time.
A conference app.

With ePly, your association can build a customized event app. This app organizes and allows you to better communicate event information, registrant management data, and attendee engagement metrics.
ePly offers all of the tech you need to plan a great association event. If your association has multiple departments or groups, ePly will create a webpage so that everyone in your association is on the same page about how to use the software effectively.
Key takeaway
Your organization will take your event planning journey with advice and help from ePly's support staff. Specifically, you'll have a single staff professional who you'll work with one-on-one throughout the entire process. That person will show you what features will help your specific organization the most and how you can more from the software.
Nonprofit Event Software for Marketing: Eventzilla
Overview of this fundraising event software
Eventzilla is an event management tool that's especially effective when it comes to marketing your organization's event. If you're looking to get the word out about your event and work to acquire new supporters through event attendees, Eventzilla may be the software for you.
What nonprofits love about this event management software
With Eventzilla, your organization can personalize content to help it resonate better with the supporter you're reaching out to. Some of the tools they offer to help boost your event marketing strategy include:
Personalized email campaigns.

Event organizers can upload their contacts from popular email platforms or an Excel sheet to start an email campaign. Draft a great email with Eventzilla's built-in email template.
Discount codes.

Create incentives to register for your event by offering coupon codes with discounts applicable until a set expiration date.
Event schedule builder.

Create an effective event calendar with the event schedule builder, including rich speaker profiles. You can also include a registration widget so that it's easy for supporters to find and sign up for your event.
Once you've established your marketing campaigns, check-in with the data collected by Eventzilla using their data dashboard to decide which strategies were most effective. Carry these strategies into future campaigns for continuous marketing improvement.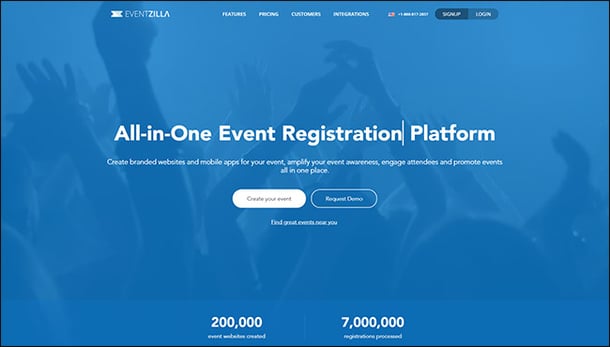 Key takeaway
With Eventzilla, you can market your event effectively while encouraging supporters to take control of their own engagement. With a self-service module, attendees can register, update, and cancel all at their own leisure.

Nonprofit Event Software for Educational Institutions: Planning Pod
Overview of this fundraising event software
Planning Pod is a complete event software solution built for educational institutions. It's perfect for planning events such as alumni fundraisers, commencements and graduations, conferences, galas and dinners, and networking events.
What nonprofits love about this event management software
Planning Pod offers features that will help you manage and organize events of all sorts for your educational institution. All of these features are designed to:
Improve efficiency and ROI.
Over two dozen event planning tools will help your institution simplify the budgeting, billing, task, signup, attendee, vendor, schedules, and other aspects of the event.
Manage attendees.
Collect registrations and signups online through custom forms. Set up forms for multiple tickets, discounts, and questionnaires with ease. At each step in the registration and attendance process, you'll collect information about attendees.
Streamline events across campus.
Track event space and room bookings to ensure you're choosing the best (and unoccupied) location for your event. Then, set the capacity to make sure you don't fill up the reserved room.
Planning Pod has all of the core features educational institutions need to accomplish their main goals. However, they also offer additional flexibility so that your institution can use the software to fit your specific needs.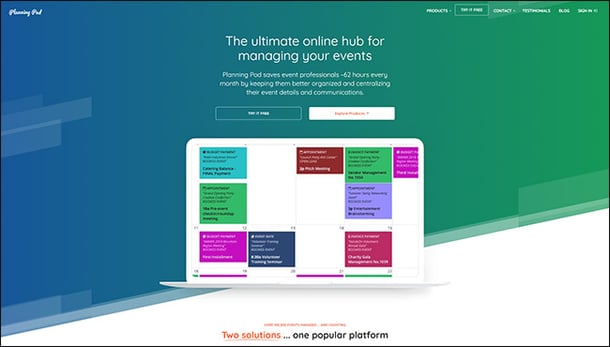 Key takeaway
With so many things going on around campus, find a solution that will help you plan your event and keep everyone in-the-know about detail changes. Both alumni and current students can use this software and it's not difficult to learn.
---
Completing your software stack with nonprofit event tools ensures your next event will be well-managed, planned effectively, engaging to supporters, and a key part of your overarching strategy.
Topics:
Published on October 16, 2019