As a nonprofit professional, you understand that nonprofit donations tend to occur in cycles, usually based around the end of the year. Given that about a third of donations are raised in a single month, nonprofits can run into trouble collecting money during the giving season's off-months. This is one reason so many nonprofits focus on cultivating relationships with recurring donors who donate on a regular basis.
Attracting new donors requires time, resources, and money, and while one-time donations help, they only contribute so much to the sustainable funding pool your nonprofit needs to fulfill its mission. This is why marketing to the donors you already have to build a reliable base of recurring donations is ultimately better for your nonprofit's financial health in the long-run.
Recurring donations is a buzzword in the nonprofit world, but what does it actually mean?
Recurring donations are gifts that are contributed automatically by your donors on a regular basis, usually every month. Most recurring donations are established when your donors fill out a form on your website, opting in to automate repeat gifts. These gifts will continue until the donor changes or cancels their giving plan, causing recurring donations to potentially accumulate large sums over the course of the year.
Why are recurring donations important?
Nonprofits have to regularly guess how their financial situation will deviate from year to year based on previous donation patterns. While one-time gifts can fluctuate, recurring donations provide predictability. Nonprofits with a strong base of recurring donors can make financial decisions with less required guesswork.
Conversely, donor attrition damages a nonprofit's ability to grow. Each potential supporter takes a certain amount of your hard-earned resources to convert into a donor, meaning it's more cost-effective to retain a high number of repeat donors than start from scratch with each campaign cycle.
For example, if your nonprofit loses five donors, you'll need to attract six more to achieve growth, which requires investing time and money into marketing that could go to fulfilling your nonprofit's mission. Recurring donors provide a built-in retention strategy, preventing this lapse of support from the very beginning.
By focusing on recurring donors, your nonprofit can make the most out of its relationship with each donor, leading to more sustainable fundraising. To start attracting recurring donors, implement these five best practices:
Accept recurring donations directly from your giving page.

Offer suggested giving amounts for recurring gifts.

Allow donors to update their recurring donation profile.

Get notifications if recurring donations fail.

Give recurring donors other ways to get involved.
Recurring donors can also lead to increases in overall revenue. In recent years, recurring donations' increased popularity has also led monthly online giving to increase by 40%.
It's no mistake that online giving lends itself to attracting consistent giving. Many donors are interested in becoming recurring donors if given the option, and your online giving page is the best place to let your supporters know how they can.

1. Accept recurring donations directly from your giving page.
Converting donors is expensive. Individual donor's contributions don't always outweigh the time and money expended by your marketing and fundraising effort to get them there.
By accepting recurring donations from your giving page, you simultaneously capitalize on your marketing investment by encouraging increased giving over time. If someone agrees to donate $10 per month rather than $100 upfront, you'll raise an additional $20 per year from that donor while also guaranteeing their continuous engagement.
Your giving page is most often visited by supporters ready to become donors. While some of them may only be one-time donors, all of them are in a giving mood, and some can be convinced to become recurring donors if it's convenient to do so.
When you include a recurring donation option directly on your online giving page, you can capture donors during the most critical part of their engagement experience. Donor conversation requires multiple steps as well as consistent and varied communication strategies.
For example, you might reach out to a potential donor through email, social media, and direct mail before they consider contributing to your nonprofit. Prospective donors will then conduct their own research by visiting your website or reaching out to their family and friends to see if they've heard anything about your nonprofit. From there, they'll make a choice about whether or not your nonprofit deserves their support.
The supporters who decide to navigate to your nonprofit's giving page are the most familiar with your mission, and thus more likely to consider repeat giving than donors who contribute through other means such as a crowdfunding campaign or peer-to-peer. While these campaigns are important, they're usually populated by supporters giving in support of a loved one rather than solely based on your mission itself.
Consider your online giving page from a visitor's perspective. Donors expect usual information fields such as their name, contact information, and financial information. Additional fields such as a recurring giving opt-in should be incorporated into your page naturally so it attracts attention without obscuring other page elements.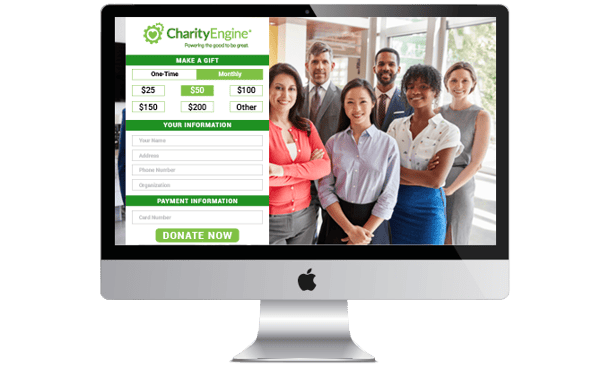 As you can see in the above example, making your recurring donation option a bold color will catch a visitor's eye. Plus, this example uses conditional logic to change the suggested donation amounts based on the fact that the supporter is interested in a recurring gift (but more on this later).
Lengthy donation forms and requiring payment information re-entry can lead to donor abandonment where donors back away from the donation page before completing their gift. An attractive button or checkbox located directly on your donation form allows donors to easily sign up for a recurring donation plan, saving them the need to fill out another form.
Excessive data entry can cause one time donors to abandon forms. Forcing retained donors to re-enter their information every month places an additional time burden on your donors, and they might decide continuing to donate isn't worth the effort. Your nonprofit also isn't the only thing going on in your donors' lives, and would-be recurring donors can forget to login next month for their donation.
While most nonprofits suffer from low donor retention, they also have low recapture rates, or the percentage of lapsed donors who give again in the future. Instead of investing resources to coax donors back, your nonprofit should encourage its current donors to continue giving upfront. Your website should be as user-friendly to recurring donors as possible to avoid losing one of your most reliable sources of support.


2. Offer suggested giving amounts for recurring gifts.
Giving pages often use suggested giving amounts to provide supporters with context about how much others typically give to your organization. They provide a social cue that supporters use to decide how much to give. However, when they choose to contribute a recurring gift, it might seem tone deaf to ask them to give the same amount in recurring donations as they would in a single gift.
Those who give on a monthly basis will give more over time, so they'll likely be more receptive if you lower the suggested donation amounts for recurring gifts.
Larger gifts obviously benefit your nonprofit in the moment, but regular medium-sized (or even small) gifts add up in the long run to equal one of these larger contributions. As your donors' financial situations change, they may also be inclined to change their donation tier to the next suggested level.
Plus, lower donation amounts are attractive for supporters who are trying to work the contributions into their budget. It's hard to part with $100 all at once! It's much easier to justify contributing $10 each month because it'll have less of an impact on the supporter's budget.
When you calculate your one-time donation tiers, you should be sure the calculation is informed by your donation averages. If you offer four suggested donation amounts, you might include the average amount as your first or second option, encouraging people to choose the higher options and increasing your average donation over time. It might look something like this: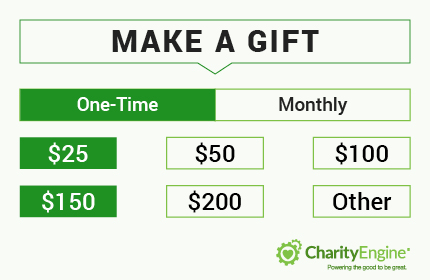 Then, when you choose your recurring donation tiers, you should include slightly lesser amounts, but those that will (over time) actually be slightly larger than the one-time donation amounts offered. For instance, your recurring donation suggested giving amounts might look more like this: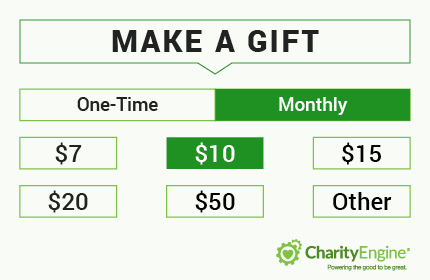 Displaying the two giving suggestions side-by-side will also give donors more options for how they want to donate. The presence of recurring donation options can push some donors towards giving larger one-time gifts, and large one-time gifts can persuade others into smaller recurring gifts that add up over time.
Offering suggested donation amounts impacts donors' perception of their giving, which can alter the amount and way they give. When creating suggested donation amounts, take into account that:
When given options, most donors will choose the second lowest default.

Donors want to support you without being seen as cheap, but they also don't want to break the bank. The second lowest option can seem like a generous but safe choice that avoids doing the bare minimum. Offer a second tier that's slightly over your average gift amount to push donors to give more without overwhelming them.

High minimum suggested donations can turn away new donors.

High numbers can intimidate new supporters for both single and recurring gifts, causing them to abandon your page. Offer accessible amounts for supporters of varying donation levels so that you don't turn anyone away.

Slightly increased minimums can cause loyal donors to donate more.

While new donors shy away from high investments, your recurring donors are already invested and feel confident when giving. Provide options slightly over your average gift so that you can increase this average and ultimately raise more.
When reaching out to your existing donors, offer that they can increase their recurring donation amount based on the next highest suggested donation tier. For example, you might provide options for someone who donated $15 per month in the past to start giving around $20 or $25 regularly.

3. Allow donors to update their recurring donation profile.
Picture this: Mary has regularly donated $20 to your nonprofit for almost a year. However, one day she loses her credit card and calls her bank to cancel it. Setting up all of her old payment plans for her new card is a hassle, and Mary decides that while she liked giving, contacting a website administrator to change her profile isn't worth the effort at the moment. She's been stressed out about the credit card and eventually forgets all about her old regular contributions.
Mary's situation illustrates the truth that your recurring donors' financial and living situations will change. Make sure it's easy for their donor profiles to change along with them at your supporters' discretion.
Allowing your donors to update their own profiles and information provides two major benefits. It gives your donor control over their gift journey and takes some of the pressure off of your organization.


Give donors control over their gift journey.
Your recurring donors have made your nonprofit part of their monthly expenses, and for financial security they will need a degree of control over their participation as a contributor. Give your donors the ability to change:
Their gift amount and frequency.

Financial situations change both for the worse and the better. Donors may need to skip a month now and then, and giving them the option to change their frequency settings keeps the door open for them to return to their giving pattern once their situation improves. By contrast, other donors who receive pay raises or other unexpected windfalls may want to boost their amount without the hassle of contacting an administrator.

Personal information.

Donors will move, change emails and phone numbers, and have credit cards expire. These changes shouldn't mean the end of their donor journey, so give them an option to keep your nonprofit updated on these types of changes. If you're notified about a change of address or similar adjustments, you can always reach out and remind supporters to update their information.

Communication preferences.

Some of your recurring donors will want to receive regular updates about your nonprofit, while others are happy to donate quietly without participating in events or fundraisers. Let your donors control what alerts they get and how they get them. This

makes communication easier

for you as well! You can create easy segments according to known preferences, ensuring supporters only get the messages they'll respond to. For instance, you don't need to spend additional funds to purchase stamps for direct mail to supporters who will ignore the outreach completely.
Donors appreciate the control and shouldn't feel trapped in their donor experience. It may seem counterintuitive to give your supporters easy access to cancel their subscription. However, letting your supporters decide when and how they give can instill trust in your supporters and take the pressure off signing up for a recurring donation plan.
Take some of the pressure off of your nonprofit.
If a donor reaches out to change something about their profile, they will want the change to happen fast. While one or two changes can be done quickly enough, the responsibility of tracking changes for donor profiles adds up as your nonprofit acquires more supporters.
Share the responsibility of staying updated with your donor by letting them make the changes they want when they want them to happen.
Before letting your recurring donors edit their profiles at will, be sure to automate the process (or use a single software solution) so that the changes they make to their front-end profile are also reflected in your CRM. This ensures everyone stays on the same page and no information gets lost in the shuffle.


4. Get notifications if recurring donations fail
Donations fail for all sorts of reasons such as credit cards expiring or your donors changing addresses. These experiences also often coincide with a stressful point for your supporters. If they're in the process of moving, your supporters' first priority will likely be setting up their utilities, not updating their donation profile.
That's why it's important you're also kept in the loop when recurring donations fail. You can reach out to supporters and remind them to continue contributing.
Donors who have kept up their recurring gifts for years are likely to experience a failed payment at some point as they cancel and renew their credit cards. Thankfully, a failed payment isn't the end of a recurring donation as long as everyone knows when something does go wrong with a payment.
You can automate outreach to your supporters by using your nonprofit's CRM to enable notifications and emails to donors if a donation falls through. Ensure both your donors and your staff receive a message, so you can reach out if your supporters don't resolve the problem themselves.



You can also get ahead of certain issues such as changing addresses by running the donor profiles in your CRM against the change of address database. Some CRMs offer features such as Card Updater services that help nonprofits learn about replacement credit cards when supporters get new ones as well.
These types of tools can take the information updating process to a new level of efficiency, getting ahead of potential issues helping keep your recurring donors around for the long-haul.


5. Give recurring donors other ways to get involved
Recurring donors have a lasting investment in your nonprofit and can be some of your strongest supporters. Avoid making recurring gifts a "set it and forget it" approach by encouraging your donors to get involved with events, fundraisers, and volunteer opportunities.
Stewarding relationships with your recurring donors helps your nonprofit with other objectives while creating connections that can translate to larger donations down the line.
This past year has caused nonprofits to rethink how they engage with their supporters. It has placed a new emphasis on the importance of virtual interactions. When you're considering how to get your recurring donors more involved with your organization, consider hosting a virtual event and inviting them to participate or volunteer. You might consider event opportunities like these:
Peer-to-peer Fundraising Event.

Nonprofits have made use of peer-to-peer fundraising for a few years now due to its incredible effectiveness. Set up fundraising pages for your volunteers to direct their friends and family to as they fundraise on behalf of your nonprofit.

Talks and Demonstrations.

Talks by your nonprofit's leadership or experts in your nonprofit's field are always interesting, whether they're in-person or livestreamed. Recruit speakers to host presentations, Q&A sessions, and demonstrations. These events give supporters a chance to learn more about what your nonprofit does and ask any burning questions they might have about your mission.

Virtual Gala.

There's no true replacement for in-person galas, but you can still engage with your supporters and have a bit of fun by encouraging them to dress up, have a beverage at home, and connect online with your nonprofit to toast to their fellow supporters.

Online Courses.

Some people get involved with nonprofits to learn new information or skills. Volunteers are often attracted to learning opportunities hosted by their favorite nonprofits. Volunteers also deserve a thank you (and they can make great donors!), so don't neglect them when creating involvement opportunities.
Recurring donors are more likely to continue giving if they feel a connection not just to your mission but to your nonprofit as a whole. Relationship building means staying in contact and giving your supporters something to look forward to rather than treating them like a monthly ATM.
Additional Resources
Recurring donors let your nonprofit form forward-thinking plans by creating a reliable source of revenue each month. Sustainable funding gives your nonprofit the ability to be strategic in how it plans future spending, growth, and campaign efforts.
Donors stop giving for a number of reasons, but the right use of your CRM and website can avoid most of the basic ones such as payment failures and outdated contact information. Make becoming a recurring donor as easy as possible and give your donors a reason to stick around by keeping in touch and hosting events.
To learn more about managing and retaining donors, continue your research with these resources:

Topics:
Published on February 11, 2021