Does Your Nonprofit Need a Donor Journey Map?
And if so, how do you create one?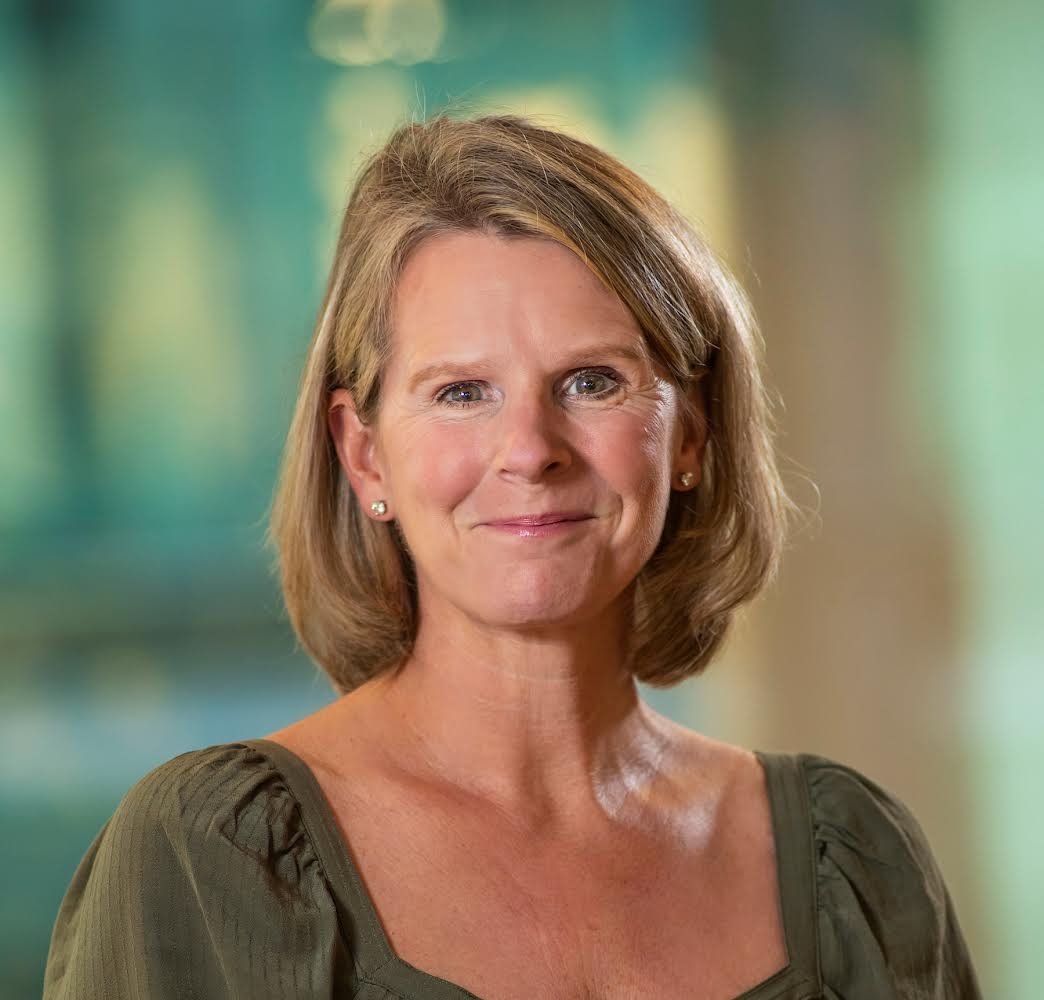 by Julie Kennon
Donor journey maps help you visualize the steps needed to convert prospects into donors and sustainers and prompt you to think of the critical touchpoints where you can influence the journey.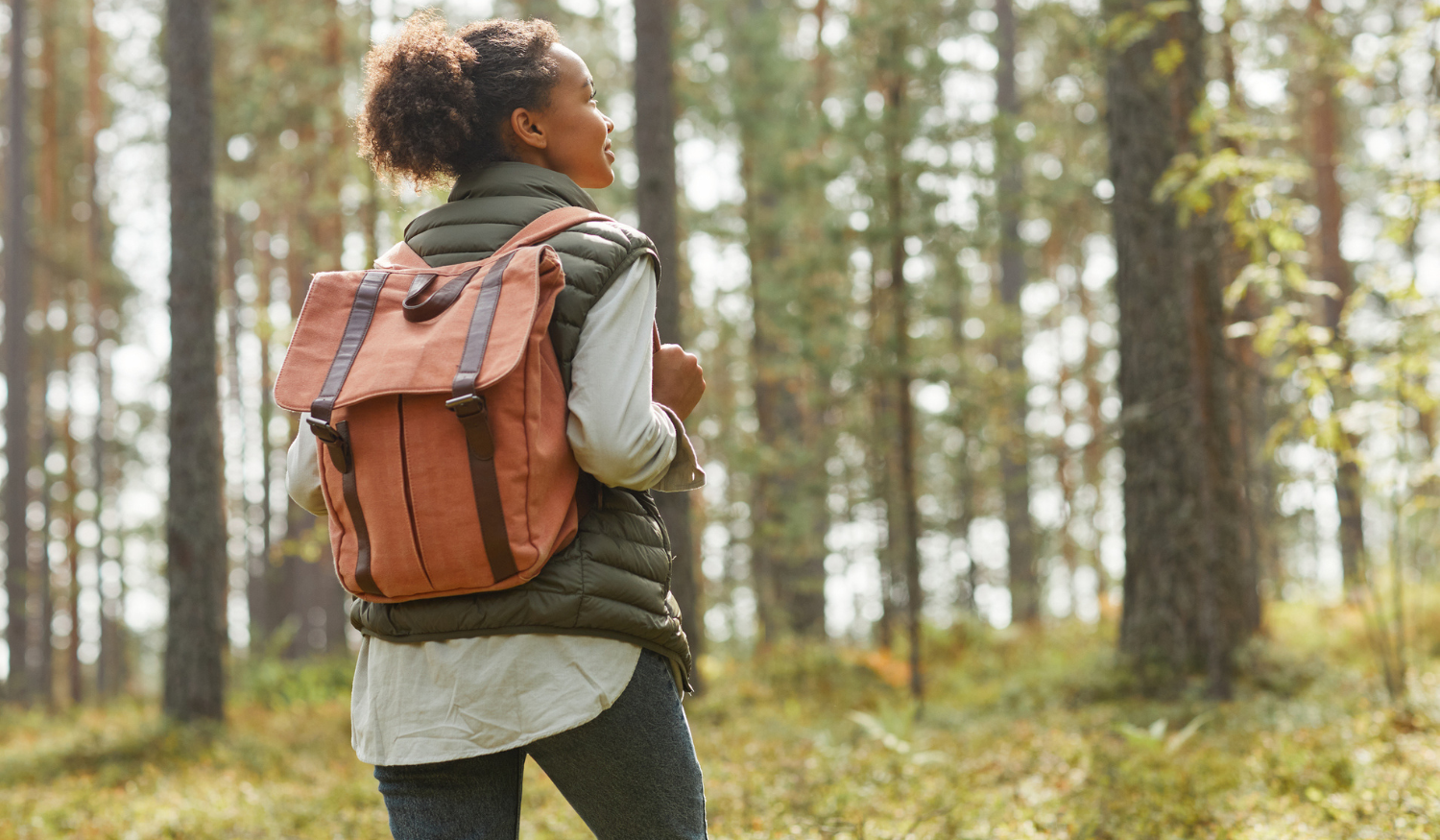 Spoiler alert: yup, you do need one. A donor journey map is how you will understand your donors and know what your team can do to drive giving. Learning what makes your donors tick is key to a positive user experience and, ultimately, more success for your nonprofit.
So what is a donor journey map? It's a visual representation of the stages a donor goes through as they interact with your nonprofit. If you think of it as a timeline that starts with the first time a donor becomes aware of your organization and ends with them naming your nonprofit in their will, you'll see that there's a whole lifetime during which you can engage and positively influence your supporters.
In short, a donor journey map will:
Teach you about your donors and how to best engage them
Keep your team focused on donor engagement
Improve the experience your donors have when they give
Help you predict future fundraising
Illustrate where in the journey you need to double down or tweak your strategy
The donor journey map can follow stages of giving: awareness, consideration, conversion, retention, and advocacy. As you consider the stages we've outlined below, sketch out some ways you currently support each stage and consider some additional options you could add as you create a map. That's your first draft of a map, and it will continue to evolve as you get new information and are inspired by creative ideas.

Stages of the Donor Journey
All donors go through these stages. At each one, you have the opportunity to influence and guide prospects as they become donors. We will break it down so you can think about your donor journey map at each stage.
Awareness
I'm just going about my day when my brother calls and tells me that his family is adopting a rescued dog. As he tells me about the nonprofit that rescued and cared for the dog, I'm touched by the work they've done and how they've really saved this dog.
That's awareness. Word of mouth is one form of awareness, but what are some other ways I could have learned about the nonprofit?
I could have seen brochures or pamphlets at the pet food store or the vet. The nonprofit could have held a pet food drive and offered the chance to meet some of the residents. There could have been an event I attended, or my friends could have seen the nonprofit on social media.
The first stage of the donor journey is awareness. As you are building a donor journey map, this is where you start. Look at the data in your CRM and segment your current donors, and then answer these questions for each segment.
What are you doing to increase awareness of your mission?
Who are you targeting with each effort?
What methods of engagement have proved the most effective?
What methods of engagement are ineffective?
For each segment, have a clear understanding of the most effective way to increase awareness.
Consideration
Now I know about this great animal rescue nonprofit. Before I decide to support them, I want to know more about their mission, how the community (like my vet) views them, and where donated money goes.
The second stage of the journey is consideration. As a nonprofit, you will benefit from utmost transparency. Lay it all out on the table, from how clean you keep your facility to your financials and how much of every donation goes to the animals. Get them to connect emotionally with stories of rescues and how animals are saved, healed, and placed with loving families.
You want potential donors to have as much information as they need to answer their questions. Your website is a great place to keep this critical information in one place (and it doesn't hurt that your donation form is right there, too)! Include testimonials, before and after photos of pets, and even videos of rescued animals happy and healthy.
If your mission statement is obvious and compelling, your content can tug at heartstrings and form a connection, your financials are as transparent as possible (even if it's a statement that x amount of every dollar helps animals in need), and your website offers an engaging and seamless experience, you are giving your potential donors the tools they need to make an educated decision.
Conversion
This is when things get real. I know about your nonprofit, and I've done my research. I like everything I've seen, and I know my brother thinks you're…well, the top dog. (Sorry about that.)
The third stage of the journey is conversion or turning a prospect into a donor. It is critical that your nonprofit makes it easy to give! That's optimizing your donation form and ensuring it's well-designed. Don't ask for more information than you need. Given that you can email everything from a donation receipt to a tax form, you don't really need a mailing address. A name, email address, and donation and payment information should suffice.
Ensure your donation form is branded, and your colors show that the donor is in the right place. We love this donation form from client BDSRA. The colors and the brand are immediately evident.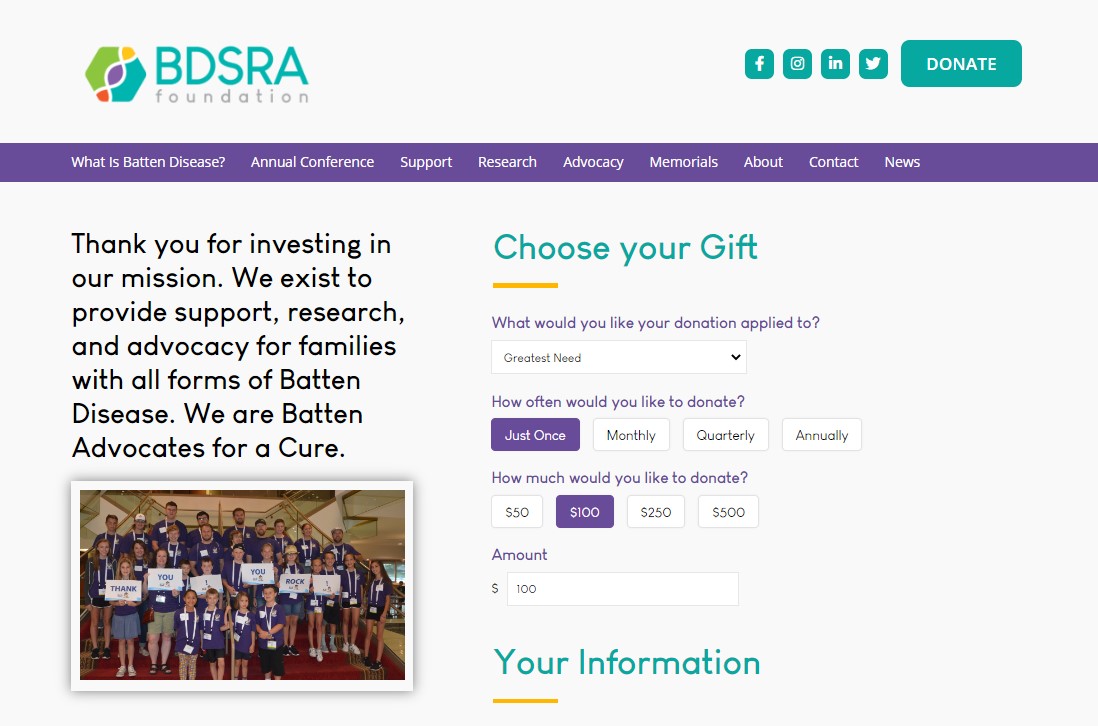 What else do they do well? They give frequency options and pre-set levels of giving.
This example, from Food Bank for the Heartland, showcases an excellent technique. It ties giving levels to the number of meals the donation will provide: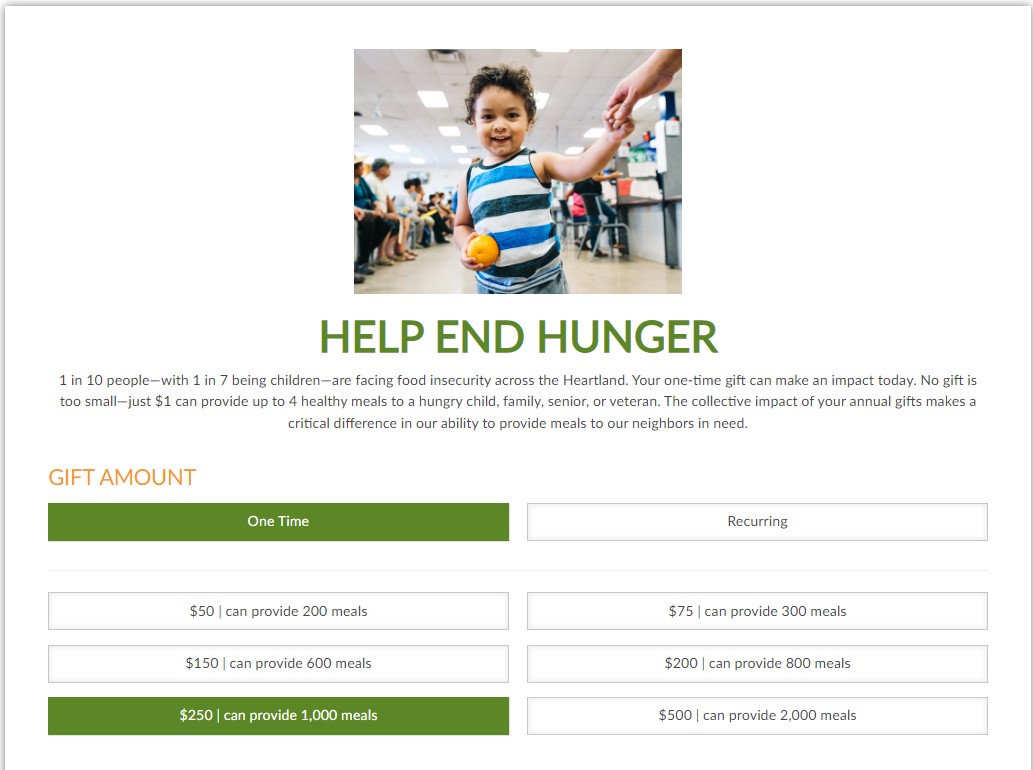 And Rescue Village grabs you with a compelling photo and headline that focuses on the risk of not giving, then offers the chance to make a gift a monthly donation that's "paw-tomatic."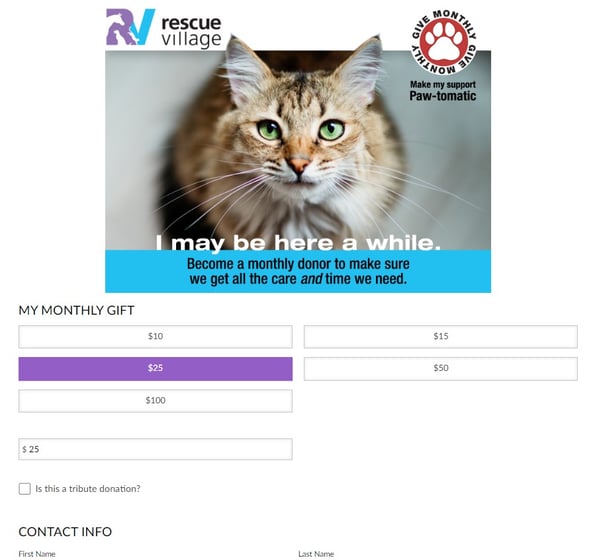 If you missed our fantastic webinar with Angel Aloma, who ran Food for the Poor for decades, and his brilliant son, Kristian, a Ph.D. who talked about the psychology of giving, read this recap of their presentation. Angel talked about how quantifying a donation leads to a much stronger donor relationship as well as increased giving.
Don't forget that volunteering, attending an event, and even signing up for regular communications can be a conversion. Regardless of how it happens, it's the moment your prospect commits in some way to your organization.
Retention
This is often the biggest challenge for nonprofits, and it's the part of the donor journey map on which you might want to particularly focus. If you've influenced the donor journey perfectly to this point: you know how to engage each segment of your donors, you give them the resources to make an educated decision to support you, and you've made giving so easy the money almost flies out of their wallets.
And then…whomp whomp….you never hear from them again. I, the donor, found someone else who rescues cute puppies, and I forgot all about how I teared up watching your little canine residents heal and find loving families.
Retention is the fourth stage of the donor journey, and if you do it right, I'll never forget about your nonprofit.
How can you retain, or nurture, donors? The importance of the donor relationship can't be overstated, so at this point in the donor journey, think of ways you can show your donors how much they are appreciated. Tips include:
Say thank you the moment a donor commits to giving time, talents, or treasure…and then keep saying it in perpetuity!
Ongoing personalized communication to share your progress and heartwarming stories, and to keep your nonprofit top of mind.
Provide opportunities for engagement beyond writing a check, like volunteering.
Reward them, with tickets to or premium seats at an event, delivery of a swag bag of branded merchandise, or even cards dropped in the mail with an update on how their donation is working.
The key to retention, we often say, is personalization. Think of ways you can make your donors feel seen and appreciated. And remember that a relationship is nuanced….there are many different ways to keep the connection alive. You just need to add it to your donor journey map. And take any chance you get to make sure your donors know that their nonprofit donations made a difference.
Advocacy
Otherwise known as evangelization, this stage of the donor journey is when your donors become ambassadors, spreading the word about your mission and encouraging others to give. A wonderful technique to insert into your donor journey map is a peer-to-peer campaign. By definition, a P2P campaign turns donors into ambassadors and gets them talking about, and raising support for, your nonprofit in their communities.
Create shareable content, whether it's an email with pictures and a story or social media posts. Publicly thank your donors, which makes them feel good and broadcasts to others that this person is supporting your organization.
Don't miss the opportunity to send t-shirts, hats, or shopping bags branded with your nonprofit. Mugs and pads and pens are lovely, but they sit inside – give your donors something they can wear or use that's visible.
You can offer benefits to donors that get friends to donate! Be creative and think of ways to get these donors to advocate for you. You'll get more donors and increase fundraising, but you'll also be cementing these good relationships that can have an impact on your nonprofit for years to come.
Donor Point of View
As you create this donor journey map, put yourself in the donor's shoes. What might the donor be thinking? What would cause hesitation to support your nonprofit at any given stage, and what can you do to eliminate that roadblock?
For each audience segment, consider the point of view, and consider how you could use a touchpoint to meet the need or answer the question.
Imagine that there are touchpoints at every stage of the donor journey map. For example, consider content. Are there blog posts that could be shared, each speaking to a certain stage along the journey?
Consider emails. Is there a message that would compel donors at a given stage?
Even if you're just chatting with your friends, developing loose (or not-so-loose) donor personas means you'll have greater insight into what makes those donors tick. And give. And come back.
As you can see, a donor journey map is just looking at what it takes to get lifelong donors and considering how you can influence, or perhaps nurture, the relationships. If you want to talk about donor management or what kind of technology makes it easier, we're ready to chat when you are!
Topics:
Published on February 26, 2023