Six Steps to a Successful Peer-to-Peer Campaign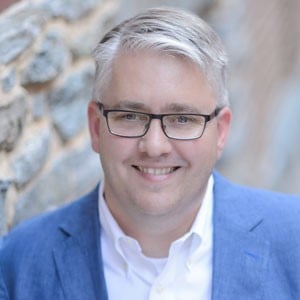 by Dave Martin
Have you tried peer-to-peer fundraising yet? It can be a creative way to engage your donors and let them fundraise for you!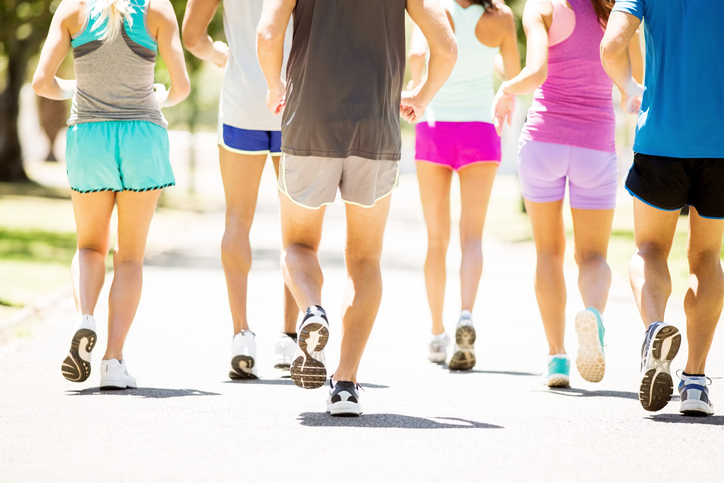 From the time you first set up a neighborhood lemonade stand to your current career in a nonprofit, you've always been good at raising money. But now, it's your job to help other people raise money on your organization's behalf, and that's not quite so easy.
As a provider of a nonprofit CRM, CharityEngine is always looking for new—and improving existing—successful ideas for nonprofit fundraising. We've got quite a few tools and tricks up our sleeves, but we recently focused on an easy, low-cost idea anyone can implement: peer-to-peer fundraising.
John Coogan, formerly with Wounded Warrior Project and now with CharityEngine, and Alexis Simoneau sat down to share some examples and their best tips for a successful P2P campaign. If you didn't get to catch it live or want some notes, this article will cover the key takeaways from their talk.
What is Peer-to-Peer Fundraising?
Let's start with the basics. A P2P campaign is one in which you ask your donors and supporters to help you raise money for your nonprofit. The good news is that these campaigns tend to be fun!
We talked about a few different types of campaigns we see:
A run, walk, golf tournament, or another sporting event

A day of giving, which is usually national (Giving Tuesday right after Thanksgiving)

A special occasion, such as a birthday or anniversary
Alexis and John talked about the benefits of this type of social campaign:
It's a low-cost option because you can leverage online tools.

It blankets a broad population with your message and mission, growing your donor base.

Easily repeated, they're also easily scaled as the effort grows organically.

Most importantly, these campaigns let your most engaged donors actively participate in fundraising.
Are there any pitfalls you can expect? John talked about a lack of control over your branding and message. If you're running an event or gala, the campaign's branding is contained and controlled. When you dispatch hundreds of ambassadors to raise money on your behalf, you can lose that consistency. It's easily remedied by a point often repeated in this webinar: equip your fundraisers well with branded tools and carefully crafted language for promos on social media.
Plan your campaign, including thinking about technology, tools, marketing, and communicating with your fundraisers. And remember that these fundraisers will be gathering money on your behalf, so be sure you are collecting the funds regularly.
Technology like PayPal, Apple Pay, and Google Pay can make cash transactions less frequent. Not managing cash can make reporting and analytics (and accountability) more straightforward and valuable.
The right technology can alleviate many of these challenges.
Through different client examples, including Wounded Warrior Project, Zeta National Education Foundation, Building Blocks for Kids, and the Phoenix Boys Choir, Alexis and John showed P2P in action.
Who participates in a P2P campaign?
This vehicle is perfect, John said, for those committed donors who don't have the means to give often or a lot, but who are deeply committed to your mission and will spread the word to raise funds.
He said that the average donation at Wounded Warrior Project (WWP) was about $25. But the amount of money those donors were able to raise from others has led WWP to become one of the top 50 charities in the United States.
Six Steps to Success
Our speakers identified six key, actionable steps any nonprofit should consider when launching a P2P campaign, whether it's your first or your fiftieth!
1. Choose the right technology.
If your CRM offers a peer-to-peer module or tools, use them! From tracking participants to keeping tabs on donations and automating the management of the campaign, technology frees you to focus on other tasks. A seamless donor experience can make all the difference.
Technology can help you identify donors who might be willing to participate in a P2P campaign. For example, John said you might see that a donor has regularly given a small amount of money. Clearly, they're committed to your cause, and this type of campaign is a great opportunity for them to raise a lot more money for you than they might be able to give.
The right tech and tools will enable you to prepare a solid campaign foundation and keep tabs on an effort, even one that is national.
2. Equip your fundraisers with a robust toolkit.
John said Wounded Warrior Project hit a bump when they didn't prepare their fundraisers well. The organization decided to wrap every P2P campaign in a memorable story, whether it was about a wounded warrior or something like PTSD research.

The mission isn't enough!

Supporters need to have the words and story to compel others to donate

. Giving your fundraisers access to images and language will also help your brand stay consistent.





Alexis offered an in-depth look at the Junior League of Tallahassee's Little Black Dress campaign. This highly successful campaign illustrates many key elements of a solid peer-to-peer effort.

She showed images of the toolkit the organization provides for fundraisers, including social media posts (with hashtags that generate online support) and shareable resources.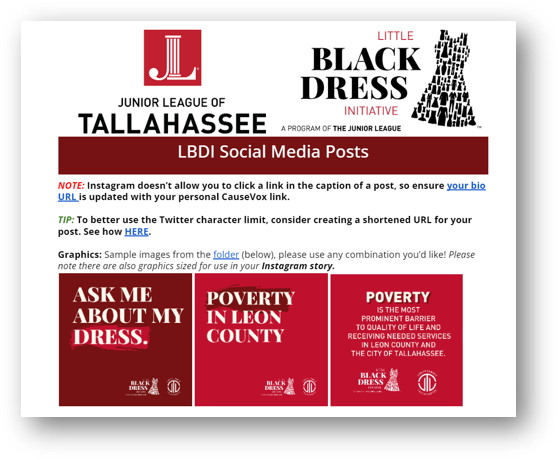 3. Plan a well-organized campaign.
You can't flip a switch and have donations pour in! It will be best to have a well-thought-out strategy with great attention to detail.
The Junior League of Tallahassee plans this event down to the detail. Wanting to spotlight homelessness and hunger, they ask volunteers to wear the same black dress for five days to illustrate the lack of choices some have. When fundraisers post messages encouraging viewers to ask them about their dress, the conversation starts.
The group offers language for a mass email campaign and social media posts that can easily be shared.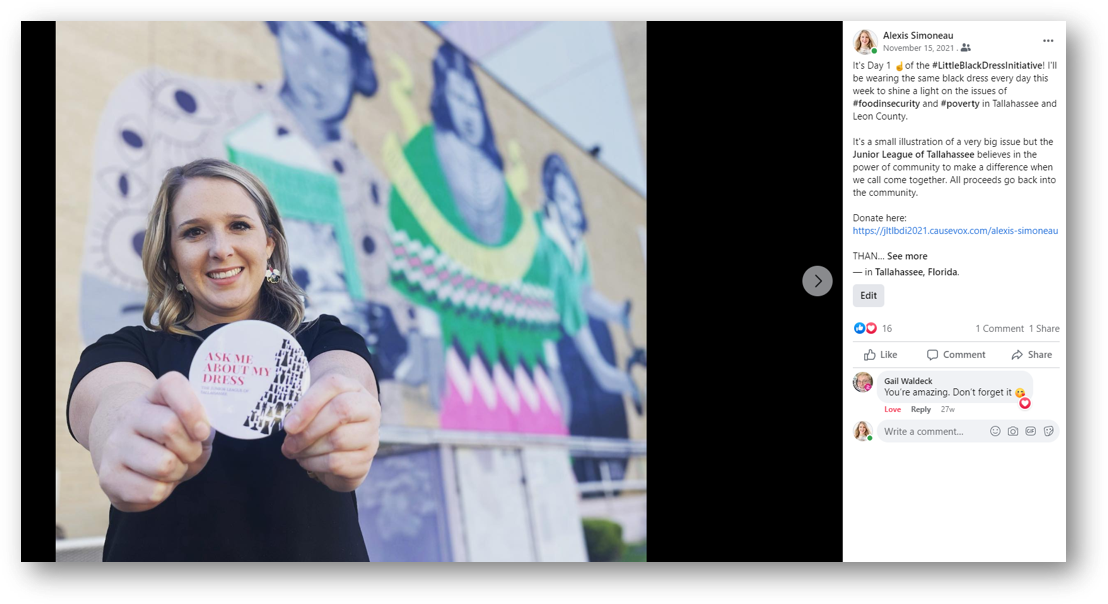 4.

Use social media as the foundation of a strong marketing campaign.  
Social media can be a primary tool to spread the word about your campaign. Technology can help you know your donors and their connections to see where your mission can spread.
An easy addition to a toolkit, which will be sent about a week before the campaign launch, can be a Google doc linked to a cloud storage folder like Google Drive. Content that can be copied and pasted into social media posts makes it simple for busy fundraisers to promote the campaign on social media.
As you'll see, nonprofits can break goals down into daily challenges to make smaller donations add up quickly. If you can find five friends to donate $15, you've had a successful day of fundraising. Add statistics to your toolkit so donors understand the need and can quantify their donation.
5. Nurture, engage, and support your fundraisers.
Events such as brunches, photoshoots, coffees, lunches, and even parties can help you engage and nurture the fundraisers who support your organization.
Alexis said, tongue in cheek, that we're all "a little odd" because we're excited about fundraising. But someone less familiar with asking for money might feel more comfortable after attending a social event where they get to talk to successful fundraisers and feel appreciated.
A lunch and learn or other social events can result in even more committed participants. A year-end giving campaign is the perfect time to engage and inspire donors.
John talked about how not offering your volunteers your thanks, support, and a chance to be recognized for what they've done might mean they don't come back. Don't take that risk! For example, a celebrity bartending event at which top donors tend bar and all tips are donations can make all your supporters enthusiastic and create fantastic camaraderie.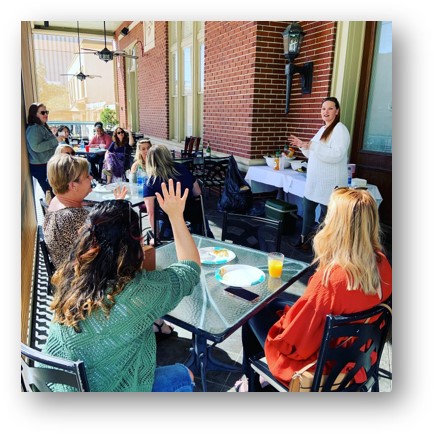 6. Monitor the performance of the campaign.
Everything is measurable.
And those metrics – the reporting on your campaign – will quickly highlight your successes and give you a chance to pivot if something isn't working perfectly.
Use your statistics and feedback from your technology to create a goal for next year, and you're guaranteed to have another successful campaign. When you're measuring and analyzing and honing all aspects of your campaign, it can be global as easily as it can be a Little Black Dress event in Tallahassee.
Peer-to-Peer Fundraising: A Captive Audience
In conclusion, John made a point that might resonate. Donors are sometimes leery of sharing contact details with a nonprofit, assuming they'll be inundated with communications. P2P takes interactions to a local level.
So if, for example, a donor creates an event microsite and shares it with friends, people who like and respect that donor will show up. They will have a trusting, captive audience. Those who attend will be more willing to listen to the mission, contribute, and share with their friends and colleagues.
Did you learn any tips that might make your next—or your first—P2P campaign a success? Or, if you are interested in hearing more about how P2P can help your nonprofit engage donors and raise more money, we would love to hear from you.
Topics:
Published on June 2, 2022