Increase Your Fundraising with CharityEngine and AI
Leverage Artificial Intelligence to Raise More Money
AI is nothing new to us...but it's about to get even better.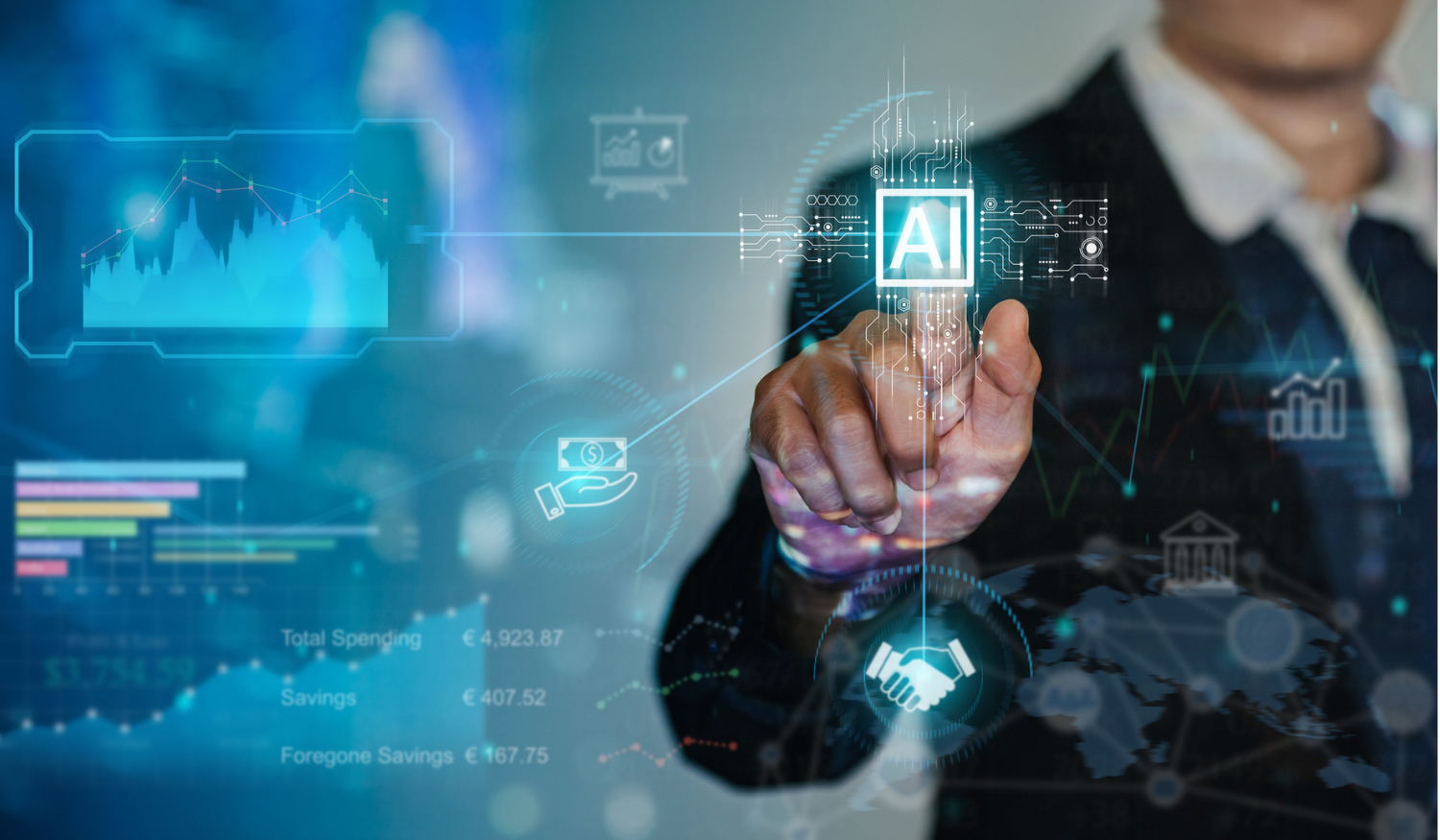 Would you be interested in a magic bullet that will help you crush your fundraising goals? If you're a CharityEngine client, we've got this magic baked right into our nonprofit CRM.
And we'll even go out on a limb and say that, while other CRM vendors plaster flashy AI and ChatGPT messages all over their websites, they can't do what we can. Why not?
We offer two significant advantages over the competition:
With CharityEngine, all your donor data is in one place...there's no worry about disparate systems not sharing data. AI has access to all the data on every donor for smarter logic.

Our sophisticated reporting and analytics functionality in our system pairs with AI to offer significant and detailed donor insights that show you when to ask for money—and how much to ask for.
In this article, we will share with you how you can and will use AI and ChatGPT in our CRM to save time, increase efficiencies, gain detailed donor insights, and increase donations. But first...
CharityEngine's AI Has Always Helped You Raise More Money
We, too, are having fun talking to ChatGPT and speculating about the implications of the widespread use of AI.
But we wouldn't be looking at the whole picture if we didn't discuss how our platform has used this technology for years, long before it became trendy.
Our clients, including some of the largest charities in the U.S., have been using AI-enabled features since their contracts started.
And current clients will recognize these features, even if they didn't know we were using AI layered on top of our uniquely robust analytics and our broad data sets.
Want to know how CharityEngine already uses AI to save and make your nonprofit money?
Our

gift

probability tool

shows you the probability of a supporter making a gift at any given time.

And what goes into that percentage – the percentage that indicates whether or not it's a good time for outreach – is the result of the most comprehensive database out there and the tools, including AI, that scan data points and draw conclusions. And our gift probability scores are always right on.

Our

donation tool

uses our database and AI in a similar way to calculate (and re-calculate) ask strings. This means that if a donor has routinely given $1,000 or more each year, the donation form that they see will offer donation choices in that range. Similarly, if a donor gives you $20 during every year-end campaign, the suggested donation amounts will be in keeping with that range.

Our

advanced fraud protection

feature uses AI to stop fraud before it can get close to your system. In fact, our system is 100% effective at protecting your e-commerce environment from the most sophisticated attacks. Nonprofits like

Wounded Warrior Project

and

Army Emergency Relief

have credited CharityEngine's advanced fraud protection with securing their systems. AER recently commented, "Advanced Fraud is the type of feature I'd recommend any nonprofit set up well before they need it! Our entire organization has peace of mind knowing that we have the highest level of protection possible to prevent future attacks. It is well worth the investment, and I only wish we had enabled it sooner."
Our credit card rebilling means you don't miss a beat—or a payment!—because of a declined credit card. Clients and donors love that our system "knows" to try again.

And our

credit card updater

uses AI and logic to automatically detect invalid cards and reach out to the payment gateway to update the information.
So, spoiler alert, you've already got AI.
But that doesn't mean that we don't have exciting new updates on the horizon! And we're going to explain how AI, BI, and ChatGPT leverage the fundamental strengths of our software and do, in fact, increase fundraising for some of the biggest charities in the U.S.
And what we do for the biggest we can also do for the smaller-getting-bigger nonprofits and bigger-getting-enterprise nonprofits.
We recently published an article offering an education on artificial intelligence and ChatGPT because we want our clients to understand why it's in the news and how it can help nonprofits.
Now let's focus on CharityEngine and how we've got new tools up our sleeves to help our clients knock fundraising out of the park. All these features are close to being launched!
ChatGPT Can Write Content
There are a few ways clients will soon be able to leverage ChatGPT in the CharityEngine platform.
The first, which has been released in beta and will be widely deployed soon, is a writing assistant that will allow users to enter prompts.
And just like that, your fundraising emails are drafted.
Or your donation receipt template.
Or the thank-you letter you use our system to acknowledge when someone donates.
Or your social media content or your blogs or anything else you want to be written quickly.
And, in some cases, anything you want to be written perfectly, without spelling or grammar mistakes.
So, for example, you could write: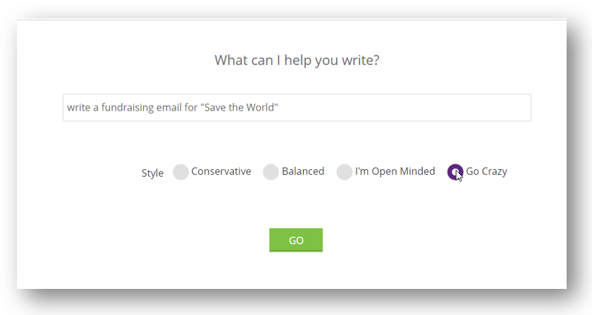 And you might get: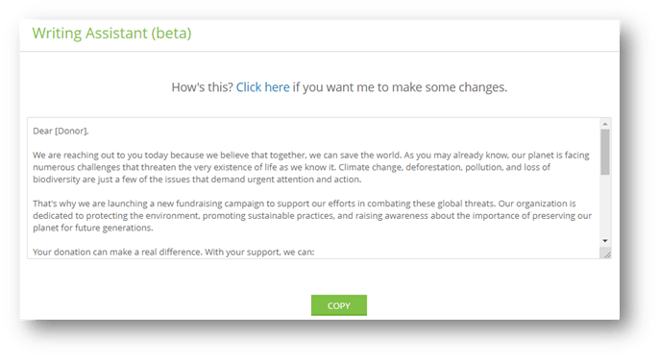 Our ChatGPT writing assistant will allow you to communicate with more donors, faster, and more often. And the emails and other communications will stay in the CharityEngine system and become part of each donor's record, maintaining the 360-degree donor data that makes you a more effective, powerful, and connected fundraiser.
We're so excited about this technology, we're making it available to all CharityEngine customers for free...at least for now!
Email Service Can Respond to Commands
Another exciting feature update is an email service that can mine your data and respond to commands.
If, for example, you wanted to see a list of your top donors, or your most recent donors, or even your longest-lapsed donors, you would email the request to our system and you would receive a detailed report in response.
You can also request an automatic daily update and configure it to show you the data you want to see first.
It could look like this...you send the service an email with the command "help:"

And it returns a list of commands you can use to get the information you want: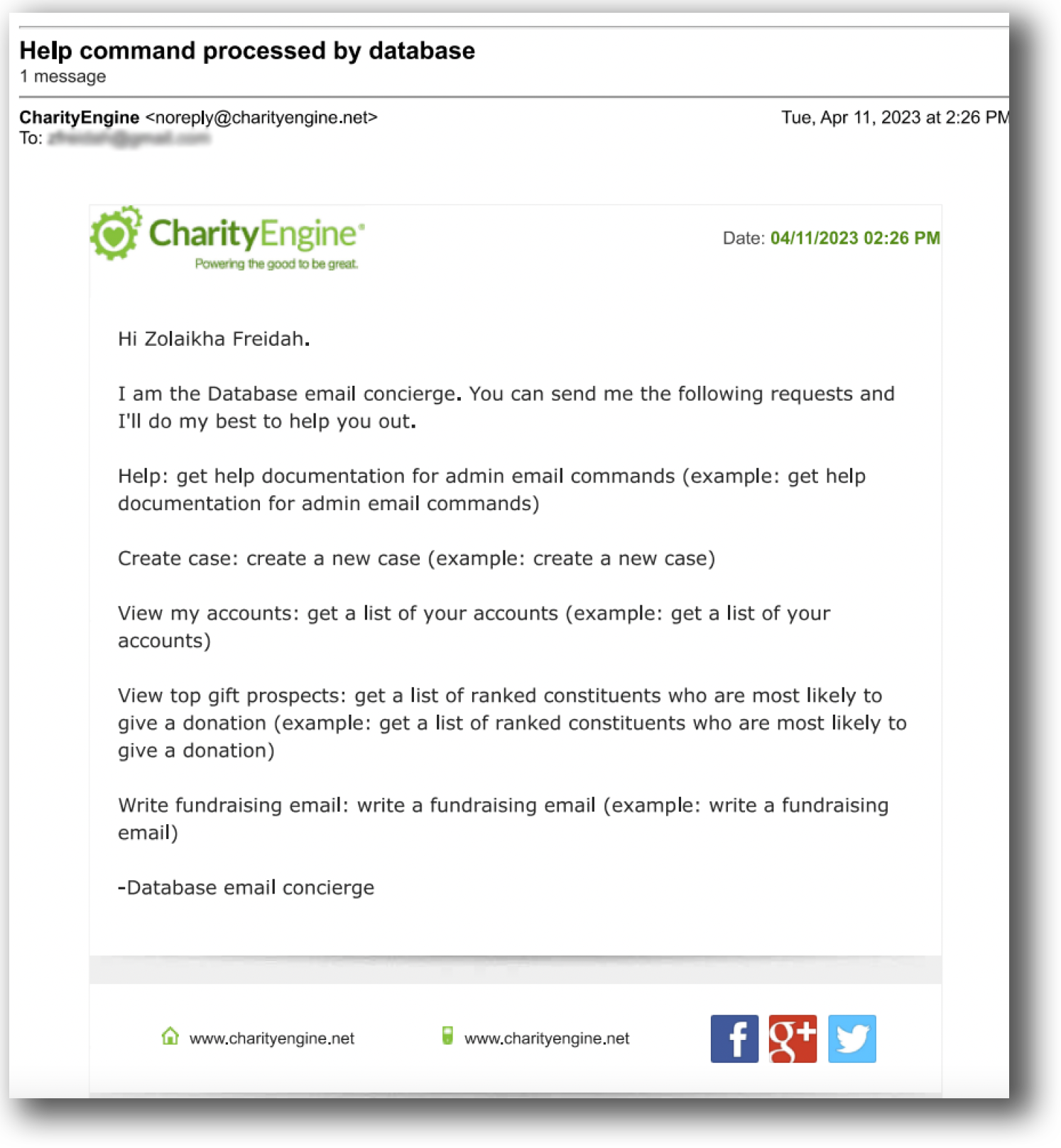 Or you can ask for completion of a task:

And the AI tool will plug into ChatGPT to respond: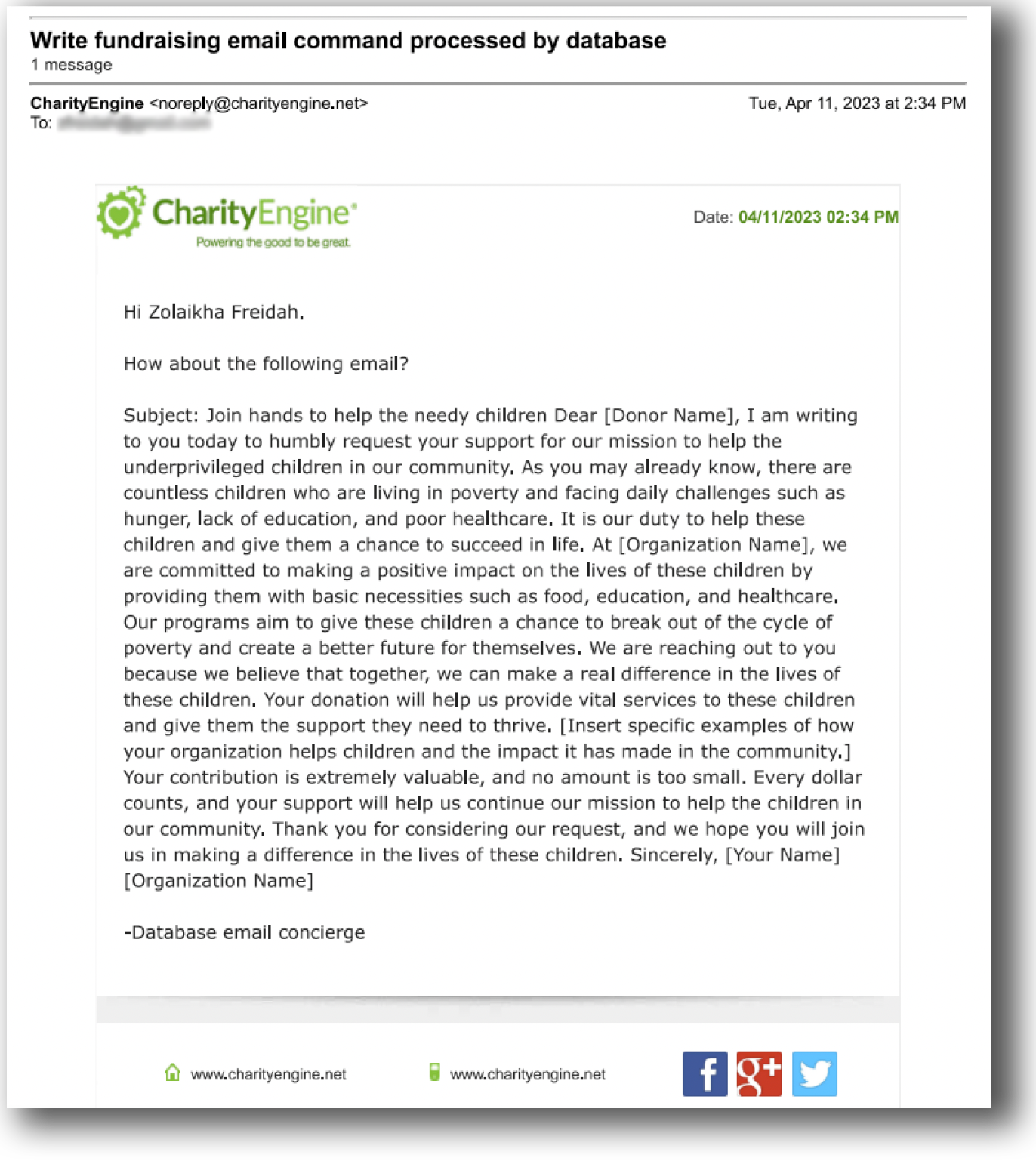 And this again brings up one of CharityEngine's underlying strengths: all your donor data lives in one place.
Because we don't use an ecosystem of platforms, each with its own database, we don't have to worry about drawing incomplete conclusions from data or worrying whether or not the systems are talking to each other.
Your commands to mine your data, therefore, could be across modules.
You could ask for a report on all donors who participated in a P2P campaign and bid on an item at your recent auction, whether they won it or not.
Leaning on a robust, inclusive database, advanced analytics and reporting, and AI means you have specific information to create personalized and targeted fundraising appeals.
BI Offers Unexpected Insights
Our CEO, Phil Schmitz, is always talking about the fundraising concept of the "auction runner-up."
Most auction software, ours included, will immediately give you a list of auction winners and calculate how much money your nonprofit raised at the event. Our system, as noted in the most recent release, will close the auction for you with the touch of a button.
But our auction software also builds in BI, or business intelligence.
And this BI looks at everyone who bid on all the auction items, and flags donors who were willing to part with a lot of money in support of your nonprofit—they were simply outbid.
This donor, the one who didn't part with all the money they would have if they'd won the items, still has a lot of cash that they're willing to give to support your mission.
When our BI spits out a list of supporters like that, you have a golden opportunity to fundraise.
CharityEngine: The Last Nonprofit CRM You'll Need
If all this talk about data and analytics and BI and AI and ChatGPT is making your head spin, don't worry.
We are immersed in all of it, and what matters to you is that your nonprofit will raise more money with CharityEngine than with another CRM.
Want to learn more about these features and how to access them? Sign up for our weekly newsletter so you'll be the first to know. And if you're not a CharityEngine client but you're ready to use the same CRM used by the biggest nonprofits, schedule a demo.
Topics:
Published on April 13, 2023