Our veterans occupy an exceptional role in our country and have unique financial, physical, and psychological needs when they return home. However, with 66% of veteran organizations earning $50,000 or less in donations annually, nonprofits supporting veterans need all the help they can get.
Fundraisers aimed at helping veterans simultaneously raise funds and bring attention to veterans' challenges and specific needs. To help your organization improve or get started raising money for veterans, military personnel, and their families, this article will explore different types of veteran organizations before diving into military fundraising ideas to kick off your next campaign.
Types of Veteran Organizations

Veteran organizations can generally be grouped into five categories that account for the most common types of needed support.
Each type of veteran organization also lends itself to certain fundraisers. Take a moment to review the types of veteran organizations and determine which category your organization or the organization you want to support fits into. By doing so, you can take a targeted approach to fundraising that matches the needs of the military personnel under your care.
General Veteran Needs
Many freshly returned veterans need a little extra help as they transition back to civilian life, and veteran organizations act as a bridge to help them get there by providing loans, counseling, or help filing paperwork.
Organizations that support veterans work to help their constituents make ends meet to cover various expenses. These expenses can range from day-to-day necessities such as groceries to long-term investments such as job training and placement.
Medical Needs
Many veterans have both physical and psychological wounds after their time overseas. Medical assistance for veterans has to cover various needs such as physical rehabilitation, mental health counseling, and assistance in filing medical claims.
Medical expenses can take a major toll on returning veterans' finances. Organizations addressing medical needs often help balance their budgets by offering medical loans, financial counseling, or even raising funds to pay for expensive procedures or long-term care.
Housing
Over 37,000 US veterans face homelessness or housing instability. Physical wounds and PTSD both contribute to homelessness as veterans face expensive medical bills or difficulty finding employment as they readjust to civilian life. Several communities have eliminated this problem, and supporting veteran housing organizations helps decrease the days until it's solved completely.
By providing loans, finding affordable homes, and combatting other factors contributing to homelessness, such as substance abuse and unemployment, veteran housing organizations tackle housing insecurity on an individual and community-wide basis for veterans in need.
Active Military
Even if they are not physically present, active military can still receive help from local organizations. Support to active military members helps their families stay afloat during times of economic hardship.
Some active military organizations also supply families with goods to send overseas to comfort their missing family members and remind them of home. There are also circumstances where families need to raise funds to support their loved ones but don't have the means to collect and send money alone. In these situations, organizations can step in to help fundraise and facilitate getting support to their serving family members.
Military Families
Families of military personnel face several challenges. Without their family member present, they can have difficulty paying for necessary expenses and face unexpected financial burdens if they ever need to travel to meet their family member.
In the unfortunate event that their loved one passes away, military families may need other financial support to make necessary arrangements amid emotional trauma and other economic hurdles that may emerge.
Fundraising Ideas for Veterans Organizations

Peer-to-Peer Fundraisers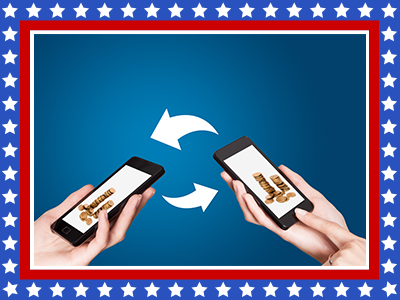 Peer-to-peer fundraising campaigns let your supporters raise funds on your organization's behalf by reaching out to their friends and family for donations. Peer-to-peer fundraisers can attract new donors who may be unfamiliar with your organization but have a personal connection to your other supporters.
For supporters with family members who are veterans (or perhaps are veterans themselves), this type of fundraiser allows them to actively raise money while recruiting their whole community to get involved in the effort.
However, launching a peer-to-peer fundraiser requires more than just a few dedicated volunteers. Effective peer-to-peer campaigns have specific guidelines, goals, training, and supervision. Peer-to-peer software can help organizations get their volunteers set up with unique landing pages branded to your organization. Then, you should be sure to communicate the goals your organization has for the effort and provide training resources to help fundraisers maximize their impact on the campaign.
Engraved Brick Fundraisers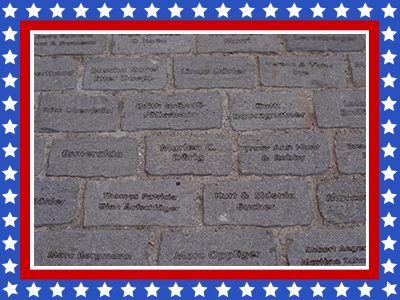 Memorials for fallen servicemen and women honor and remember their sacrifices while giving veterans and their families a place to remember their friends and loved ones. Brick fundraising campaigns can help your organization build a memorial by asking donors to purchase a brick to be engraved and used in the memorial.
After partnering with an organization to supply the bricks and engravings, the process goes like this:
Ask donors to purchase a plain or engraved memorial brick.

Collect enough donations and purchases to complete your memorial.

Place your order with your partner organization.

Create your memorial and invite supporters to visit.
Organizations like Polar Engraving also offer marketing consultations to help your fundraiser get off on the right foot if you're unsure about how to start selling bricks to your community.
Matching Gifts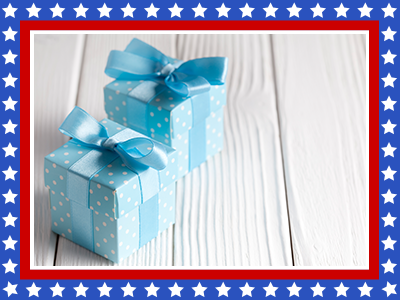 You can maximize the impact of each donation you receive with matching gifts. Corporate matching gifts are additional donations businesses make when their employees donate to an eligible nonprofit. Research estimates that more than 18 million people work for a company with a matching gift program, and chances are that some of your supporters are eligible for the program.
Managing matching gifts is a multi-step process that can help inform donors of their eligibility and provide resources for them to secure their matching gift. Ask donors for their place of work when they donate by using a matching gift database on your donation page to determine if their employer has a matching gift program. The database then provides a quick and easy answer to whether or not that supporter is eligible for a match and a link to the proper submission forms to receive it.

Product Fundraisers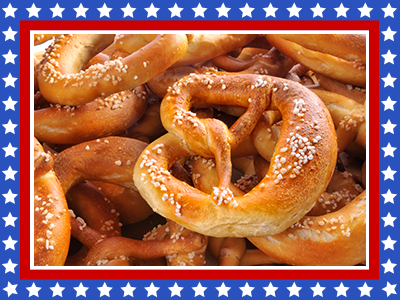 Product fundraisers are excellent ways to raise money for all sorts of causes, including veteran organizations and medical, housing, family, and active military needs. These types of fundraisers are great because they allow dedicated supporters to contribute to your organization while receiving a tangible benefit (the product) for themselves.
Popular choices for products to sell include:
Snacks (gourmet pretzel rods, cotton candy,

cookie dough

, etc.)

Branded apparel (face masks, flip flops)

Merchandise (candles, travel mugs, holiday decor)

Discount, coupon, and entertainment cards
When you work with a product fundraising company like ABC Fundraising, you can get started with no upfront investments, only be charged a wholesale price for the items, and retain the rest of the funding for your organization and the veterans you serve.

Walk-a-thon
Races, marathons, and walk-a-thons are classic fundraisers that get entire communities together to raise both awareness and donations. For a successful walk-a-thon, you'll need to understand the roles and responsibilities of three groups of people:
Participants

collect pledges before the walk-a-thon and then participate in the event to get some exercise while generating excitement at the event. Their total distance or steps walked will determine the total amount of money they raise at the end of the event. Similar to peer-to-peer fundraising, participating in a walk-a-thon gives individuals a chance to fundraise on behalf of a cause that affects them personally.
Donors

pledge per-lap, per-mile, per steps (usually per-ten or per-one hundred), or flat donation rates for participants, then donate the total amount at the end of the event. Their participation makes the event successful, and encouraging them to attend can help build connections for future gifts.
Organizers

set up the event by choosing a venue, recruiting participants, tracking laps, and ensuring the walk-a-thon runs smoothly.
50/50 Raffle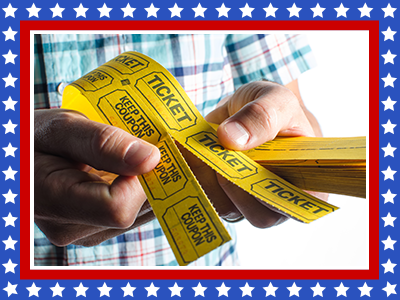 Raffles and games of chance can generate excitement whether they're in-person or virtual. If you host a 50/50 raffle, you'll sell raffle tickets to a broad audience and then choose a winner to receive half of the prize money. The other half goes to your fundraiser, so the more raffle tickets you sell, the higher the prize, making this event more successful the more people are involved.
50/50 raffles work best when paired with another larger fundraising event, such as an auction, to give participants an activity to enjoy while tickets are sold. After all, the winner can only claim their prize if they wait until the end of the night when their ticket is drawn.
Fundraising Ideas for Veteran Medical Needs

Donation Pages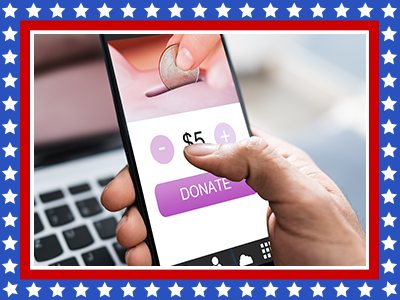 Setting up a separate donation page on your website specifically for veterans' medical needs can inspire donations from people who may be unsure about donating to a more general cause. Customize your donation page with information specifically regarding the medical need campaign you've launched, appealing to the emotions of your prospective supporters.
You can further assure your supporters that their money is going directly to a specific cause by communicating the impact of their donation in a thank-you email. After your campaign ends, reach back out to your supporters to show appreciation and provide an impact statement such as: "Your generous contribution of $100 paid for medication for a wounded veteran."
T-Shirt Fundraisers
T-shirt fundraisers allow your organization to design and sell t-shirts with messages of support for either organizational missions or specific individuals. When you raise funds to help cover the medical expenses of a specific individual, supporters can envision exactly who their donations are helping and what their support means.
T-shirts also help spread the word about your fundraiser whenever your supporters wear your design out in public. Encourage supporters to spread t-shirt fundraisers further by encouraging supporters to post pictures of themselves wearing their t-shirts to their social media profiles with a link to your organization's donation page.
Shoe Drive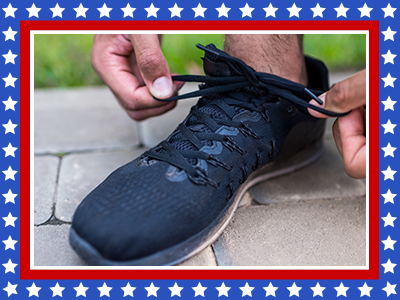 Not everyone who wants to give has the ability to make a monetary donation. However, fundraisers like shoe drives give supporters other options to donate without reaching further into their pockets. Shoe drives work by asking supporters to donate new or lightly used shoes, which are then mailed to a partner organization to be repurposed. In turn, your organization will receive a check based on the number of shoes you contribute.
Shoe drives work especially well for athletic clubs and other exercise-oriented organizations that tend to attract participants that already have running shoes they'd be ready to give. Plus, you can pair this veteran fundraising idea with a 5K or walk-a-thon where supporters can contribute their shoes after the exercise event.
First Aid Kit Sales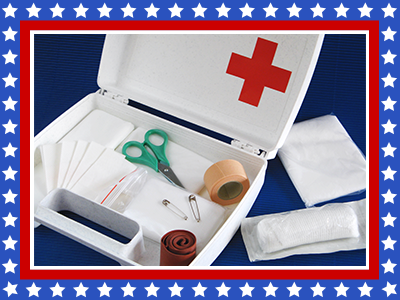 Fundraisers have the greatest impact when they are linked to the mission they are raising funds for. Selling candy, nuts, cookies, or other products won't remind people what cause they donate to after their purchase.
To raise donations for veteran medical expenses, consider selling first aid kits which are useful and help build a memorable connection between the product and the people it's going to help.
5K Run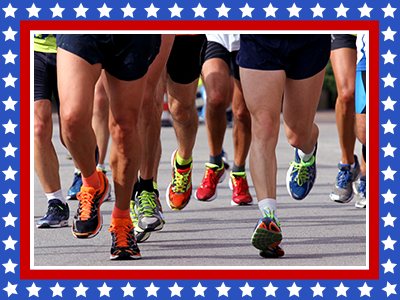 5Ks are an especially great fundraising idea for individual veterans or military members because you can collectively get the entire community behind a specific face and need. They'll be happy to run a race with a specific person to rally behind rather than a generic cause.
5k runs give local athletes, casual joggers, and people looking for a little exercise an activity to look forward to while also getting everyone to support a good cause. Naming the run after the person it's sponsoring also helps get the word out and can make the person it's dedicated to feelcared for by their community.
Fundraising Ideas for Veteran Housing

Text-to-Give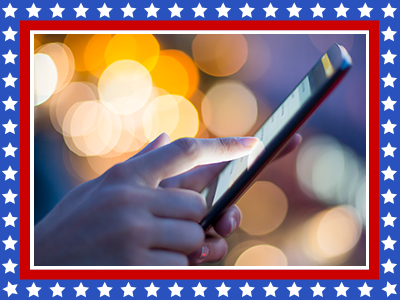 Text-to-give fundraisers allow supporters to donate from anywhere as long as they have their phones (and cell service). Work with a text-to-give provider to create a phone number dedicated to your text-to-give service, then encourage donors to contribute by texting a keyword and a dollar amount.
Direct response television outreach can help boost your text-to-give campaign by creating TV ads that spread your message. When your supporters see your ad, they'll be able to help donate by texting your text-to-give number without even leaving the couch.
Garage Sale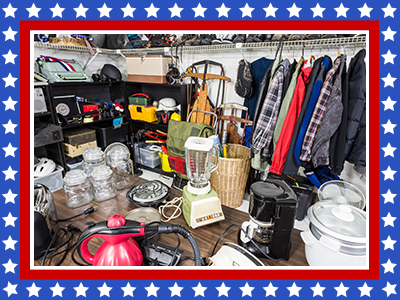 Donating lightly used items to a veteran housing organization can help pursue its mission in two ways:
These organizations can donate the items or offer them at discounted prices to veterans looking for furniture and other necessities for their new homes.

These organizations can host their own organized garage sales to earn money they donate to assist veterans with other housing expenses.
You can also put both of these practices into action at the same time! Host a garage sale to donate the proceeds to veteran housing and offer veterans a discount.
Give it Up Challenge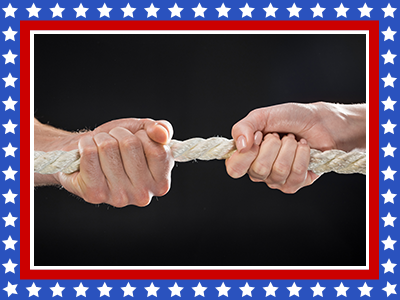 When your donors give to your organization, they're using funds that would otherwise go to something else. Lean into this idea and raise funds while simultaneously demonstrating how little daily expenses can make a difference if dedicated towards a greater cause like veteran housing.
For example, ask everyone to donate the $5 they normally spend on their morning coffee to your fundraiser for a month. You're not asking them to spend additional money but to replace one of their usual expenses by contributing. Asking your supporters to all give something up together can also create a sense of camaraderie as everyone undergoes the same self-imposed challenge together.
Crowdfunding Campaign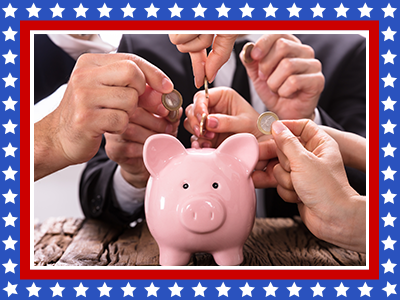 Crowdfunding campaigns raise money by collecting many small donations from a large group of people. Use a crowdfunding website to create a dedicated campaign page to direct supporters so they can contribute. Look for one with a fundraising thermometer so that can be updated so supporters can see how close they are to your goal.
Crowdfunding campaigns run on excitement by getting the word out to build momentum toward milestone goals. Let your supporters know about the milestone goals ahead of time and give regular updates on social media to create a sense of progress as donors give.
Grants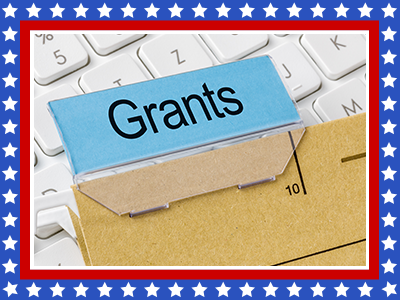 Applying for grants takes months of preparation but can result in major contributions to launch programs and help with specific projects. Your organization can also form long-lasting relationships with grantmakers who approve your applications to renew your grant year after year continually.
Successful grant applications require specific documentation, strict adherence to deadlines, and extensive research, but mostly a well-written proposal. Be specific about who your mission helps, what you expect your impact to be, and how your goals fit with the grantmakers'. Think about how you can frame your mission to match the organization's, and don't be afraid to reach out for advice on how to be successful the next time you apply if your first application is rejected.
Fundraising Ideas for Active Military

Charity Auctions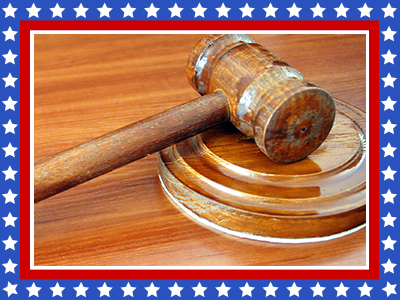 In-person and virtual charity auctions raise money for your organization by allowing your supporters to bid on items collected for the event. The most successful charity auctions have items that are experiences or packaged bundles that provide more value than individual items. Reaching out to local businesses who support your mission for donated or discounted items also allows your nonprofit to establish relationships with them that can lead to future donations.
Consider hosting a charity auction specifically for families of active military. Inviting local families to an event can allow them to socialize with each other while helping each other out by bidding on items that support their loved ones overseas.
Letter Writing Campaign
With the rise of digital fundraising, many view traditional direct mail fundraisers as either more formal or more personal, depending on the style in which the letter is written. Letters of appreciation also hold special meaning for the active military who may not be able to stay in regular communication with friends and family.
Launch a letter writing campaign by giving volunteers guides and templates for donation letters. Then ask them to write two letters: one for a potential donor and one for a service member. Handwritten letters are especially meaningful, and relying on your volunteers to help with the effort increases your output to reach even more donors and active servicemen and women.
Pledge Challenge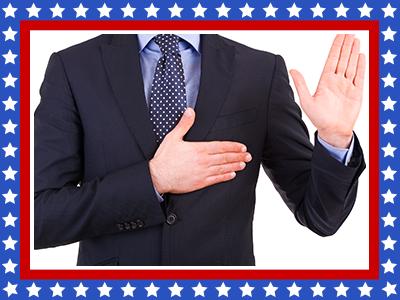 Pledge drives inspire donations in times of emergency, creating a sense of urgency to follow through on their donation down the line. For active military support organizations, sudden travel needs or emergency situations can encourage already pledged supporters to contribute their promised donation.
Pledge challenges work best when supporters are contacted on multiple platforms. For example, a supporter may make a pledge on the phone, then receive a follow-up text a couple of days later reminding them of their pledge and an email with regular updates on the campaign's progress or if there are any changes overseas.
Giving Days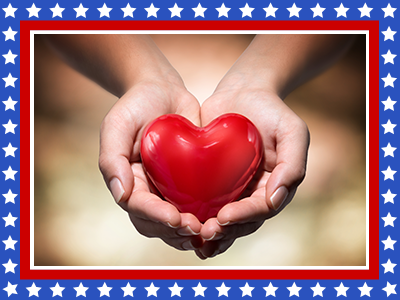 Fundraisers have more success when there is a sense of urgency for supporters to donate. Creating deadlines or making events out of giving can generate buzz and excitement to get people talking about your organization.
For example, Giving Tuesday and other day-long giving establish a short giving time frame and provide additional incentives such as matching gifts to generate as many donations as possible within 24 hours. While you can pick almost any day, try finding a date that is significant to your organization's cause, such as Memorial Day, and set up an annual day of giving. Be sure to give your supporters plenty of notice in advance to be ready to jump in and donate.
Chain of Hearts Fundraiser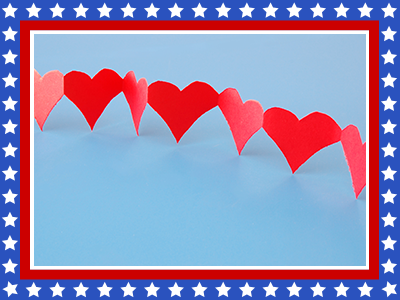 Invite your supporters to show their support by purchasing paper hearts that will be displayed at your organization, in a public location in town (with permission), or at a partnering business (like a restaurant). These hearts raise money and can attract additional attention to your fundraiser from anyone who passes by.
Your organization can further personalize and connect the experience to your cause by writing the name of an active military member on each heart, creating a more memorable connection and showing the military members' families that their community supports them.
Fundraising Ideas for Military Families

Charity Concert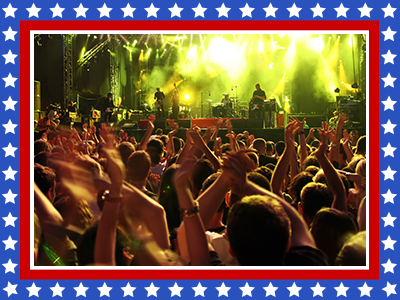 Both in-person and online charity concerts can be fun ways to raise awareness and donations simultaneously. Ask local artists in your community to perform or recruit team members or volunteers with musical talents to join your line-up. Make sure to ask the musician to shout out to the troops during the event!
In addition to providing a night of music, you can raise funds at your concert by selling both tickets and t-shirts to commemorate the event. Set up your online registration form to prompt guests to buy merchandise or make a donation after adding the concert ticket to their cart so they only need to enter their financial information once.
Used Book Sale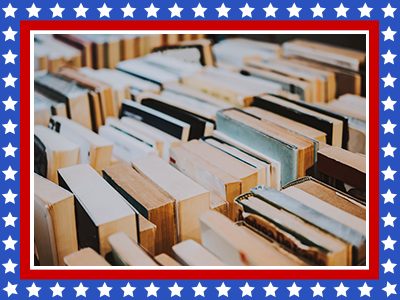 Used book sales are simple but effective ways to take unused resources in your community to spread entertainment while earning donations. Ask community members to donate used books to your campaign, then host an event to sell them back to the community.
Don't forget to offer a discount to active military, family members, and veterans! You can even set up a table dedicated to military-related reads.
Restaurant Partnership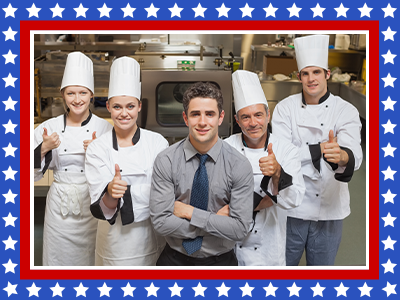 Businesses and corporate sponsors often help nonprofits because their philanthropic missions align. However, they also offer sponsorships because they appreciate the marketing efforts your nonprofit does for them and the reputation boost that partnering with a nonprofit brings.
Partnering with local businesses such as restaurants can benefit both your organizations when you set up events such as giving nights. Find a restaurant that fits with your campaign's goals and establish an evening during which a portion of the proceeds the restaurant collects will be contributed to your organization. Your organization will raise funds while the restaurant gains new business through your campaign marketing efforts. It's a win-win!
Talent Show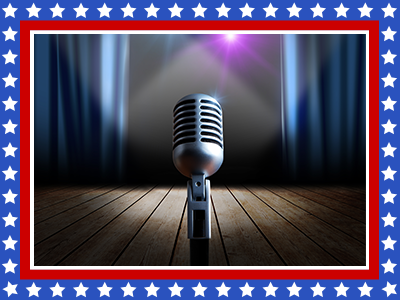 Both your supporters and local kids have talents they want to show off at either an in-person or virtual event. Begin your marketing by asking for sign-ups and encouraging military family members to sign up to both have fun and be part of the event.
Talent shows earn donations by selling tickets and concessions and asking for small donations at the beginning and end of the night as a way to thank the performers for putting on a show.
Facebook Fundraisers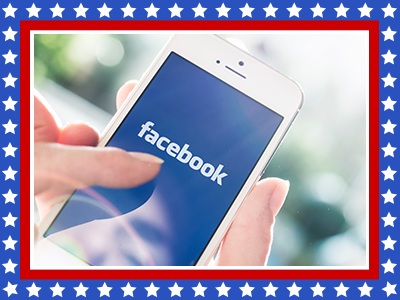 Social media fundraisers work due to a concept known as social proof. By showing people that their friends and family are donating to a fundraiser, they'll also be encouraged to donate. Facebook fundraisers are fundraisers that anyone on Facebook can throw for their favorite nonprofit, publicly displaying donations to their friends and family who chip in.
Your organization can make the most of Facebook fundraisers by registering with Facebook Payments. While this is an optional way to obtain funds for your organization, it provides a faster payout and provides more resources to learn about your donors.
Wrap Up
These fundraising ideas should get your organization started planning its next campaign to help out veterans, and their families have their unique needs met. All fundraisers require preparation to be successful, so if a veteran fundraising idea inspires you, be sure to do your research on what it takes to get started.
Topics:
Published on March 3, 2021