Giving Tuesday is right around the corner, and it's no secret that fundraising feels a little different this year. With virtual events replacing the usual status quo, many of our original plans have been derailed - leading to a shifted landscape in the typical Giving Tuesday fundraising space. So how can your organization adapt to these changes and ensure success?
Luckily, there are many fundraising avenues that your organization can execute completely online while still engaging your donors. A great example of this is employer gift matching. This fundraising strategy is an excellent way to empower your supporters and magnify donations.




While gift matching strategies are a surefire way to fuel your Giving Tuesday efforts, it certainly takes the appropriate preparation and execution. Because of this, we have compiled the best practices from matching gift experts so that your organization can plan this year's ultimate Giving Tuesday campaign.

Ready to learn more? Let's jump in!



Research Matching Gift Eligibility to Prep for Your Campaign
Before taking on employer gift matching, it is important that your organization does a base assessment to determine the scalability of this strategy. With over 65% of Fortune 500 companies offering matching gift programs, it is very likely that many of your donors are match eligible. With that being said, it is important to have a quantitative estimate to plan your campaign objectives and expectations.
That means that the first step in determining matching gift eligibility and scalability is looking through your donor database to find your supporters' employment information. This will help you form a base estimate of how matching gifts will impact your campaign.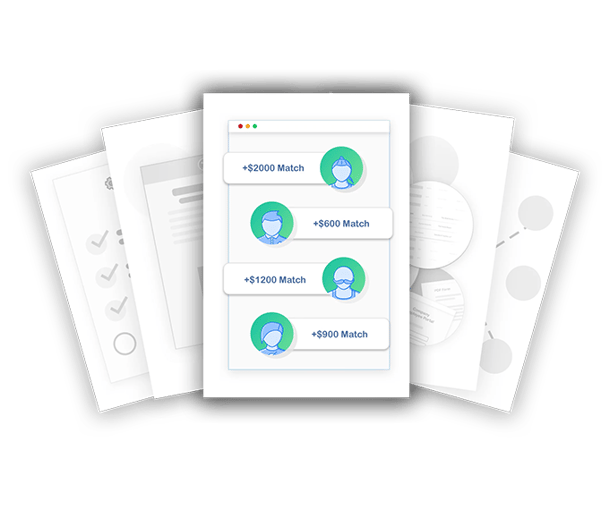 Not sure how to track your donors' employers? Check out this resource.
Once you have a solid foundation of employer information, you can begin to research specific matching gift programs. This step is especially important because gift-matching programs can vary in terms of eligibility, minimums/maximums and payout structure. Understanding these differences is vital to assessing predicted earnings from gift matching.

You can then use this information to easily see which of your donors are match-eligible and therefore determine how much time and effort you should invest in this fundraising stream. That way, you can even target donors with the best matching gift programs - making it easy to maximize revenue through employer-matching gifts.



Empower Donors with Matching Gift Messaging
After you determine scalability of your gift-matching campaign, you can begin planning concrete outreach strategies. Most supporters are unaware of their gift-matching programs - so it is important that you educate them and encourage them to submit a gift-matching request. Without this knowledge, your donors will rarely take the extra step to find their gift-matching form and complete their submission.

Our team suggests three methods to educate donors and track their responses. The first is by educating donors through gift-matching information placed directly on the confirmation page of your donation forms. This spot provides the perfect opportunity to inform your supporters directly after the donation process - which while they are feeling the most connected and committed to your organization. Sharing simple steps on the confirmation page empower donors to submit a matching gift request and drive revenue for your organization.
Next, we recommend sending out matching gift emails following a contribution. These messages can be specific or generic depending on the size of your organization and automation capabilities. These emails might include matching gift program specifics or even links to matching gift pages. Using targeted outreach through email helps to close the donor awareness gap, making it easier than ever for your donors to double their donations for your organization.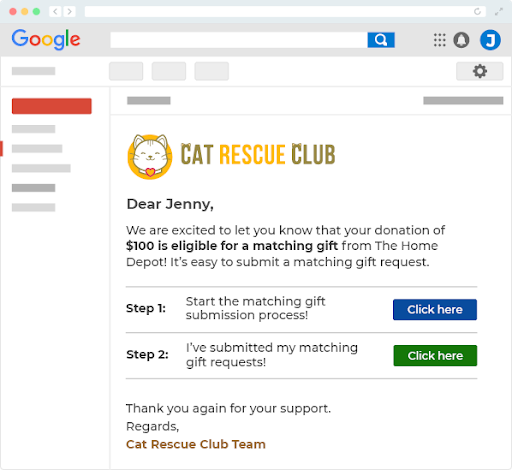 The final recommended outreach avenue involves web pages. These can serve as a trusted and even valuable source of matching gift information for your viewers. In fact, mentioning matching gifts in fundraising appeals results in a 71% increase in response rate and a 51% increase in average donation amount. This means that a matching gift webpage can actually turn website visitors into donors!

As you educate your donors through emails, web pages or other outreach avenues, it is important to track your results. This should include your matching gift submission rate, response to emails and cadence of matching gift submissions. These metrics are a great way to see if you are meeting your goals while evaluating what is working for nonprofit donations and what isn't.
There are many tools that can help you automate, tag and track these tasks. Keep reading to learn about the industry-leading matching gift tool to simplify this strategy.

Automate Matching Gift Activities to Save Time and Effort
We understand that adding a new fundraising strategy can be daunting - that's why we recommend using an automated software to help make the gift matching process effortless and efficient. Luckily, CharityEngine is partnered with Double the Donation, the industry's leading matching gift software provider. Their robust tool, 360MatchPro, can double or even triple your matching gift revenue without any extra work.



Simply integrate these two systems, and the 360MatchPro tool will begin capturing donor data from your confirmation page. This page will then show a wealth of gift matching information alongside a link to the donor's specific matching gift submission form. The donor can just click on the link to submit their request - making it easier than ever for your supporters to double their donations!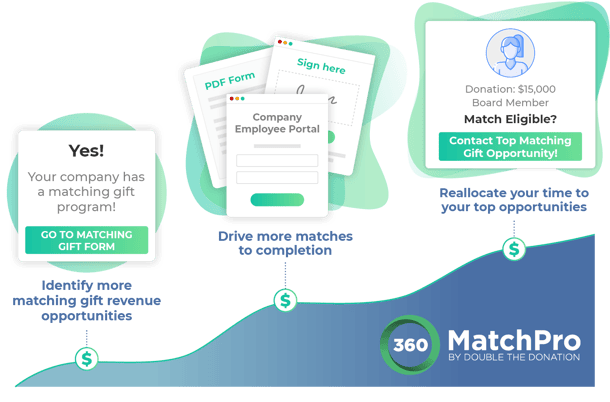 After the donation process, users can configure the 360MatchPro tool to send automated emails to their donors. These messages explain employer matching gifts, and they once again provide links to the donor's specific matching gift form. This provides an additional safeguard to target donors who did not engage with the gift matching information on the confirmation page - providing an additional avenue to drive donations for your organization.

These emails are completely customizable, so your organization does not have to sacrifice its unique voice for the ease of automation. Users can insert their logo, alter header images, craft messaging and choose the cadence of these emails - all within the navigable 360MatchPro dashboard.
Of course, this dashboard will also track valuable matching gift metrics so that your organization can evaluate the status of your matching gift campaign. These insights include donors name, contact information, employer, matching gift eligibility, matching gift submission updates and more!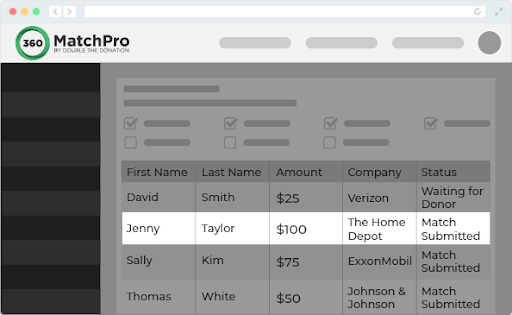 Using this information, you can see how donors respond to your emails, what behaviors make them submit matching gifts more quickly and which supporters have the best matching gift programs. As you evaluate your campaign, take note of how each of these factors drives revenue for your organization.

That's all there is to it! Employer gift matching is a simple and powerful way to drive donations this Giving Tuesday, and you don't even have to ask your donors for more of their own dollars. Be sure to check out a matching gift demo to learn more about matching opportunities for your organization. Happy fundraising!


If you would like to see this process in action, please schedule a demo with Double the Donation. This personalized session will focus on your organization's specific gift matching needs. You can also learn more by contacting your CharityEngine account executive.
Ready to integrate 360MatchPro? Check out the Double the Donation and CharityEngine integration guide to learn more about getting started.

Ready to Test Drive CharityEngine Software? Click here to Start your 10 Day Free Trial today!
Topics:
Published on October 5, 2020