New Features from CharityEngine
CharityEngine's newest product release features almost 80 updates!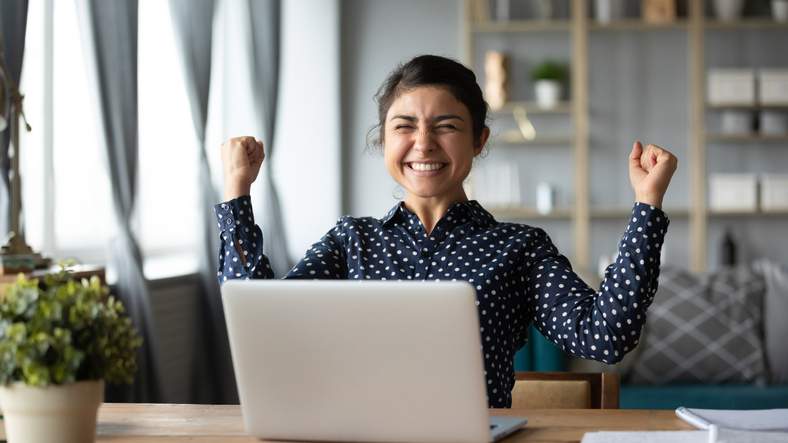 On the heels of our late-April product feature release, CharityEngine has issued another update giving clients more transparency into their data.
In this release, we offer almost 80 fixes and features to make it easier for you to collect, access, and analyze data.
Some of our favorite new features include the ability to see more details when gifts are matched and new user-friendly dashboards.
We all know the benefits of a dashboard that offers a bird's-eye view of data you need to see. We're excited to offer two new dashboards that offer a clear, user-friendly look at commonly tracked metrics. Let's take a quick look at them:
Cases Dashboard
Many nonprofits like to have a view of all their constituents' questions and/or challenges in one place. With the new cases dashboard, you can track:
How many open cases you have, as well as how many you've addressed

If any constituents are waiting for a response or materials from you

How fast your response rate is to them

How long constituents have been with you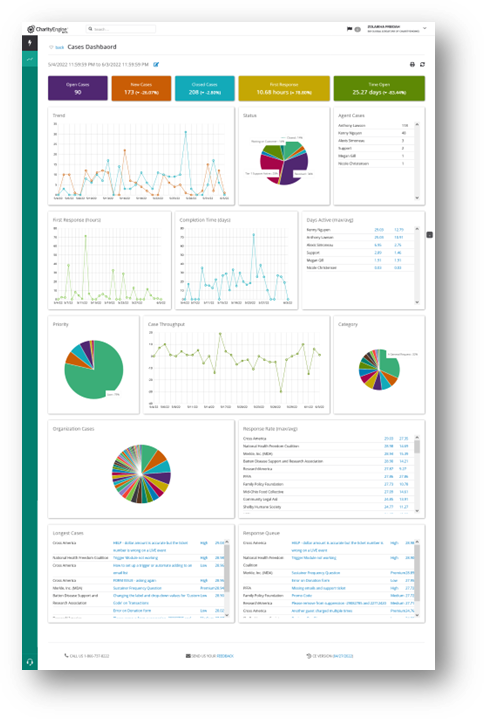 This dashboard will give you a real-time look at the health of your donor or constituent program, as well as illuminate any areas that need your attention.
Email Deliverability Dashboard
This dashboard is our darling! CharityEngine offers high deliverability rates (they hover around 98%) and this well-thought-out and customizable graphic overview is a great way for you to keep track of all your emails. It will show you:
Who you're sending to, including the most deliverable domains

What your delivery rate is

Failures and bounces and why

Views, clicks, and conversions

And even a configuration analysis to check your overall delivery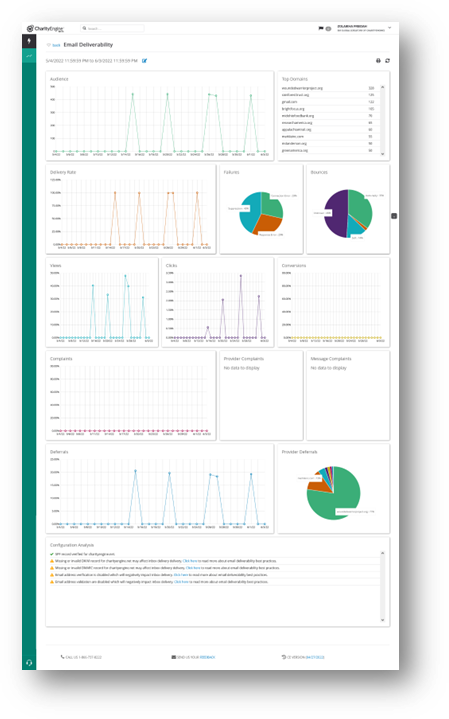 For more information on our email deliverability best practices, please visit our Help Center.
Both dashboards will give insight into how effectively you are reaching your constituents, and if there is any area that needs improvement! Together, these new dashboards give nonprofits an easy way to see two of the most important measures of success.
Enhancements Requested by Clients
As always, this product release contains many different feature enhancements that were requested by clients. We are proud to have a dynamic, responsive team that listens to our clients and guides our development efforts in a way that will resonate with the nonprofits that use them. If you're not a client, you can see what it looks like to work with us, and you can always visit our product info page to see what's cooking in the CharityEngine kitchen!
Topics:
Published on June 7, 2022