5 Creative Ways to Get People to Give
Ready to think outside the box and try some new donor engagement ideas? We've got five that are sure to work!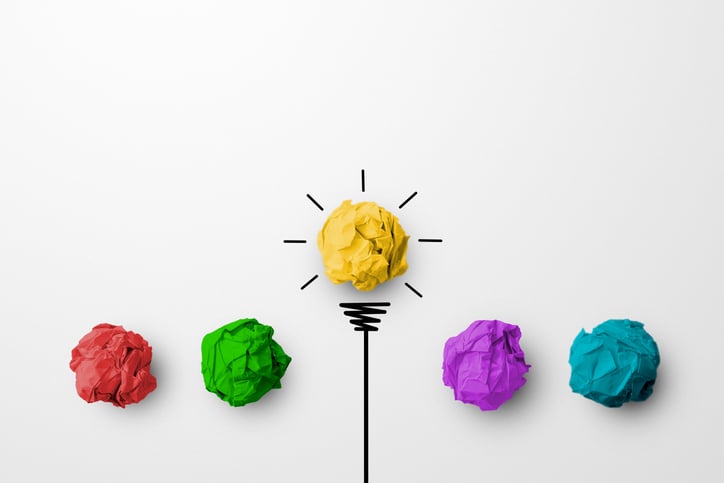 Let's be honest. People can get tired of giving. Donation requests have become ubiquitous, whether you're opening mail from your local firefighters, answering the phone because your college is calling, or even checking out at the grocery store and rounding up to support a school supply drive. And then we can talk about the social or environmental causes you notice: it's a lot of asking.
And people answer! Six out of ten American households participate in charitable giving, and believe it or not, the least likely reason for people to give is so that they can get a tax break.
Donors care, and donors give. But donors also get tired of being asked.
So how can you, a very worthy nonprofit representing causes donors really care about, bust through the noise of everyone else wanting donations and make your cause shine?
We've got some ideas for you. Let's look at why people give, and then we can share some creative approaches that we've seen work with our clients.
Whether you're gearing up for an intense year-end campaign or just looking to sprinkle a little happiness in your regular rotation of asks, we've got you covered.
Why Do People Give to Nonprofits?
Would you believe that those making less than $50,000 a year give more (relative to total income) than almost any other income range? So it's not that people who give are just really wealthy and have money to spare. Charitable donations go much deeper than a bank balance; donors are drawn through human connections that make them feel like they matter.
Nonprofits who reach out to their donors and listen to their stories are more effective fundraisers because they understand the why of their audience.
Psychology Today highlighted five key reasons people give (and one obstacle to giving):
Trust. We preach transparency and making it easy to give, and we encourage nonprofits to be vocal about their impact on the world. Donors must feel as though you will be good stewards of their time and money.
Altruism. Giving releases dopamine in our brains, so it feels good to help. Allowing donors to help in different ways—a range of donation amounts, volunteering for events, circulating an online petition—makes them feel good about themselves. By extension, they feel good about your organization.
Social. Think about Girl Scouts selling cookies around your neighborhood or the donation you make in honor of your mom, who you lost to cancer. Donors often give for social reasons, which nonprofits should consider when planning outreach. Many

fundraising tools

are built on social concepts.
Taxes. Just because we said it's the least likely reason donors give, those hefty tax breaks are irresistible to some folks. There's a reason

year-end giving

gets a lot of attention from nonprofits and donors alike.
Egoism. (If you can't tell, they're spelling out an acronym here.) This just means that sometimes people give to feel better about themselves. It's almost the opposite of altruism, where your motivations are external and you want to help others. With egoism, you do it so you'll feel good.
So what's the one obstacle? A constant that holds true across all years and sometimes even across income brackets: people feel like they can't afford to give money away. We're in the business of helping charities, so we would counsel that there's tremendous value in dedicated donors who don't give money. They make wonderfully enthusiastic volunteers!
So now you've got six (yes, we're counting the last one) different reasons people give, which can align closely with your appeal when you reach out.
If you've exhausted the usual outreach methods or are ready to shake them up, here are five new ideas to engage your donors.
5 Creative Ways to Ask for Donations
Not all of these will apply to any nonprofit, but maybe they can get you thinking about how the basic principles could be adapted to work for you.
Art-based fundraisers

are sure winners for schools, but nonprofits can use some of the ideas in their local communities. You could, for example, partner with a local elementary school and offer a competition for art students to design a t-shirt, mug, notecard, or ornament promoting or representing your nonprofit. Have donors vote on social media, and then use the winning design to brand merchandise you sell.
Lunch-bunch workshops work well locally, but we now know anything can also be done virtually. Get a speaker that matters to your audience, whether it's someone who can share a personal impact story or an expert who can educate donors about your mission. Sell tickets for a nominal fee and gather local folks together for a casual lunch and learn. Livestream it to broaden your reach.
Dine for Dollars. If you've ever ordered a sub sandwich to help your child's soccer team, you know all about the dine-out idea. If we are being completely honest, it's hard to make significant money based on the cuts most restaurants will give organizations. But what has worked is branding the dine-out idea (recently we've heard "Hungry to Help") and having it be, for example, the first Tuesday of every month at a different spot. This isn't only a local event; you can set up a similar fundraiser in communities across the U.S. As you can imagine, raising $50 from one pizza joint isn't great, but $50 from 100 different pizza joints can add up and get your name out there.
Golfing…sort of. Golf tournaments can be very effective fundraisers, but they require intense effort. What's more manageable, open to all ages, and much easier to plan? A putt-putt tournament! Designate ambassadors in different regions to help, and the game can grow. You can ask for a reduced per-person fee and sell tickets that will give you a profit margin.
Another idea that can be local or you can deputize donors to take national is that of a celebrity bartender. These events do tend to raise a lot of money for nonprofits because the bartender donates his or her time, and all tips go to the charity. Bars are happy for the guaranteed patrons, particularly on any night that isn't Friday or Saturday, and most people are heavy-handed tippers when it's for a good cause.
Do Your Donor Homework
All the creative tips in the world won't work unless you're doing your homework and you understand who you're targeting. If you live in an area where most people don't drink alcohol, a celebrity bartender would be a big flop, but an ornament campaign could be highly effective.
Use data from your CRM to know what your donors care about. Why do they donate? When? How much? This can inform any campaign.
When you land on an idea you like, think about active donors in other states who could serve as local ambassadors spearheading simultaneous or similar campaigns. Once you have an idea that works, could you keep it going?
CharityEngine provides technology to nonprofits, but we also serve as great sounding boards for your ideas. And we love to share success stories to get you thinking of new ways to fundraise!
If you'd like to partner with us, give us a buzz and get a demo on the calendar. And we love to hear successes, so report back if you find a stellar way to ask for donations. Finally, remember to thank your donors profusely and often to keep them engaged and feeling valued.
Topics:
Published on August 11, 2022