Missed NIO 2023? Here are 6 Juicy Tips for Nonprofits!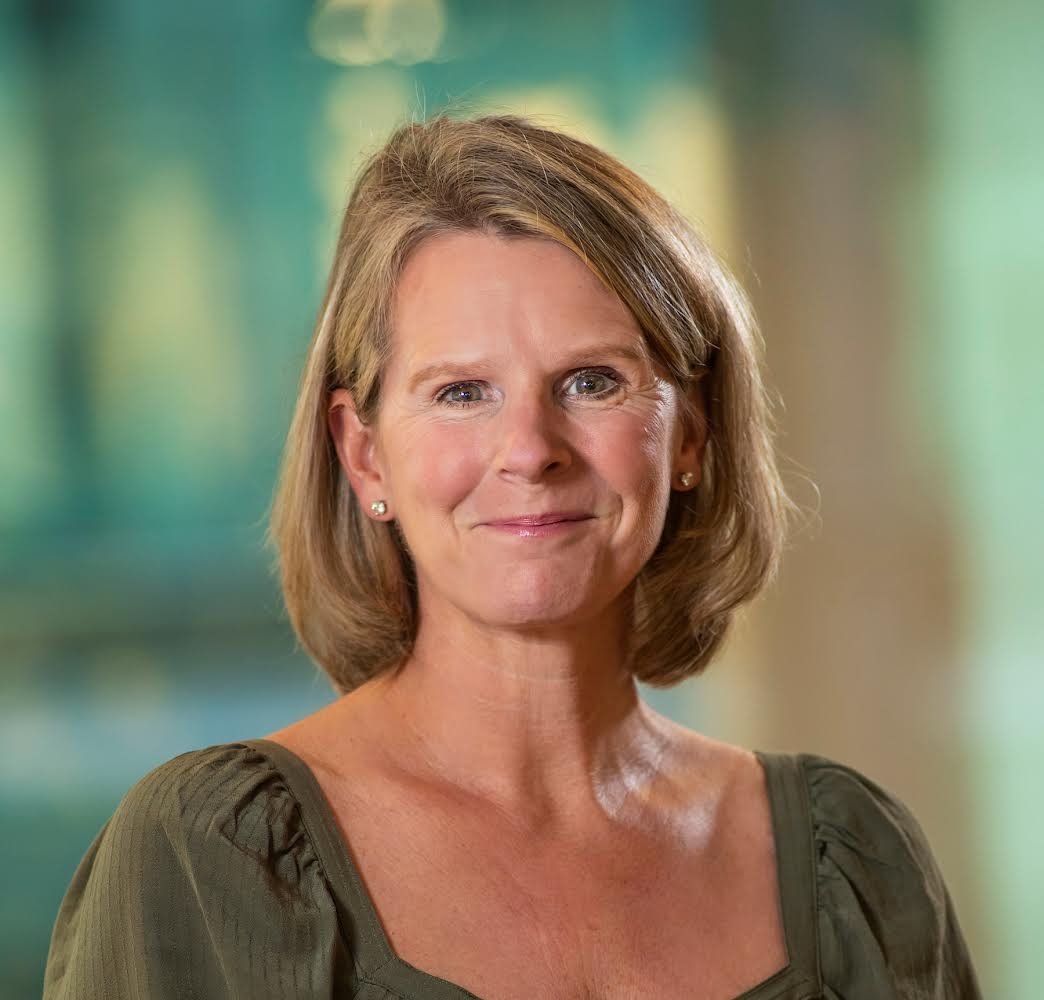 by Julie Kennon
If you missed this conference last week, fear not. Here are six tips we think you'll love!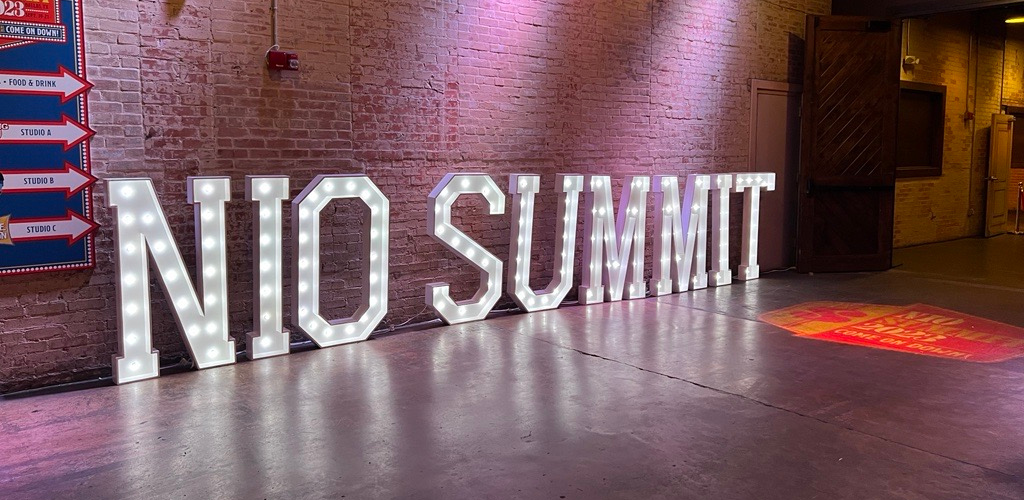 A friend asked me why I was going to Dallas last week. "A conference," I replied. "Ugh," she said. "I'm so sorry. Conferences are boring."
Having just attended my first Nonprofit Innovation & Optimization (NIO) Summit, I can tell you that it was a lot of things.
It was surprising.
It was funny.
It was full of interesting people.
It was ridiculously informative.
It was most definitely not boring!
Just in case you missed the two red people (literally – bodysuits and face paint) wheeling through the halls on tricycles or lawnmowers that spewed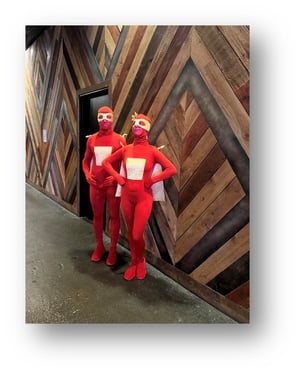 bubbles, or you missed getting slimed by our friend at NextAfter, Nathan Hill, or you didn't compete in live game shows to win cash and prizes like crazy, or you missed the boatloads of great tips shared by speakers, we've got you.
To be fair, it's an insult to write an article that lists six tips. There must have been 600 or 6,000 (6,000,000 doesn't even seem like an exaggeration) critically important takeaways for nonprofits and narrowing it down to six is crazy. But my brain would explode if I tried to report every single minute of NIO, so I'll just share a few things that caught my attention.
(And yes, it's long even when I'm offering an abridged version, so you'll see bulleted takeaways at the end of each section. Start there! And scroll to the end to see how we interpreted the "buy into the game-show theme" instructions!)
The next NIO Summit will be held in Indianapolis in September 2024. If you can find your way to Indiana, I highly recommend it.
6 Tips for Nonprofits
The premise of NIO is that the way we communicate with donors is similar to how we connect with people in other areas, so they bring in "outside" speakers—not all nonprofit experts—to share tips that work across industries.
Attendees get fresh ideas that many nonprofits haven't heard, making it a wellspring of innovation.
Here are six of the ideas and conversations that caught my attention.
Tip #1: Stay Human in a Digital World
Carlos Whittaker is an energetic and entertaining presenter. He's an author, podcaster, and unexpected Instagram fundraiser.
In a nutshell, he has cultivated an enormous social media following he dubbed "Instafamilia." When he finds someone in need, he shares the need with his Instafamilia and is always stunned by the response.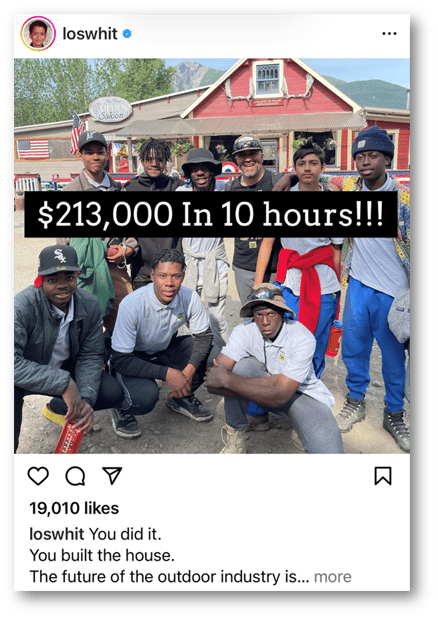 He told the story of seeing an older gentleman, Tonee Carter, playing the piano in an airport. No one was paying attention to him, so Carlos asked his followers to help fill his tip jar. Donations started pouring in, and Carlos began talking to Tonee.
Turns out that Tonee played the piano during the day and gave himself kidney dialysis for nine hours every night. As Carlos shared that update, donations skyrocketed, and Carlos eventually ended up with $85,000 in that tip jar.
Now, that's a great story, but it's not what stuck out to me the most. What surprised me was this:
The average tip from each member of the Instafamilia was $3.
People, Carlos argued, are dying to give. They get excited to help. And your job, as a nonprofit, is to give them the opportunity to feel good about themselves. They're desperate for community, connection, trust, and to help fellow humans.
What can nonprofits learn?
Be ridiculously authentic with your donors. Work to build their trust.

Offer them an opportunity to belong. Focus on the community they are in or joining.

Nothing beats a personal touch. Pick up the phone, dash a handwritten note on a direct mail piece, thank donors on your website or social media. Show them you see them.
A lot of people giving just a little money can have an enormous impact on your fundraising. Consider ways you can blanket a lot of people with a very small ask. We've got ideas if you don't!
Tip #2: Unlock Generosity
A brand advisor to business owners and CEOs, Brian Sooy is the guy for-profit companies call when they need to refresh their brand and make their customers the center of their story.
It's just a hop, skip, and jump on over to nonprofits. We've talked about the importance of storytelling when you're talking to donors, and it was interesting to hear Brian apply his ideas to nonprofits about authentic storytelling and connecting with each other.
The theme of his presentation was that generosity unlocks abundance. He then offered four ways you can unlock generosity by giving donors the keys.
The first is to align impact. In other words, understand what motivates your donors and align their capital with the impact you want to make. And then acknowledge that every donor's gift is a sacrifice for that impact. Acknowledge gifts!
Second, you want to win trust. By nature, we're skeptical folk! How can you earn trust? Perhaps it's through complete financial transparency. Perhaps it's by throwing open your warehouse doors and letting donors in. Perhaps it's webinars or videos or pictures to show donors the impact of their gifts.
The next way you can unlock generosity is by earning loyalty. Be authentic and share with donors how their gift matters. Make personal connections with donors to build loyalty.
And the fourth way is to share joy. Generosity is a virtue, and nonprofits are in a unique position to allow that virtue to shine. You can direct personal generosity toward shared goals.
What can nonprofits learn?
Consider people over processes: why does someone support your nonprofit, and are your goals reflective of the change they seek?

How you acknowledge a supporter's gift may be the last chance you get to win trust and earn loyalty.

People forget what you do but not how you make them feel. Make sure your donors see and feel your gratitude.

Show donors options to help, evangelize the impact, and make sure they feel like they're part of the solution.
Tip #3: Donor Retention is the New Donor Acquisition
The president of NextAfter, which produces NIO, is Jeff Giddens. If you don't know much about NextAfter, it's worth jumping to their website to learn about their research and how it can help you fundraise more effectively.
Jeff spoke about a subject dear to every nonprofit heart: donor retention. He posed two questions that, thankfully, he helped answer:
What makes people give?
What makes people keep giving?
Jeff talked about the Covid bump, which led to strong fundraising numbers during the pandemic. Post-pandemic, people went back to normal life, the stock market declined, we've had record inflation, and…most relevant…we've seen poor donor stewardship.
He offered three ways to keep your donors.
Earn the Email
When NextAfter measured channel cohorts, they learned something interesting. They looked at four types of donors:
Offline donors who didn't have a valid email address (think direct mail)
Offline donors who do have a valid email address
Online only donors
Multichannel donors who gave online and offline in the same year
The company found that multichannel fundraising retained donors at a 73% increased rate over any single channel. And the easiest way to get a multichannel donor? Earn the email.
To do this, your intent matters. Ask for emails without appending data; offer your intention to provide something they need. Jeff gave the example of offering a course or a free ebook. Once you have an email, send a direct mail piece. You've got a multichannel donor.
Save the Streaks
A streak donor is one who manually gives monthly donations three or more times for the same amount. Research found that streak donors give twice the average gift size but are three times more likely to lapse.
The remedy? Offer these streak donors the chance to become recurring donors.
Offering the chance to change a one-time gift to a monthly gift raised donations 144%
A tabbed donation form (single and monthly gift options) led to a 15% increase in donations
Offer social proof "Join 300 fellow supporters"
Win the Second Year
Second-year donors are the gateway to higher revenue per donor, but their retention rates are the lowest. Studies show that second-year donors don't get any love!
Why not? They're not new donors you're trying to keep. They're not loyal donors you're busy retaining. They're the middle child, and they get fed up and leave disproportionately.
As Jeff reminded us, you have to give for two consecutive years to become a key-multiyear, or three-year, donor…so focus on those middle children!
Change your language for them. Remind them when they last donated and how much it was, then ask for them to repeat that donation. This led to a 72% increase in donations.
Consider brand ads and direct response ads.
When you earn the email, save the streaks, and win the second year, donor retention goes up.
What can nonprofits learn?
Email is the critical asset to get a multichannel donor, which has the highest retention rates.

Converting streak donors to recurring donors increases retention.

Focus relentlessly on keeping second-year donors. They can't become three-year donors if you don't.
Tip #4: Ask Questions
Els Aerts offered a high-energy look at the lost art of asking questions. She focused on the importance of asking the right questions and talked about how to do that (such as breaking questions down into manageable chunks).
Els recommends that nonprofits focus on web surveys as well as interviews. And, she noted, most surveys suck…unless you do them right. Here are her six tips for asking great questions:
Ask the right people. Who is really going to provide the most valuable information? Who has the most relevant perspective?
Ask the right questions. Don't ask leading or loaded questions. Instead of asking someone to rank how great an experience was, use neutral words or offer both positive and negative options.
Don't ask about the future (no one knows) or the too-distant past (no one remembers). No one can remember what they had for lunch last Tuesday, so make sure your questions about an event or experience come right after that event or experience.
No closed questions! Human nature makes us choose an option, even if it's not reflective of how we feel. If you can't leave a spot for free writing, at least add an "I'm not sure" option.
Practice good question hygiene. Els recommends asking others – other colleagues of different demographics – to review your questions and answers to see what bubbles to the surface for them.
She then gave some specific tips for web surveys, like a pop-up ad:
Choose the least-intrusive method possible, unless it's definitely going to get better results if you're not subtle.
Confirmation or thank-you page surveys work well. It's a great spot to ask some open-ended questions (What's the main reason you decided to support us today?) and some closed-ended questions (Of all the programs your gift will support, which is most important?).
Don't set it and forget it. If responses to a survey aren't being monitored, tell them. If your donor's answer includes a question and you ghost them, it doesn't look like you care much about the donors.
And tips for interviews:
Call it a chat, not an interview. No one wants to be interviewed.
Treat it like a chat: prepare questions but be ready for a conversation.
Don't be afraid to keep asking why until there are no whys left.
What can nonprofits learn?
Good research is hard, but bad research is dangerous.

Don't ask questions directly. Break them down and ask them carefully.

Always listen and keep your original question in mind.
Tip #5: Send an email newsletter!
How can you be anything but riveted by a speaker who explains the donor journey by detailing her efforts to befriend a backyard bunny?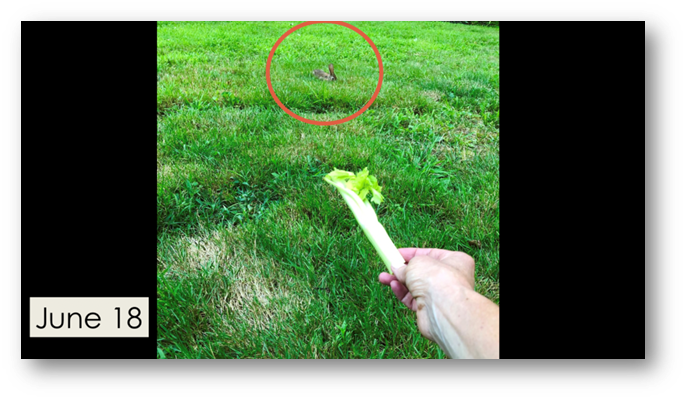 Ann Handley is well known in the content world for showing anyone how to write anything better. And she's funny.
When you're thinking about nonprofit marketing, you're probably wondering how to get people's attention. Ann recommended reframing the question to this: How can I earn your trust?
And, she argued, an email newsletter is an awesome place to earn trust. It's the only channel where donors, not algorithms, are in control.
She then offered a "Nonprofit Newsletter Makeover: A 5-Point Masterclass in 22 Minutes." Here are the highlights!
Don't be a writer, be an emcee. Introduce your newsletter by offering your name. Check your "from" line: noreply@gmail.com is a terrible from name. Customize it to be a person!
Use a warm, relatable voice. Use simple, accessible, playful terms. Create a donor persona in your mind and write to that one person. Don't ever call someone a valued donor! Be better than that.
Go for Netflix-like momentum. Use open loops (ask a question or make a promise at the beginning of your newsletter), make content skimmable, and use sharp headlines, compelling images, and scroll magnets to get people to scroll to the bottom of the email.
Adopt obsessively empathetic onboarding. You only get one shot at a first impression, so your welcome email is huge! Establish a tone, set expectations, and make an easy ask, such as for the reader to reply and tell you something about themselves.
Build a bridge to other assets, not a lonely tower. People know who you are, so share with them—and sell them on—what you do.
What can nonprofits learn?
Your first newsletter is not usually the best one. Keep trying.

Focus on the "letter" part of "newsletter" to keep it human and relatable.

It might take three months and spamming with piles of veggies, but even backyard bunnies can be wooed with the right technique. And romaine lettuce.
Tip #6: Listen to Your Users
Karl Gilis said it a little differently. His presentation was titled, "Listen to Your Users and Stop Doing Stupid Things."
So, what are the "stupid things" nonprofits should avoid?
Stop using sliding carousels on your website. Constantly changing content stresses users out.
Stop reinventing the wheel – improve what you have.
Test what you should be testing. The donate button should always stand out; you don't need a test to tell you that.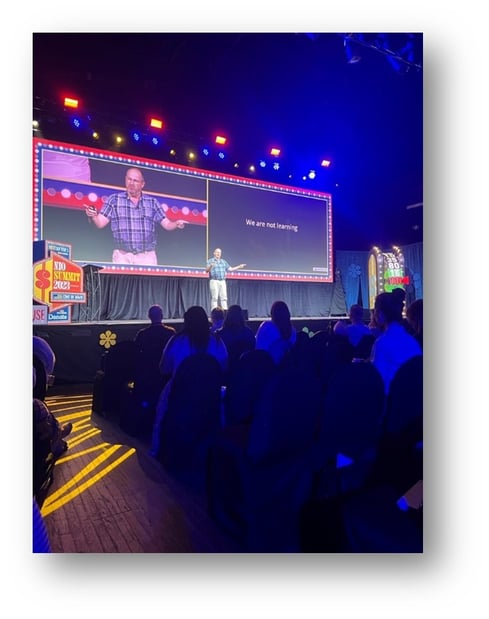 If those are some "don'ts," what are some things nonprofits should do?
Learn fundamental user experience principles.

Make your website easy to understand and navigate.
Test to see if it's easier for your users to consume text or video.
Think of your donor first: what do they want?
Don't shout for attention. Distractions like sliders, video backgrounds, and even too many pictures will make the user experience more difficult.

Listen to your donors!

Why do they donate? What do they like about you? Ask them!
Read online comments and reviews to hear the truth.
If someone doesn't donate, have a pop-up survey asking them why.
As other speakers agreed, put your donors at the heart of everything your nonprofit does.
What can nonprofits learn?
Have an open mind about your donors.

Learn and apply user experience principles.

Do user research to learn barriers and problems…then solve them!

Always add clarity.
The CharityEngine Experience at NIO
As promised, we will share a little about how we represented CharityEngine at NIO. The theme was game shows, so there were shows in every exhibit hall (Fundraising Feud, Let's Make a Deal, and Wheel of Fortune). Attendees could play and win amazing prizes, like $1,000 cash for them and a $1,000 donation to the nonprofit of their choice.
CharityEngine leaned in hard and decided we would have a cash grab machine at our booth. Attendees loved coming by and sticking their hand in the machine for five seconds to see what they could retrieve!
And some grabbed fistfuls of cash while others grabbed a lone dollar bill. But they all had us laughing with their enthusiasm.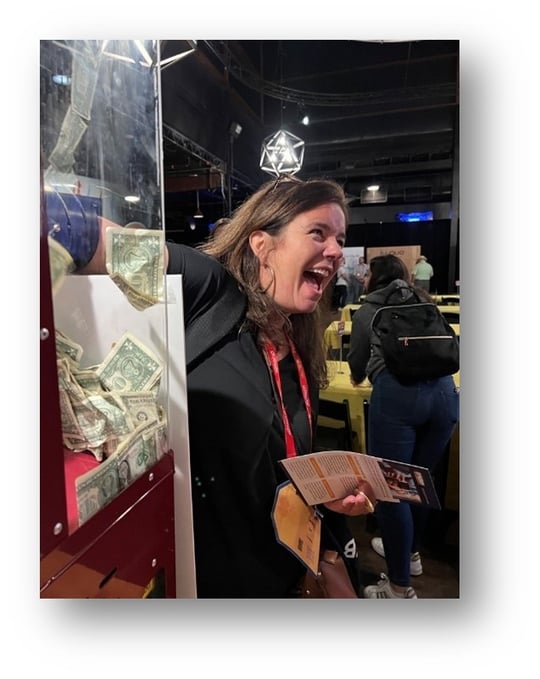 While many players found $1 bills, some were delighted to find a $20 when they took stock of their haul. And this lucky duck walked away with the elusive $100 bill!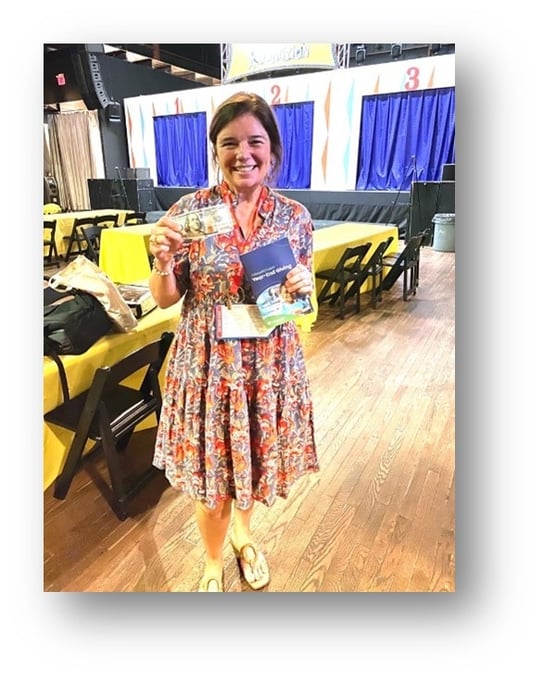 That's a wrap on NIO 2023. Thank you to everyone who came to our booth to say hello, and huge thanks to everyone who participated in putting on a unique and enjoyable conference.
We are already thinking of how to interpret next year's Indiana Jones theme. If anyone has a really long, really strong rope that would allow a grown man to swing into a room over a crowd, hit me up.
Topics:
Published on September 25, 2023