New CharityEngine Features You'll Love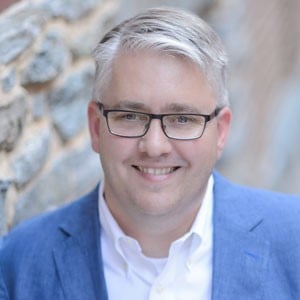 by Dave Martin
Can a software update make your wishes come true? CharityEngine's new product release answers many of the client requests we often hear!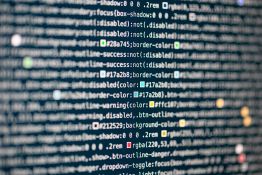 Have you ever wished a software company would listen to your ideas about how different features could make your life easier? 1
We know. Most of the time, your wish remains just that...a wish.
Not with CharityEngine. We have a laser focus on your donors and on making it easier for you to engage with them. Our very foundation rests on the idea that technology shouldn't hold nonprofits back; it should enhance the ability to communicate with donors on a personal level.
And this is why we're so excited to announce CharityEngine's newest product release. This product release is all about you, our clients, and the things you've shared with us when you've started a sentence with, "I wish….."
Well, we listened. And while we made more than 80 enhancements to our software, some of them are in direct response to requests our clients made—but all are going to make it easier for you to engage your donors and manage your fundraising.
Here are five of the top wishes we've heard:
1. I wish it was easier to add Google Analytics and Google Tag Manager to my website.
Have you, as a developer or other user, struggled to add these conversion trackers to your website? Now, adding the code is automatic.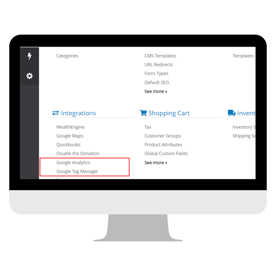 If you know some specifics easily found by logging into your Google Analytics or Tag Manager account (the measurement and container ID), you can enter them on the integrations page and conversions will automatically start tracking.
If you're a developer and you want to enhance the data being sent to Google, you can go into the advanced developer screen and copy the code to place on your website. Whichever you choose, it's faster and easier to start tracking those conversions.
2. I wish I could customize my forms a little more.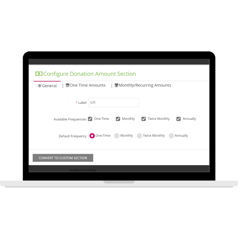 The more effectively you can communicate with your donors, the more effective your fundraising efforts will be. You know your donors better than anyone! CharityEngine has added label fields to customize different parts of your forms to appeal to your donors. For example, you could quantify a suggested donation with a targeted impact (a $25 donation feeds a family for three days) or a consequence (double your impact by adding $10).
You also have more control over the payment frequency prompts. While the options of one-time and monthly donations still exist, you can now offer other options such as twice monthly and annually. Your donors can also choose to donate as an organization in addition to donating as an individual.
3. I wish it was easier for donors to pay invoices online.
Nonprofit payment processing is a critical part of your success. Building on our successful online BillPay app, it's now easy for you to send a link to your donors.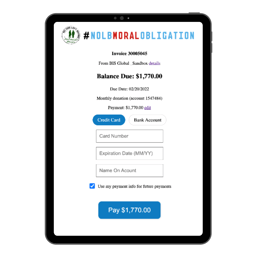 They'll land on a secure, easy-to-use bill payment page customized for your organization. The app will be able to tell if the donation is part of memberships, pledges, or sustainer payments and donors will be able to easily update their payment information.
We've expanded the ways you can accept payments, adding the ability to link a bank account in addition to using a credit card. It's also now possible for donors to choose to make a partial payment on an invoice, giving them added flexibility.
4. I wish the batch gift entry app was easier to use.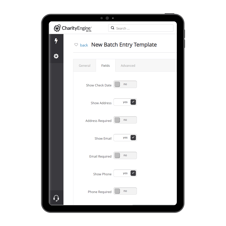 The new batch entry process is easier, faster, and far more flexible.
It includes support for barcode scanners and offers dynamic alerts to notify you of connected information such as initiatives, sustainer status, pledges, or other attributes that should be attached to a gift.
You can now configure custom fields with default values, add a check date field when accepting a check, add an employer field, and add any notes you want to be captured on a transaction.

5. I wish I could track specific attributes of in-kind gifts.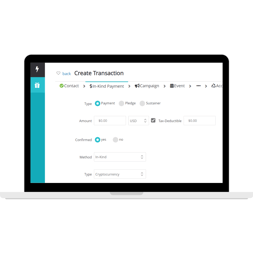 Wouldn't it be nice to track pounds of food or makes of cars or tickers of cryptocurrency donated? Now you can!
CharityEngine has updated the ability to create custom fields that include attributes specific to common in-kind donations, like food, cars, real estate, stock…or even, yes, crypto! You can also track attributes like a sales date or broker fee, meaning you can get much more granular with the data you're able to collect from donations.
Now, we're just being humble. There are more than 80 strategically considered updates in the February release, and every one of them will make your job a little easier, your data a little more robust, and your donors a little happier. Other new features include:
The ability for donors to easily opt out of text communications

Improvements to how you view your constituents in the CRM

Better tools to enhance matching options and work better on large data sets (of more than 20 million)

Seamless integration between our deduplication tools and our data processing app
And even more! We promise there will be at least a few new features you'll want to take for a spin. If you want to see some of these tools in action, let us know and we will be happy to walk you through some of the enhancements. If you're ready to work with us, give us a call!
Topics:
Published on February 10, 2022