Your nonprofit relies heavily on donations in order to succeed. You probably recognize that the payment processing services take a small percentage of your donation profits. But have you ever really stopped to consider why that is?
Knowing the basics of payment processing for nonprofits can help you better understand what happens when you receive a donation (particularly online gifts) and make decisions when investing in software solutions.
We'll cover the basics of nonprofit payment processing to help organizations like yours make the best decisions regarding online donations. These topics include:
Let's start with the obvious question:

What is nonprofit payment processing?
Nonprofit payment processing describes each step that occurs from the time when a supporter provides their credit card information until the money is deposited into your nonprofit's bank account.
This process looks something like this: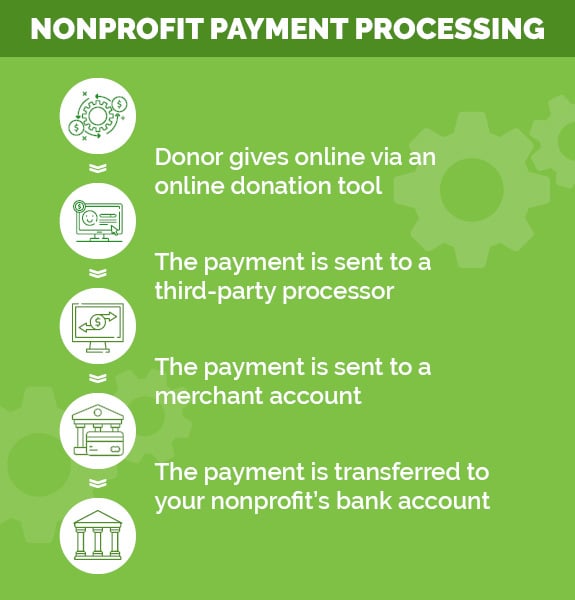 First, your donor gives online via an online donation tool.

Next, the payment is sent to a third party processor or aggregator.

Then, the payment is sent to a merchant account.

Finally, the payment is transferred to the nonprofit's bank account.
Ready to dive a little deeper? Let's get started by defining some key terms related to payment processing for nonprofits.

1. Nonprofit Payment Processing Glossary
Merchant Account:

A merchant account is an in-between account where funds are transferred from the donor's account after they give but before being deposited into your nonprofit's account. This account is one of the key aspects of payment processing that allows organizations to accept donations.
Aggregator:

An aggregator is a type of payment processing service. This type of service processes payments through a single merchant account for all contributions. This means that all nonprofits who use the same aggregator also use the same merchant account. They provide ease-of-use, but not much customization, flexibility, or speed. PayPal is a very common example of an aggregator.
Payment Processor:

A dedicated payment processor is similar to an aggregator because it helps facilitate payment processing. However, a dedicated payment processor sets up a different merchant account for each of its customers. They typically provide faster processing and more flexibility for users.
Payment Gateway:

While the terms

payment gateway

and

payment processor

are frequently interchanged in conversation, they are different steps in the process. A payment processor collects and transmits payment information, while a payment gateway uses a series of encryptions to securely authorize the transaction before it moves forward.
PCI Compliance:

The Payment Card Industry created a series of standards for companies to uphold in order to process payments safely. PCI-compliant processing services adhere to these guidelines and internally check their processes with a self-assessment to avoid violations.
PCI Certification:

A step above compliance, PCI certification requires a rigorous process and a comprehensive audit by a qualified security assessor to ensure all of the proper security measures are taken while processing payments.
Virtual Private Network:

A virtual private network (or VPN) uses encryptions to ensure internet security during payment processing. It's used to keep payment data in the hands of the right people and to prevent fraudulent payments.

2. Versus: A Comparison of Nonprofit Payment Processing Elements
Some of the terms above can seem somewhat similar to one another. And they even serve similar purposes! So making the distinctions between these similar terms is key for your nonprofit to make the best decisions when investing in software.
The comparisons we'll cover include payment processor vs. aggregator, PCI compliance vs. PCI certification, and payment processor vs. online giving tool. Let's get started.

Payment Processor vs. Aggregator
Payment processors and aggregators both work as the intermediary to transfer data and funds from your donor's bank account to your nonprofit's bank account.
The primary difference between these two nonprofit payment processing methods is the use of the merchant account. Therefore, the processes look somewhat different. Payment processors look something like this: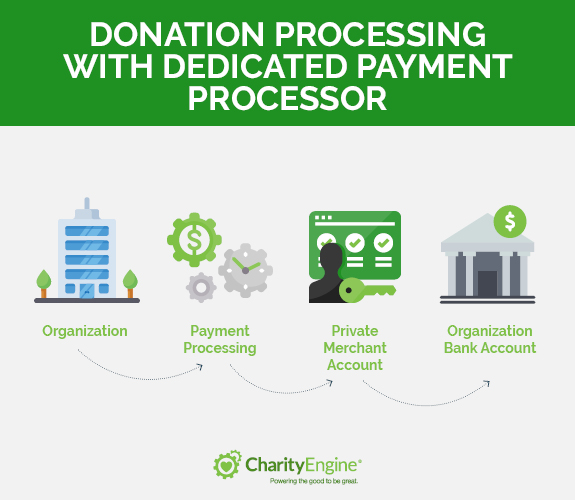 First,

the donor provides their credit or debit card information on your nonprofit's

online giving page

.

Next,

that data is sent through the payment processor's gateway to the individual merchant account that the processor has set up for your nonprofit.

Then,

the merchant account holds the donation amount while the payment processor verifies the payment information.

Finally,

the donation is transferred from the merchant account to your nonprofit's bank account.
Meanwhile, aggregators look something like this: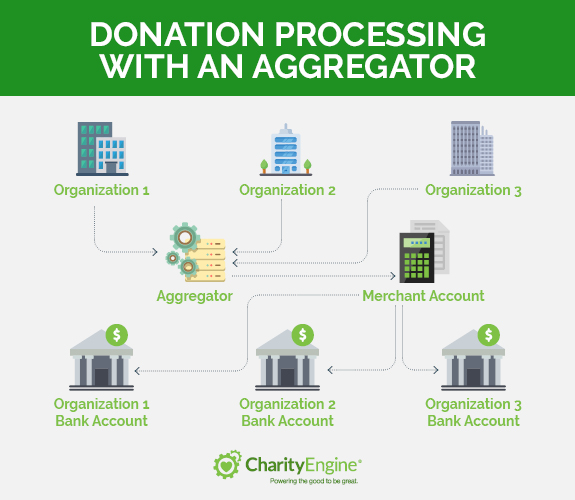 As you can see, all of the organizations that use the same aggregator also share the same merchant account. This is the main differentiator between a dedicated payment processor and an aggregator. Therefore, the process with an aggregator looks like this:
First,

the donor provides their credit or debit card information on your nonprofit's online giving page.

Next,

that data is sent through a payment gateway to an aggregator-controlled merchant account. This account is shared by all of the aggregator's clients.

Then,

the merchant account holds the donation amount while the aggregator verifies the payment information.

Finally,

the donation is transferred from the merchant account to your nonprofit's bank account.
Our preference? Dedicated payment processors.
Both types of payment processing systems will get your donations from point A (your donor) to point B (your nonprofit). However, we tend to recommend dedicated payment processors for most organizations.
Dedicated payment processors offer more personalized services. For instance, if something were to go wrong and there was a data breach regarding your aggregator (scary, we know), the aggregator will have all of their clients to respond to, limiting the one-on-one attention your organization receives.
However, if something were to happen to your account, you're more likely to get personalized assistance from a dedicated payment processor because you have an individual account with them rather than a shared merchant account.
Plus, dedicated payment processors have fewer interruptions to their processing activities for your nonprofit's donations, speeding up the process. This leads to a faster payout and less room for error.

PCI Compliance vs. PCI Certification
PCI compliance and PCI certification standards have the same objective in mind: to keep payment information and donor data safe.
Both standards are set by the Payment Card Industry to best handle credit card data. However, there are certain differences your nonprofit should know about before you make your investment in a payment processing solution.
If your payment processor is PCI-compliant:
It has taken a self-assessment to ensure it follows all of the guidelines.

It installed a firewall between the wireless network and the cardholder data.

It has implemented a strong vulnerability management program.

The security qualifications likely took less than a month to complete.
PCI-certified organizations have more stringent standards that they need to comply with. If your payment processor is PCI-certified:
A qualified security assessor (QSA) has inspected and approved of the software and the security measures taken to protect payment data.

The QSA has looked into how the software solution was developed.

The QSA checked the training process of the software developers.

The security qualifications could have taken up to six months to complete.
Because the PCI-certification process is so rigorous and stringent about the guidelines that must be met, we recommend looking for a solution with this security classification. Here's a side-by-side comparison: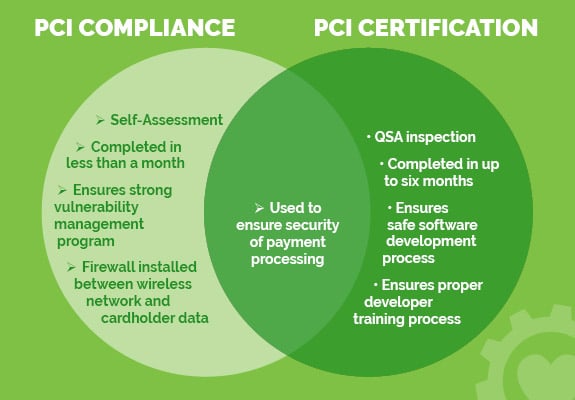 Make sure that any software solution you use that touches donor payment data should be at least PCI-compliant. However, if you have a choice between the two, PCI-certified software is always the way to go.
Your nonprofit can rest assured that a PCI-certified payment processing system is trustworthy and will keep payment data safe.

Payment Processor vs. Online Donation Tool
Your nonprofit may ask the question: "If I invest in an online donation tool, is that tool also a payment processor? How do I know?"
These are two different tools that have two different functions:
An online donation tool

is the front-end tool. This is what helps your nonprofit set up online pages that supporters will see in order to make one-off donations, buy products like branded merchandise from your fundraising web store donations, or pay membership dues. It helps you organize the necessary data collection forms that you need to learn more about your supporters. Plus, this is generally where you can streamline donor data to your CRM for future engagement.
Payment processors

, on the other hand, are more of a back-end tool. Your supporters won't see what the payment processor does. Instead, it's the liaison between your supporter's donation and your nonprofit's bank account. It's what helps keep that important payment information secure.
Most online donation tools will partner with specific payment processors to help nonprofits obtain their donations from beginning to the end.
However, the best solution is when the same company offers both your online donation tool and its own payment processing service.
When both are compiled in the same solution, your nonprofit will save money (because you take out the middle-man) and you'll have a more personal relationship with the vendor.

3. How to Ensure Security with Donation Processing
One of the worst things that could happen to your nonprofit is a data breach because it damages trust. Trust is an integral part of the relationship you have with supporters. If they don't trust your organization, they're probably not going to contribute to your cause anymore.
Conduct the proper research in order to ensure the safety of your donor's information. Some of the considerations and keywords your nonprofit should look for before investing in new software solutions include:

PCI Compliance or Certification.

Consider if you're most comfortable with a certified or compliant organization. Then, make sure to look for solutions that hold the standards most important to your nonprofit.

Tokenization.

Tokenization replaces the payment information entered by your nonprofit's supporters (like their credit card number) with a string of alphanumeric symbols. This is a security standard required to become PCI-compliant or PCI-certified.

Encryption.

Similar to tokenization, encryption protection protects supporter information by converting the data into something less legible for hackers. It takes this sensitive data and converts it into

cyphertext

that can only be translated back with a specific "key."

Address Verification System (AVS).

AVS checks the billing address of the donor and compares it to the one the credit card company has on file. This verifies the donor based on their address.

Internet Protocol Blocking:

If your nonprofit has specific IP addresses that you know are unwelcome, you can block them with IP blocking.
When you start considering software to help your nonprofit accept donations online, conduct the proper research to make sure the providers offer these types of safety features.
If you're unsure, just ask! Software providers will be happy to talk about the different measures they take in order to keep your donor data safe.

4. Considerations Before Investing in a Nonprofit Payment Processor
In addition to security, there are plenty of other considerations your nonprofit should make before investing in a payment processing solution.
When you're looking for a solution that will help your nonprofit process payments online, you'll need to consider the fees and your budget, software integrations, and the amount of support your nonprofit will receive.
Payment Processing Fees
Of course, when your nonprofit invests in new software, one of your top priorities is staying within your budget. This means both for the short-term, up-front investment as well as the long-term investment.
There are several different types of fees your nonprofit should be on the lookout for when you invest in payment processing solutions:
Transaction fees.

Transaction fees are those that your nonprofit pays for each donation you process. This includes fees like the markup from your payment processor.

Flat fees.

Flat fees are those that you pay in order to work with a payment gateway, aggregator, or payment processing provider. Generally, these come in the form of a monthly or annual fee.

Incidental fees.

Incidental fees are charged in response to particular incidents that occur. For example, a chargeback fee is considered an incidental fee.
In addition to these types of fees, your nonprofit should consider who is taking a percentage of your donation (no matter how small it may seem). This is an important consideration because the more parties involved, the more those small percentages that are taken from each donation will add up.
The first party to take a percentage of the donation is the donation tool you use. Generally, this tool may ask for a small 1-2% platform fee.
The second party that asks for a percentage of your donation is the payment processor who may ask for 3-5% of the donation. These small percentages add up over time!
Look for a solution that offers both the donation tool and the payment processor in the same software. This cuts out the middle-man and combines those percentages to the same small fee.

Comprehensive Software Ecosystem
When it comes to investing in any solution, one of the considerations your nonprofit should always make is around the idea of software integrations. When you invest in software that can do more and streamline more activities, you'll save time and money in the long run.
Therefore, one of the best things to look for before you invest in any software, including your payment processing solution, is how it will connect with the other solutions in your software ecosystem.
This means your nonprofit should ensure your donation tool works with your payment processing system. However, it extends further than that. Your donation tool should also work with your CRM, the payment processor should work with event ticketing software, and all of this should work with your accounting platform.
The best solution? Investing in a single software solution that includes every feature and function that your nonprofit needs. In other words, look for an all-in-one solution. This ensures:
Updates all occur at once.

You don't need to worry about the quality of information transfer when different software providers update at different paces. All updates occur at the same time, from the same provider.

Every function is guaranteed to work together.

While integrations are great, they can limit your software choices. Not every provider integrates with all others. With an all-in-one solution, you're guaranteed that everything is connected given a single investment.
Single all-in-one software solutions are the best choice by far, but if you prefer to work with integrations between various providers, try to limit them as much as possible. This means you should look for the best, most complete solutions in any given area of expertise.

Training and Support
When your nonprofit invests in nonprofit payment processing software, remember that you're looking for more than just a solution. You want a partner for your nonprofit.
Look for a provider that will stand by your side and help your organization when it comes to training and support if anything were to go wrong.
This is one area where a dedicated payment processor has a major advantage over aggregators. Aggregators work with so many organizations, it's rare that your nonprofit can get individualized support. Dedicated payment processors are much more likely to help your organization with any issues you may have.
When you consider the available training and support of providers, look for:
A built-out implementation program

Dedicated personnel assigned to your nonprofit

Personal training and access to additional training materials

Ample access to support via phone, chat, or in-person assistance
Having a good partner for your nonprofit team can make all the difference. Make sure you have the training and support you need from the beginning of the engagement through to the completed implementation and beyond.

5. How to Get Started with Nonprofit Payment Processing
Now you know what to look for in a software solution, but where do you start? How do you find the solution that's right for your organization?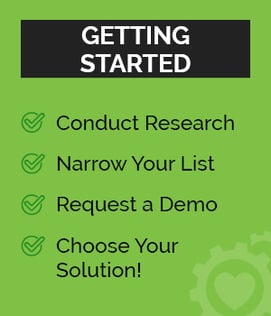 First, you need to conduct research about the different nonprofit payment processing solutions available.
Some of the resources you should start with include:
Cold searches - Start from ground zero and looking up different solutions via search engines.

Referrals - Look for referral lists from other trusted software providers or from well-known comparison websites like Capterra or G2

Ask around - Ask other nonprofit organizations that you have a relationship with about the software they use for their donation processing
Note: Make sure these solutions appear on Visa's list of registered service providers with this search tool.
Next, you need to narrow down your potential list of software solutions.
Make a list of the features most important to your nonprofit and consider your budget. Take this list and compare it to your list of potential solutions. Narrow it down to your favorite couple of solutions.
Then, make a list of the questions you still have about each software. This will come handy in the final research step.
Finally, request a demo of your favorite software solutions.
Take the list of questions you made and don't be afraid to ask about them during the demo.
Make your decision!

6. Our Recommended Software for Nonprofit Payment Processing
Kick-off your research with our favorite nonprofit payment processing software solution: CharityEngine!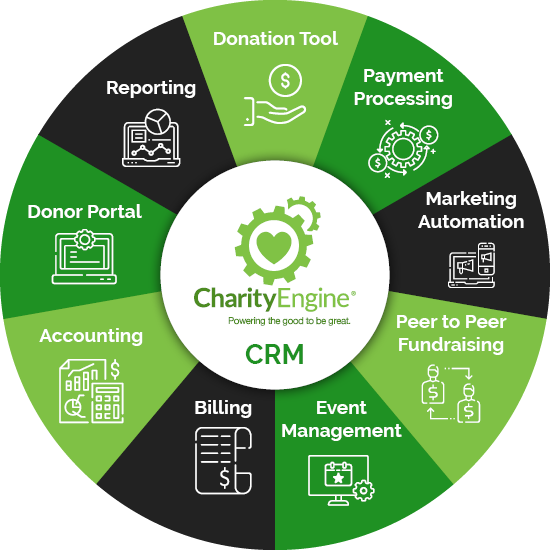 CharityEngine is an all-in-one nonprofit solution that can help your nonprofit streamline your donation collection, payment processing, and data storage.
CharityEngine's payment processing solution for nonprofits is:
PCI-certified.

CharityEngine went the extra mile to make sure all donor data is kept safe, undergoing the rigorous certification process for their payment processing solution.

Even more secure.

On top of being PCI-certified, CharityEngine takes a unique Environment Aware approach to proactively seek out suspicious activity.

Integrated.

CharityEngine's all-in-one solution makes it easy to streamline data from the donation opportunities to the accounting solution.
Plus, as an all-in-one solution, CharityEngine takes out the middle-man, saving your nonprofit money on payment processing fees.
Start your research with CharityEngine to learn more about why it's the best nonprofit payment processing solution for your nonprofit.
---
Payment processing for nonprofits is an aspect of collecting donations that organizations tend to skim through. Without a complete understanding, nonprofits tend to overpay and open up donor data to increased vulnerability.
By reading through this article, your nonprofit is already on the right path! Learn as much as you can before making your ultimate investment decision.
If you're looking for more information about nonprofit software, check out these additional resources:

Ready to Test Drive CharityEngine Software? Click here to Start your 10 Day Free Trial today!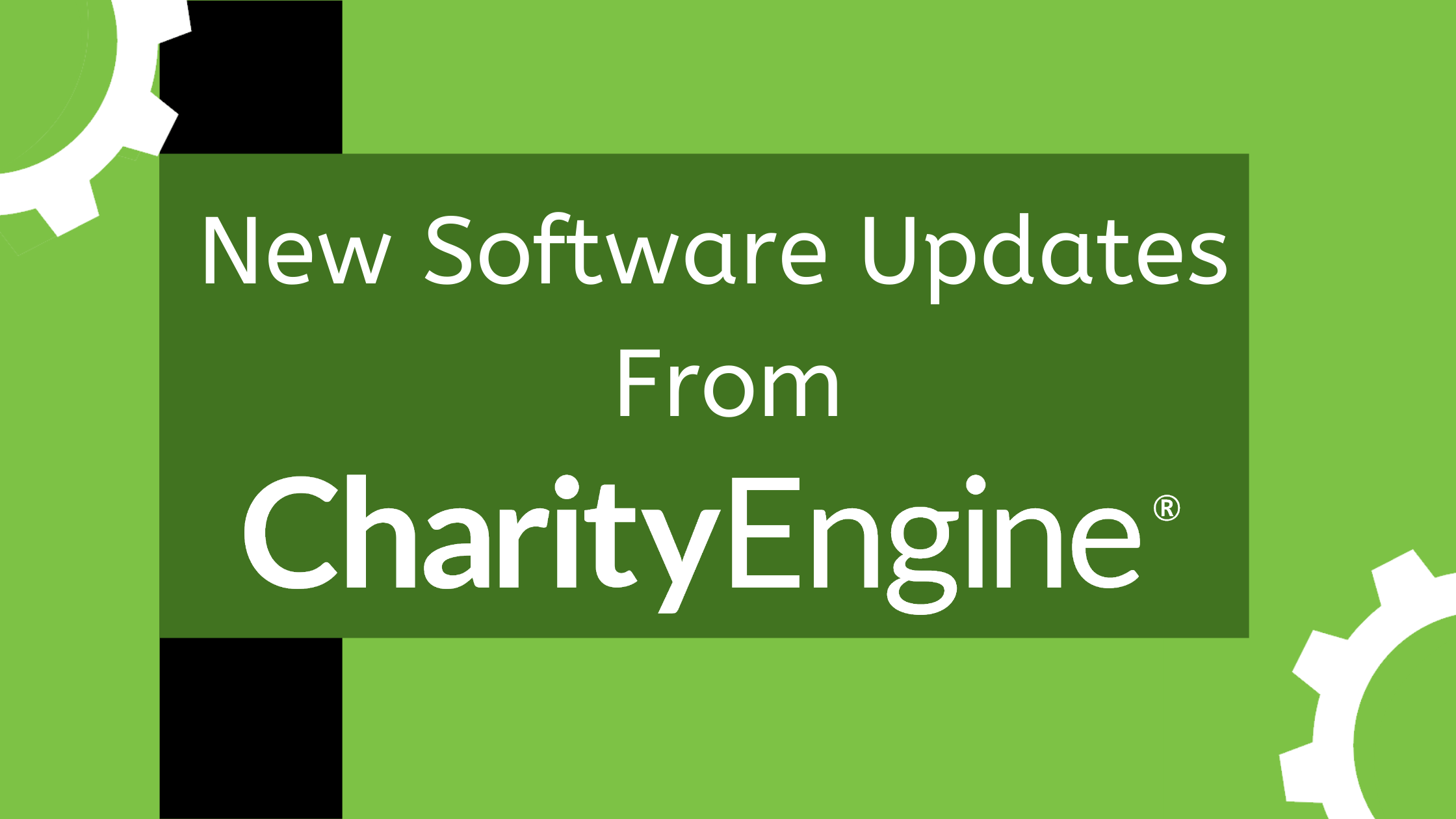 Topics:
Published on January 21, 2020