Unlocking Generosity: The Power of Diverse Donor Payment Options
Did you know that half of online payments use digital wallets? To boost nonprofit donations, CharityEngine will soon offer Apple Pay and Venmo on our donation forms. These payment options will complement existing digital wallets, including PayPal and Google Pay.

In the dynamic realm of fundraising, embracing the multitude of ways donors wish to contribute goes beyond convention – it's a catalyst for unparalleled giving. Picture this: a symphony of choices, from credit cards to bank transfers and the seamless embrace of digital wallets. These options aren't just transactional; they're transformative, breathing life into conversion rates and energizing the spirit of philanthropy.
Enter the realm of digital wallets, the modern-day conduits of altruism. They're not just another checkbox on a donation page; they're the expeditious pathways to an enhanced donor experience. Recall the moments you've eagerly supported a cause, not just because of the mission, but because they spoke your payment language – a language of ease.
While most nonprofit organizations have traditionally accepted credit cards and bank transfers, digital wallets continue to ascend in the fundraising space, fueled by an era of convenience. In 2022, digital wallets accounted for almost half of global e-commerce payment transactions.
What Are Digital Wallets?
Digital wallets are a convenient way to make payments using your smartphone or smart device for goods, services, or donations. Popular digital wallets include Google Pay, Apple Pay, PayPal, and Venmo. These wallets enable consumers and donors to securely store their credit card information in the cloud, eliminating the need to carry physical credit and debit cards for payments.
Why Digital Wallets Matter to Fundraisers?
Recent revelations from a Forbes Advisor survey have unveiled a new era: more than 50% of Americans now embrace digital wallets over traditional payment methods. But this shift isn't just a preference change; it's a revolution that shapes spending behaviors.
47% of Americans spend more when using a digital wallet than traditional payment methods.
41% of Americans would stop shopping with a merchant who did not accept payments from digital wallets.
For fundraisers, the lesson is clear: embracing favored payment methods, such as digital wallets, is pivotal to amplifying donation conversion rates. By aligning with donors' preferences, you pave the way for heightened engagement and support.
What's New with CharityEngine's Payment Options?
You've guessed it. We're talking digital wallets. Our latest release adds digital wallets, including PayPal and Google Pay, with Apple Pay and Venmo coming soon.
Apple Pay
CharityEngine clients will soon be able to add Apple Pay to their forms for donors on iOS devices. There are numerous benefits to leveraging Apple Pay for donations, including its brand recognition. However, one of the most significant advantages is its seamless speed. With Apple Pay, donors don't have to type in their information; the platform automatically populates the necessary details. This transforms donating into a single, user-friendly step.
Google Pay
With our latest release, CharityEngine clients can use Google Pay on their donation forms, offering their donors a quick and easy checkout experience. Google reports that using Google Pay can make online checkout 50% faster. Because CharityEngine is also a payment gateway, donors' credit card details are securely stored in our system, ensuring your recurring donations can be processed with the most up-to-date credit card information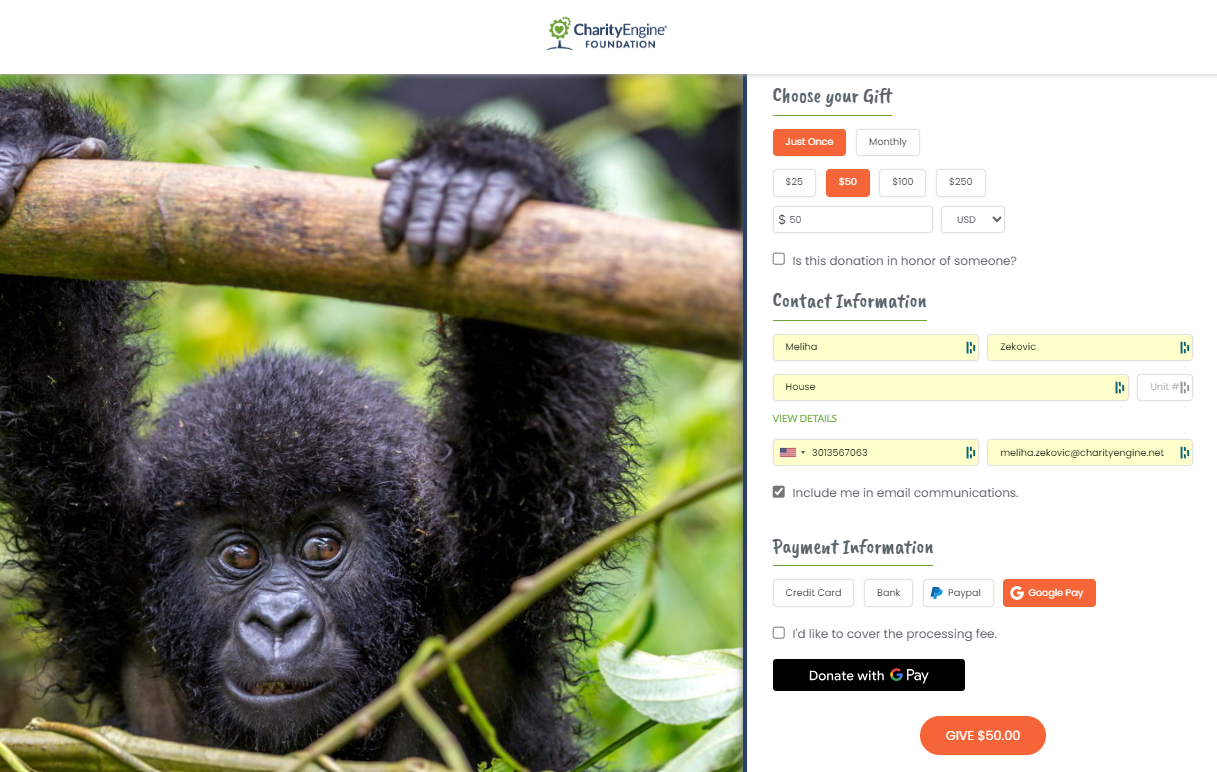 PayPal/Venmo
CharityEngine will soon introduce an upgrade for its clients, offering Venmo alongside the current PayPal payment option. Venmo is a popular peer-to-peer mobile payment app with over 60 million users, allowing for easy money transfers. It may be worth considering if your organization is not already using PayPal and Venmo as donation options. According to a Nielsen study from 2022, non-profits that have added the PayPal payment button have seen a 32% increase in checkout conversion.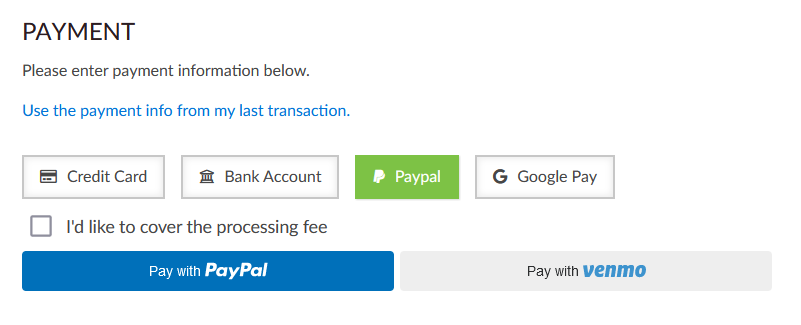 Have We Mentioned Our Mobile Pay App?
In case you missed it, we recently released the CharityEngine Mobile Pay App.
Mobile Pay App
CharityEngine users can harness the power of Mobile Pay, accessible on IOS and in the Google Play and Microsoft Stores, to seamlessly receive both one-time and recurring donations. All payments are automatically recorded in your CRM for easy reporting and tracking. No data reconciliation is required. You may find our Mobile Pay App especially beneficial if your organization is involved in any of the following:
Fundraising Events: Facilitate instant contributions from supporters on-site.
Auctions: Streamline payment collection for goods/services sold.
Merchandise Sales: Simplify transactions, be it at your physical location or during an event.
Travel: Provide your team with a hassle-free method to gather contributions.
Conferences: Enable supporters to approach your booth to learn more and contribute.
How To Get CharityEngine's Mobile Pay App: For details on pricing and how to implement our Mobile Pay App, please get in touch with our Customer Experience Manager, Alexis Langley, at alexis.langley@charityengine.net.
Topics:
Published on August 31, 2023