We are excited to announce the latest updates to the CharityEngine software. On November 17, 2021, CharityEngine released its latest product update with over ninety-one adjustments to the software. At CharityEngine, addressing our clients' needs is paramount to helping our nonprofits reach their fundraising goals. Current clients requested about 80% of the recent enhancements to the software.

Highlights from the release include a new way to view contacts, further development of the QuickBooks integration, an online app for bill pay, and more. Each of these updates helps our customers achieve their organization's mission through enhancing their fundraising efforts.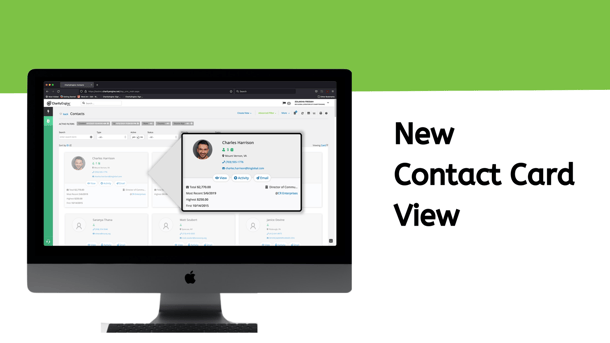 1. New Contact View
Contact cards are a straightforward way to see all donor information at a glance. View contacts with ease with a brief snapshot of the donor's CharityEngine record including their organization, recent gifts, and contact information. See multiple donors and their relevant information side-by-side with the search, filter, and grid layout. Communication with donors is key and seeing commonalities between donors allows for more accurate segmentation for email and direct mail outreach.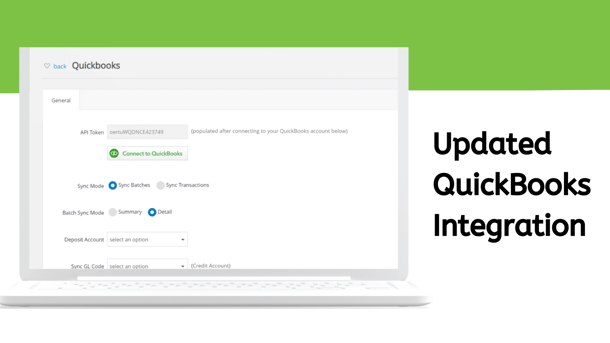 2. Updated QuickBooks Integration
Automatically import your CharityEngine transaction data and bank settlements into QuickBooks. All donations, sustainer gifts, event payments, and any other financial transactions will transfer directly from CharityEngine to QuickBooks. The ability to view transactions in your CRM and in your accounting software allows for seamless invoicing and pledge collection.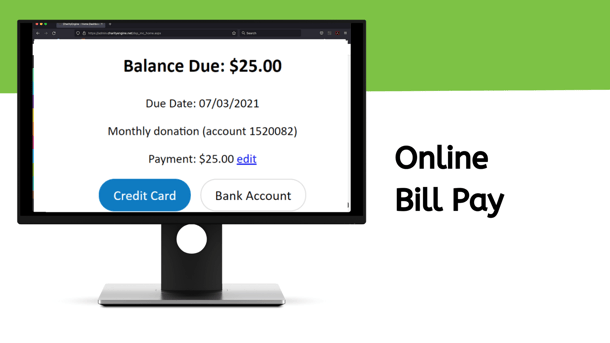 3. Online Bill Pay
Invoice donors through CharityEngine's new online bill pay application. This widget accepts all credit and debit card types, and even bank transfers. Bank transfers are particularly useful for sustainers with recurring monthly payments. Donors can fulfill pledges with ease and even choose the date of their payments. CharityEngine's PCI-certified secure payment processing allows for worry-free donation collection.



4. Sustainer Type Revenue Report
Quickly show your donation revenue from sustainer giving. See different sustainer tiers and their generated revenue in one easy-to-process view. Filter donations by payment method to best understand your sustainer giving trends. These reports visually convey the percentage of sustainers with outstanding pledges over time, in pie charts or in graphs.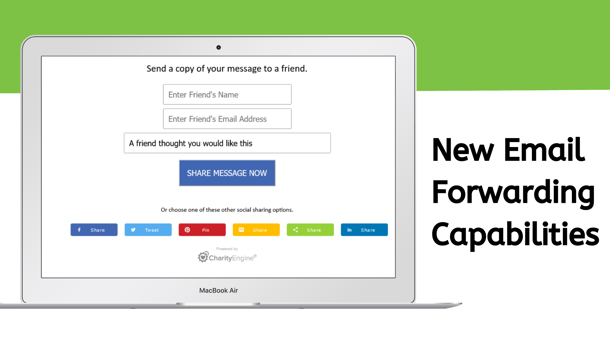 5. New Email Forwarding Capabilities
Donors can now forward your communications with this new email feature. Choose to add this feature to your email blasts to encourage donors to share information about your fundraising initiatives. Donors can add a name, an email, and a brief note before sending a copy of the message to their friends. Other options include posting the information to social media, sending via text message, or copying a shareable link.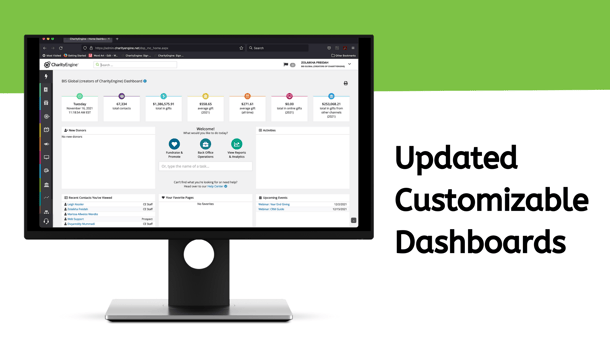 6. Updated Customizable Dashboards
Make your dashboards work for you. This update allows you to add the widgets from the CharityEngine default dashboard to your own custom dashboards.
You can add featured widgets such as:
Today's date
Total contacts
Total in gifts
Average gifts (current period)
Average gifts (all time)
Total in online gifts (current period)
Total in gifts from other channels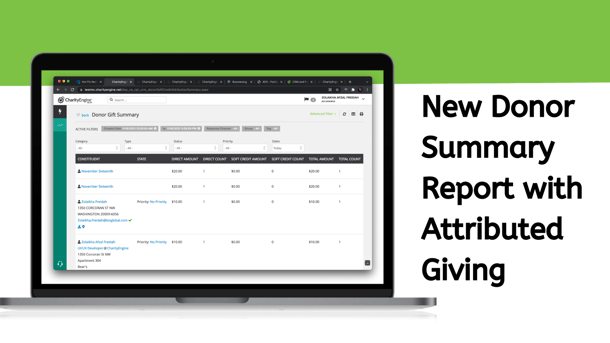 7. New Donor Summary Report with Attributed Giving
With this new donor summary report, identifying who donated is easier than ever. This report summarizes a donor's gifts which can be directly attributed to them. If a donor forwards someone an email or SMS message with a donation link, it can be tracked through initiative links and the donation can be indirectly attributed to them. Your donor's efforts are valuable, and this view allows you to see all sources of gifts, not just directly attributed ones.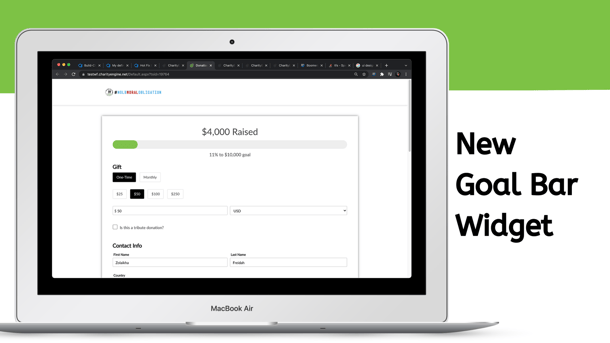 8. New Goal Bar Widget
Track your fundraising progress with the new goal bar for online forms. Add your goal amount in the campaign feature and see the bar fill as the donations come in. This tool is ideal for sharing your fundraising progress with potential donors and encouraging people to give more to reach your goal.

Topics:
Published on November 17, 2021