Leveraging Technology to Build Enterprise Value: A Recap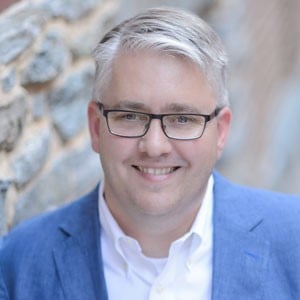 by Dave Martin
Can your nonprofit leverage the technology you have to build enterprise value? Our team of experts weighs in.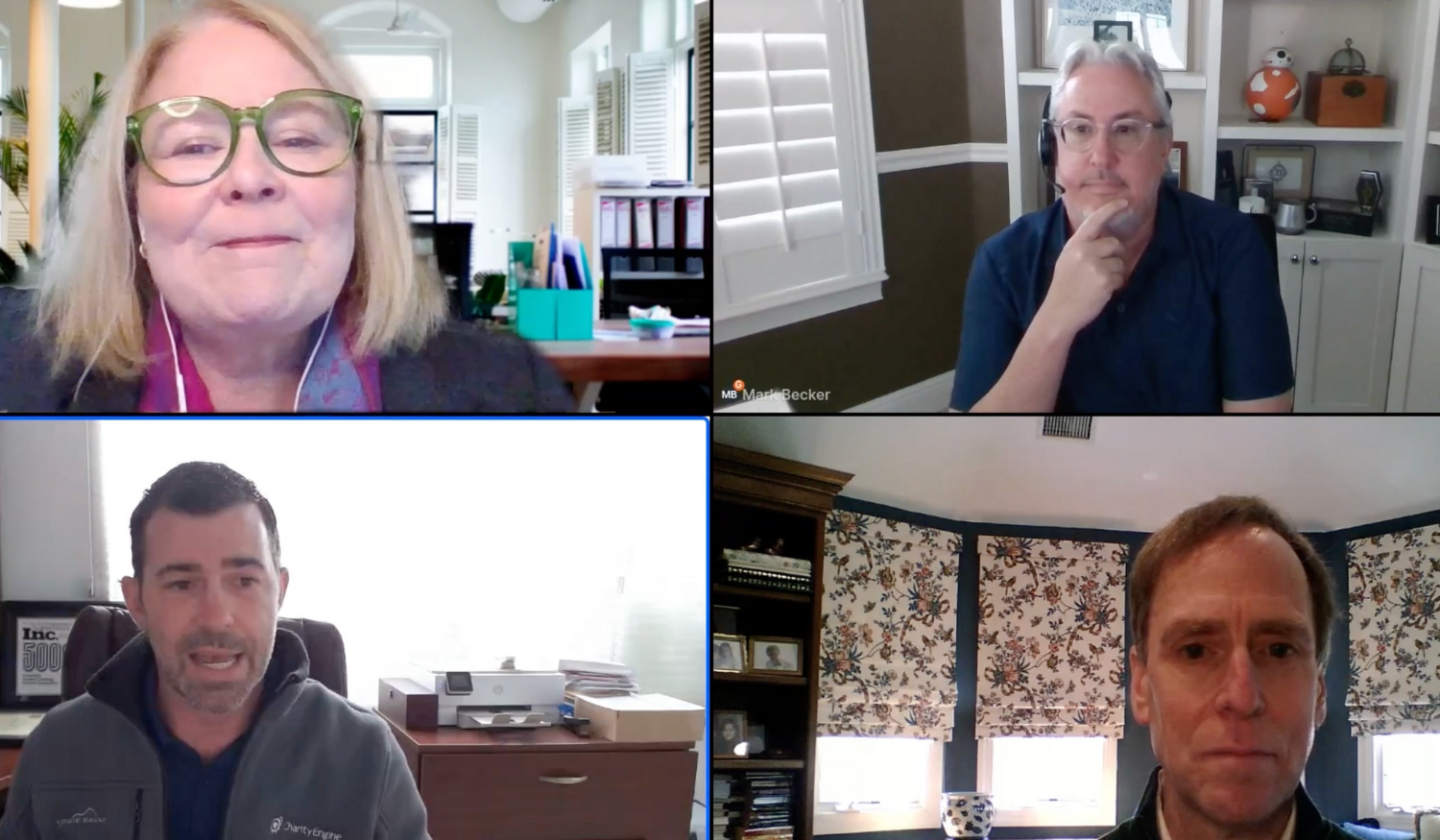 Technology is central to the success of a nonprofit. Whether you're looking for donor management, fundraising tools, payment processing, or even advanced fraud protection, the right technology can keep your nonprofit engine humming. But how can you use that technology to build enterprise value?
Fortunately, we know some thought leaders who agreed to weigh in on that question. In this CharityEngine webinar, we gathered a panel of impressive experts:
Maryellen Gleason, Founder and Principal of Maryellen Gleason & Associates

Mark Becker, Founder of Cathexis Partners

Steve Jacobson, CEO of JCA
Moderated by our CEO, Phil Schmitz, these nonprofit experts engaged in a wide-ranging discussion of great interest to our audience. If you missed the webinar or don't have time to watch the recording, we'll cover all the salient points here.
Post-Pandemic Challenges for Nonprofits
Steve started the discussion by reflecting on what he has seen and heard from nonprofits, which is that they're getting squeezed. Costs are going up, as we all know, and labor is harder to find. And while he said he can't lean on data for this, he's hearing that the number of donors is declining but the average gift size is increasing.
The other speakers agreed with him. The pandemic, Mark believes, made all of us more comfortable with technology, and thus we expect more from technology. Nonprofits must be prepared to conduct a significant amount of donor engagement and fundraising online; you need the tech that can do the job and be savvy enough to use technology to your advantage. Hence our webinar today!
Maryellen brought up the idea of post-pandemic macro issues nonprofits are grappling with: issues and news around economics, social justice, energy, talent management, and the environment all have the potential to affect nonprofit operations. And how nonprofits lead organizations—and how they manage technology—are both central to success.
The pandemic brought out smaller and/or first-time donors who might not be able to give again immediately. The speakers talked about how important donor stewardship is in the wake of the pandemic. At CharityEngine, we write a lot about nurturing your donors, getting them involved beyond a cash donation, and developing relationships with them that cultivate loyalty. These are particularly good points to remember as we move back to a sense—and faster pace—of normalcy.
A good rule of thumb for nonprofits is to meet your donors where they are. The world is changing daily, and you are well served to pay attention to how and when they want to be contacted, and keep lines of communications open. An omnichannel strategy is the best way to ensure you can communicate with your donors the way that will be most effective.
The panel had three communication tips for nonprofits:
Use a CRM to segment your audiences and send them the messages that pertain to them. You should know if your donors want to be reached via email, social media, text, or phone calls.

If donors have unsubscribed, give it some time and send a "welcome back" email carefully asking if they're receptive to communications.

And it doesn't have to be a yes or no! Inquire about how often they'd like to hear from you, and ask what interests them.
Do You Have the Tools to Drive Fundraising?
If you are questioning it, maybe not! The telltale sign is if your technology allows your team to do their jobs efficiently and effectively. If you've developed workarounds to accomplish basic tasks, you might need an upgrade.
How quickly you can get good information is important. If you're focusing more on the technology than your mission, your platform can be to blame. As Mark said, "Inertia is your enemy," so don't be afraid of change.
You can start with a needs assessment, even if you do it internally. Ask questions about how your team functions and how they do their jobs. What's working and what's not working? Maybe you need more training or better configuration, but you won't know unless you assess what the staff needs to do and what they're able to do.
There are two approaches to CRMS: they either keep the data together in one place, or they integrate with platforms to achieve functionality. While this latter approach does mean you can extend your capabilities, you might not be able to get the flexibility you need. If reporting and analytics can be done inside the system but APIs let you build a custom tech stack with external platforms, it is "the sweet spot."
Maryellen brought up the economic factor. Nonprofit organizations must demonstrate that the resources spent were effective, and she recommends considering this from the beginning. If you set measurable goals, it will be easier to use the technology to validate your decision. Goals can include increases in donor base, gift size, gift frequency, number of sustainers, etc.
How Do You Define a CRM's ROI?
Maryellen related the story of how she recently helped a nonprofit move from spreadsheets to a CRM. Regardless of where you are on the journey, she recommends starting with quantifiable and measurable goals.
Reaching these goals serves the dual purpose of demonstrating the value of the technology to your board, as well as showing the complete picture of your reach. Which, in turn, adds validity and increases fundraising.
Key metrics that can demonstrate ROI include productivity (how many employee hours are you saving by automating tasks?), average gift size, increases in your donor base gift frequency, and number of sustainers. Define success then measure it, and you'll have your ROI.
Optimizing the Technology You Have
It's not always easy for nonprofits to find the cash for new technology. So how do you work with what you've got?
Mark suggested you start by documenting all the apps and tools you're using across all departments. Who has access to them? Who are the subject matter experts on each of the platforms? What contracts exist? If you get a holistic picture of what you're using and what it's costing, you can quickly identify redundancies and holes.
Then take a look at all your vendors and explore what features and capabilities each software offers. You might not be using all of them, and it could be free or inexpensive to add the functionality your nonprofit needs.
Technology changes so rapidly that keeping abreast of the market is wise. Talk to your peers or your community and understand how their systems are working. Across verticals, what are people using? And within your nonprofit, make sure that technology crosses all silos and "data islands." If your organization is using three different survey tools, for example, there are costs and confusion you can cut!
Steve offered a few words of caution. Before deciding your existing systems are bad, take a look at your processes and how your data is configured. You should exhaust all of the little things before you throw it out and replace it!
How to Ensure Data Hygiene Helps Your Nonprofit
With staff turnover, one participant wondered, how can nonprofits create a culture of responsibility to keep data clean?
Begin with documented standard operating procedures that detail how data is to be handled. Ensure everyone has their own login to be accountable, and institute clear policies about how data should be entered, how often it must be deduped, and how it should be maintained. And then schedule regular checks to verify things are working according to those procedures.
An interesting tip the speakers agreed was the exit interview conducted when an employee leaves. Oftentimes, nonprofits find that their technology is making it difficult for team members to do their jobs, and it's important to document that if it's a recurring problem.
Any nonprofit can establish a data governance policy, in which protocols are established for data entry. For example, everyone across your nonprofit must enter addresses into the CRM the same way. Maryellen joked about "garbage in, garbage out" and the fact that your reporting and insights can only be as good as the data you have. This policy can also establish an approval process is established for new technologies, such as AI, and will anchor your data procedures.
Let's Talk about AI!
It's on all our minds, so what do these experts think about AI? They all agreed that there will be a little "wild west" as nonprofits explore use cases. But it's a tool that will help with all-sized donors, and it's certainly going to shake up the way we all create drafts of emails, documents, or posts, and other content. AI-boosted strategies can help with donor segmentation and help craft messages that will resound with your audiences. Giving insights, which are offered through many CRMs, will likely get more focused and that's a benefit to nonprofits.
A Final Word: Where is the Nonprofit Industry Headed?
Looking at the next five years, our panel thinks that technology will continue to evolve. There are two sides of the coin, with systems built on other larger systems and relying on integrations to grow, and focused nonprofit CRMs growing organically and offering APIs to scale to the growth of clients. This will keep playing out and nonprofits will enjoy the competition and increased features and functionality.
Many thanks to Mark, Maryellen, Steve, and Phil. There's nothing we love more than providing an opportunity for thought leaders to educate nonprofits, and this webinar provided rich content to increase your nonprofit's value.
Topics:
Published on April 3, 2023