When people think about nonprofit organizations, their minds likely jump straight to their charitable missions or fundraising initiatives. However, there's another aspect of your nonprofit strategy that supporters should think about when they consider your organization: advocacy.
Advocacy allows your organization to get in touch with key legislators or community leaders to raise awareness of and promote legislation related to your nonprofit's mission.
Advocacy software acts as the link between your nonprofit's community and those leaders. When it comes to investing in the best software solution for your nonprofit, nonprofits tend to have a lot of questions. We've combined these questions into a comprehensive guide for organizations to turn to for their own tech investments.
Common questions asked by nonprofits when it comes to advocacy software solutions include:
What is it? Why is it important?

How does advocacy software fit into a larger nonprofit strategy?

What features are most important to look for in advocacy software?

What is the next step to take in the advocacy software purchasing process?

What are the top advocacy software solutions to look for?
Ready to learn more about advocacy software and how your nonprofit can make the best investment? Let's dive in!

1. What is advocacy software and why is it important?
What is advocacy software?
Advocacy software is a solution that helps empower the voices of your supporters and persuade leaders to enact legislative change on behalf of your nonprofit's mission, typically through petitions and targeted communications.

It's the essential link that supporters need in order to reach out to their representatives. Think about it: if you told a random supporter to contact their representative in Congress, how would they respond? The likelihood is that they wouldn't know where to start, how to find the contact information, what platform to use, etc.
When you have access to effective advocacy software, you answer all of these unknowns for your supporters, making it easier for them to make contact and mobilize your mission.
When the process is easier for your supporters, they're much more likely to move forward with helping your organization in your advocacy strategy. Plus, you'll have a new platform on which you can further engage supporters while also furthering your mission!


2. How does advocacy software fit in with your nonprofit strategy?
The primary purpose of nonprofit advocacy is to reach out to decision-makers in order to pass legislation or other regulations in favor of your mission. It may also be used to fight legislation that would have negative repercussions for your cause.
Pay attention to the news and current events so that you know exactly when something related to your nonprofit's mission is in the public eye. Appealing to decision-makers during these times will help your organization make great strides toward your overarching goals.
While this may be the main purpose of investing in advocacy software, it's not the only one. There are other aspects of your nonprofit's strategy that can also be positively impacted by this investment, including:
Ask diversification.

Donors may get frustrated if your organization asks for money over and over and over again. Diversifying your asks to include signing a petition, Tweeting a representative, or conducting other advocacy tasks will keep donors engaged with your organization for a longer period of time.

Supporter acquisition.

Advocacy software is an incredibly effective tool for the acquisition of support because you're not asking for money. When supporters participate in your advocacy activities, you're able to capture their information and further cultivate them towards becoming donors and future patrons for your mission.

Organization partnerships.

If your organization shares mission-based similarities with another organization, you may choose to create a bigger impact by strategizing together for an advocacy campaign. This is the beginning of a lasting partnership that will help both of you get closer to your ultimate goals.
All-in-all, advocacy is a great opportunity to supplement some of your nonprofit's existing strategies in order to make the greatest difference.

3. What are the top features to look for in online advocacy software?
When your nonprofit invests in advocacy software, your first priority may be looking for a solution that offers the desired advocacy actions: petitions, call-a-rep, emails, social media posting, etc.
However, there is so much more you need to be on the lookout for! When you're looking for advocacy software, you should make sure you have the tools you need to contact your decision-makers, reach your supporters, and track your nonprofit's progress internally.
Therefore, you'll need to look for top features in the advocacy software functionality, such as:
Data licensing.

Be aware as to whether your software has data licensing built-in or if this will be an additional cost. Some solutions have certain data sets available, but the more unique your targets, the more you may be choosing these a la carte.

Outreach platforms.

Make sure you have the tools your nonprofit needs to communicate your advocacy needs to your supporters. Built-in marketing tools like email, social media, and text messaging will help you reach advocates for your cause.

Bill-tracking.

Bill-tracking

makes it easy for your organization to watch the progression of a bill or resolution through the legislative process. Keep an eye on those bills or resolutions directly related to your organization's cause.

Automated reporting.

Automating data reporting allows your software system to do the work for you when it comes to reporting on your advocacy campaigns. Have reports sent to relevant members of your team so they can keep up with who's getting involved, effective actions, and who your advocates are contacting.
Unless you have very specific and complex needs that require certain unique advocacy capabilities, an all-in-one nonprofit solution is really the best option for advocacy tools. It means you'll have a built-in integration with your donor database and fundraising tools for easy strategic overlap.
This means you'll be able to more easily find crossover between donors, advocates, and volunteers given the data stored in your CRM. Plus, you can encourage each group of supporters to get more involved in these different aspects of nonprofit support, for instance, convincing a donor to advocate for your cause or an advocate to donate.

4. What are the next steps to choose new advocacy software?
Once you know the features your organization is looking for in advocacy software, it's time to take the next step in looking for an advocacy solution that's right for your nonprofit.
What are these next steps? We're glad you asked! We've listed them out below:
Research.

Conduct preliminary research into the software solutions that you're already aware of. Look for those that offer the important features you've already listed out.

Check referral pages.

Conduct

even more

research using advocacy software referral pages from brands you trust. Trusted brands in the nonprofit space tend to know good solutions when they see them.

Ask for a demo.

Narrow down your list with the research you've conducted, then ask for a demo of the software you're interested in. Don't be afraid to ask any questions you may have about the solution, price, or its functionality.

Make your choice.

Decide which software solution you want to invest in. Then, make the purchase. Don't forget to celebrate during this step. It's an exciting decision to make!

Train your team.

Start training your team with available resources. Look for training resources offered by the software provider, those offered through third-parties, and maybe even consulting services if you still need help.
If you're not sure where to start your research, we've compiled a list to help. Read more about our favorite advocacy software solutions in the next section.

5. What are our favorite advocacy software solutions?
It can be tough getting started looking for advocacy software. That's why we've started the research process for you. We've listed out our favorite solutions for nonprofits.
Check them out below!

Our Favorite All-in-One Advocacy Software:
CharityEngine
Advocacy Software Overview
CharityEngine offers everything your nonprofit needs to conduct advocacy outreach. You can choose to offer one action or multiple actions in a single workflow. Some such actions you can conduct include:
Petitions

Phone-a-rep

Social posting

Sending emails

Registering for an advocacy event
With this software, you can encourage supporters to reach out to federal, state, local, media, or custom targets.
Track legislation and automate reports using CharityEngine's software to keep a close eye on the progress your organization makes. Automating tasks like reports and marketing will also free up more time for you to work on your campaign rather than working on administrative tasks.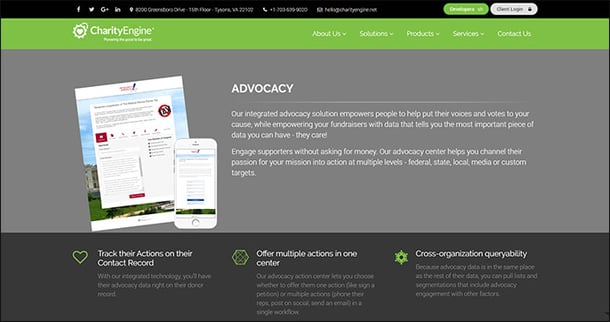 Why CharityEngine Made Our List
CharityEngine is more than an advocacy solution. It's a complete system of nonprofit software designed to help your organization succeed.
With this software, you can host advocacy data in the same place as the rest of your data, making it easy to pull lists and supporter segments that include advocacy engagement metrics.

Advocacy Software Overview
Soapbox Engage offers a series of apps that are built for Salesforce. With this software, your advocacy campaign can lean on the app for actions like:
Petitions

Donations

Events
Because Soapbox Engage is built for Salesforce, the data you collect from your advocacy campaign is streamlined straight into the Salesforce CRM for your convenience.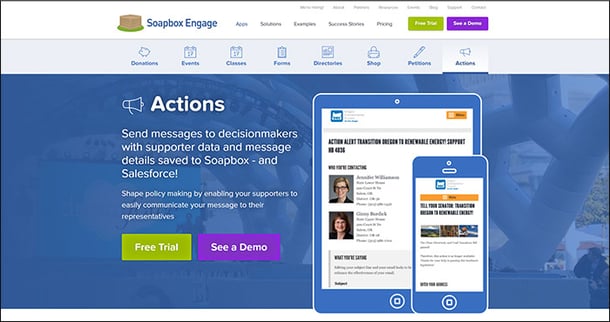 Why Soapbox Engage Made Our List
Soapbox Engage offers customizable templates that are effective on any device. You configure petitions or fundraising pages with your logo, text, and preferred forms. Then, you'll be able to view it on mobile, tablets, or desktop.

Top Advocacy Software:
CallHub
Advocacy Software Overview
CallHub offers tools that empower organizations to make the most of their mobile communication strategies, perfect for mobilizing broad support in an advocacy campaign. CallHub offers solutions like:
Call center tools.

CallHub offers an outbound call center that makes it easy to get in touch with the most people possible as efficiently as possible.

Collective texting.

Collect RSVPs for your next advocacy event, send surveys to supporters, and leverage peer-to-peer texting to engage in a larger conversation.

Detailed reporting.

Get real-time campaign reports as well as daily performance reports for your voice broadcasting campaigns.
If you have any questions about how to use CallHub for your advocacy campaign, they're available to talk 24/7 whenever your organization needs it.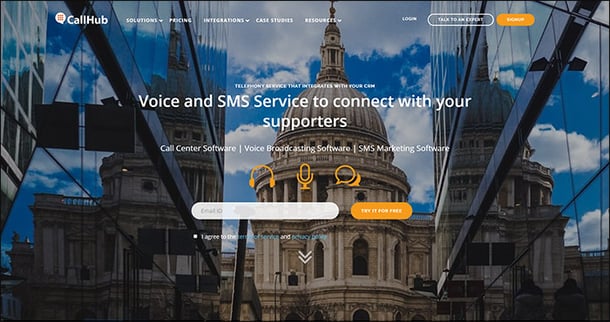 Why CallHub Made Our List
CallHub is an especially useful platform to get supporters mobilized to take action on behalf of your cause. Drive as many supporters as possible to your organization's events and rallies through a device they almost always have in their pockets: their smartphone.

Advocacy Software Overview
Phone2Action is a grassroots advocacy solution that provides a complete software ecosystem to handle your organization's campaigns. This solution focuses on making it easy to acquire new advocates, engage your existing supporters, and mobilize your support base on behalf of your organization.
Phone2Action that makes this possible with software that allows for:
Connections to legislators.

Your advocates can easily email, Tweet, or call your legislators directly with a message in support of your organization.

Management of advocates.

Keep up with your relationships with advocates by tracking their every interaction, finding champions, and encouraging social media sharing.

Live event engagement.

Text tools allow your advocates to engage with your campaign directly from their smartphones at the event. Plus, you can watch campaign engagement in real time with a live advocate counter and a live map representing where those advocates take action.
With Phone2Action, your organization can also create a designated Action Center that matches your current website and provides a single location where advocates can engage with multiple campaigns and issues.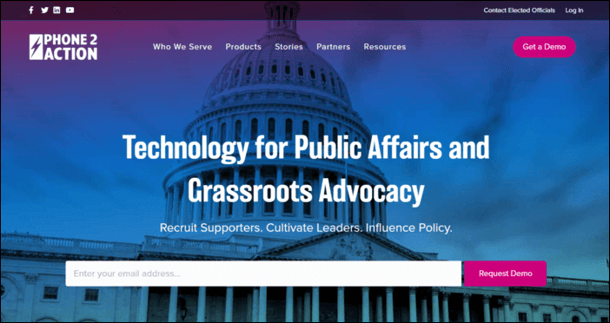 Why Phone2Action Made Our List
Phone2Action offers comprehensive reporting to help organizations track each and every campaign. You can track metrics like your top advocates, legislative connections, and top-performing keywords.
Plus, Phone2Action provides aggregate metrics across all of your campaigns. Easily gain a comprehensive view of your entire organization in terms of advocacy or check its progress over a specific time period.

Top Advocacy Software:
Hustle
Advocacy Software Overview
Hustle is an advocacy software solution designed to help motivate and drive your audience to attend events and rallies in support of your cause. You can grab the attention of your supporters with automated texting that sends messages right to their phones. Encourage supporters to:
Attend city or town hall meetings.

Join a rally or event in support of your mission.

Attract volunteers to engage with upcoming events.

Participate in contacting legislators.
Use Hustle to send custom texts to the phones of supporters. Then, set up automated replies for their responses and make sure they have all of the information they need.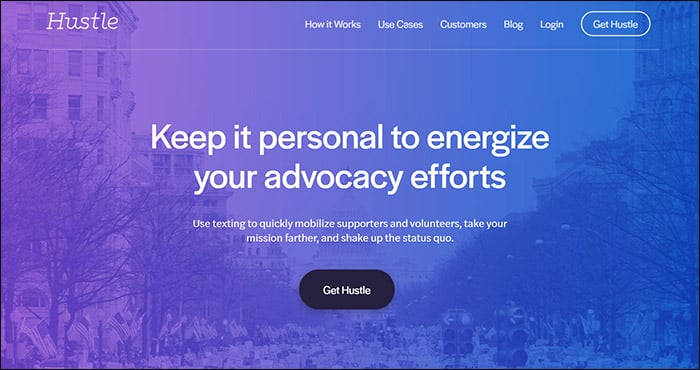 Why Hustle Made Our List
With Hustle, your organization can segment your supporters for more personalized messaging. Then, use call tracking to collect statistics about how many of your supporters are contacting their decision-makers or attending your events.

Top Advocacy Software:
TakeAction!
Advocacy Software Overview
TakeAction! is a mobile app by DNL OmniMedia used to connect all of your supporters to your advocacy campaigns, making it easy for them to take action and support your mission. With this app, your organization can:
Send action alerts to supporters.

Enable donors to manage their own accounts.

Launch a peer-to-peer fundraising event.

Survey supporters to get feedback on your campaign.
With the majority of all online traffic now browsed on mobile devices, advocacy apps are gaining popularity in the nonprofit world.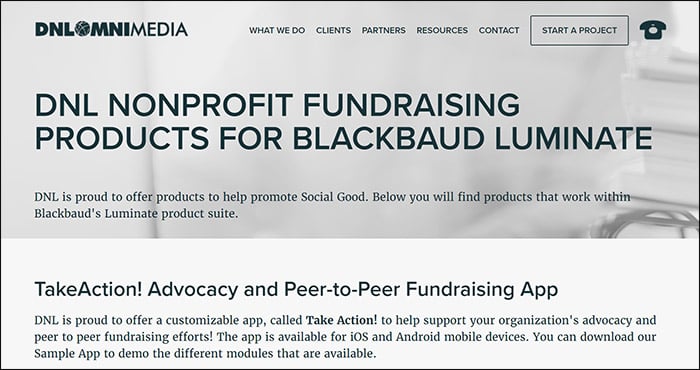 Why MobileAction Made Our List
TakeAction! is designed to help nonprofits make the most of Blackbaud's Luminate Online platform. DNL OmniMedia is an expert nonprofit tech consulting firm that can help you maximize your use of your tools, especially if you've invested in Blackbaud products.

Top Advocacy Software:
BillTrack50
Advocacy Software Overview
BillTrack50 provides legislative and regulatory tracking for your organization to keep an eye on the pending status of bills. It enables your organization to stay in the know and keep your supporters updated with regular updates and alerts about legislation relevant to your mission. With this software, your organization can:
Create a custom bill sheet

to provide a quick summary of each of the relevant bills. Plus, bills in your areas of interest will automatically be added to this sheet.

Receive status updates

with any new information regarding the different legislation listed on your custom bill sheet.

Learn more about regulations

to complement the existing legislation tracking tech. Learn more about both federal and state regulations relevant to your nonprofit.
Easily communicate the research you find with BillTrack50 tools like widgets and stakeholder pages. Widgets allow you to drop data directly into your website. Meanwhile, you have more control over who can read and write in the forum of a stakeholder page.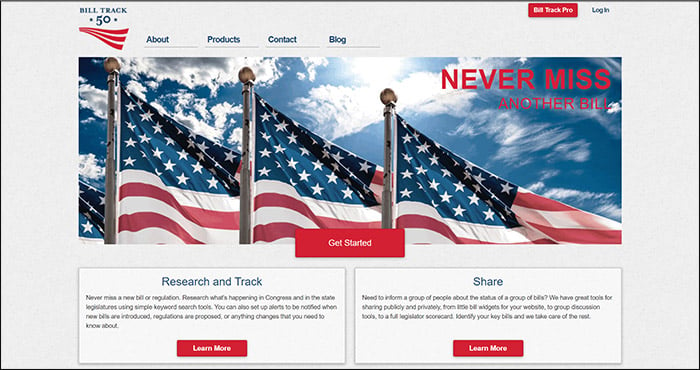 Why BillTrack50 Made Our List
On its own, BillTrack50 is a great research tool for advocacy. However, you can also take BillTrack50 to the next level because they partner with our top advocacy software solution, CharityEngine! Using the power of both tools, your nonprofit can leverage your research to boost your grassroots campaigns.

Top Advocacy Software:
Quorum
Advocacy Software Overview
Quorum is an advocacy software solution used to acquire, educate, and activate your nonprofit's advocates. It was created to solve some of the common issues that advocacy campaigns run into. Other features of this software include:
Advocate management.

Centralize your lists of supporters, then filter, sort, and segment them for targeted outreach.

Email integrations.

Customize and send emails to key contacts, stakeholders, and advocates. Track the open and click-through rates too!

Grassroots gamification.

Engage your supporters with gamification elements like a point system offered by Quorum.
Quorum is designed specifically for public affairs issues. Powerful reporting tools will help your organization track your impact.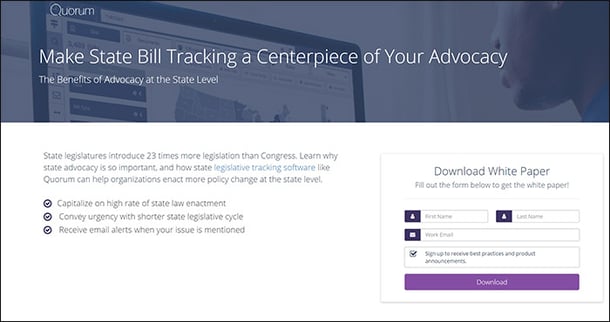 Why Quorum Made Our List
Alongside the outreach tools, Quorum also offers bill, regulation, and social media tracking. You'll never miss a mention of your cause in legislation or on social platforms when you set up alerts to your email.

Top Advocacy Software:
GetThru
Advocacy Software Overview
GetThru, previously Relay, was designed by veterans of the Bernie Sanders grassroots campaign of 2016. They offer two different services that help bring advocacy efforts to mobile devices:
ThruText -

This advocacy tool allows your organization to start conversations through a centralized texting system. To get started, you upload the contact information of your recipients, write a message, assign senders, and have conversations!

ThruTalk -

This tool is similar to ThruText, except with phone conversations. To get started, you upload your contacts and create a script. Then, callers call log in and get connected to others. Callers track the responses to surveys while on the phone.
Both of these solutions are perfect for political advocacy campaigns. It was shown to be effective in spreading the word in 2016, beginning a trend for future elections.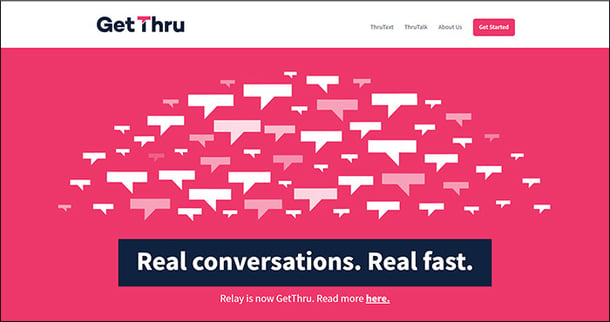 Why GetThru Made Our List
GetThru is a fast, flexible, and responsible way to get in touch with people. Plus, the technology is compliant with regulations from the Telephone Consumer Protection Act regulations.

Top Advocacy Software:
BallotReady
Advocacy Software Overview
BallotReady is a platform designed to help drive educated voting in the United States. You can simply type in your address and learn more about every candidate and referendum.
This software is a great resource for:
Political advocates encouraging people to go vote at the poles

Advocacy campaigns looking to inform people about their current supporters

Learning more about the connection to relevant issues by political representatives
When political candidates run on a platform related to your issue, be sure you know about it! Then, educate and encourage supporters to vote in the upcoming election.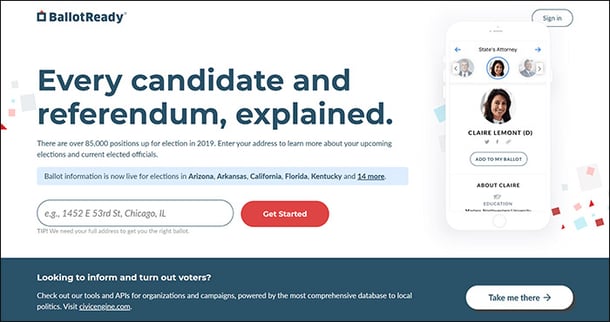 Why BallotReady Made Our List
BallotReady developed a tool called CivicEngine.This tool is used to mobilize voters and candidates for every election. Those looking to run in an election should consider mobilizing voters with CivicEngine.

Top Advocacy Software:
Cicero
Advocacy Software Overview
Cicero calls itself "Democracy's Database" because it stores information about over 25,000 elected officials. This is how you can find the contact data for the relevant supporter representatives. To leverage the data, your organization can use Cicero's tools like:
API.

Cicero's API allows developers to quickly integrate the database with any tools and applications.

DistrictMatch.

This solution allows you to upload your address file, then, Cicero will stamp it with relevant data.

Data Licensing.

Purchase data in shapefile or tabular format in bulk. You can purchase this as a one-time or subscription-based solution.
Cicero makes it easy to find the data you need in order to match your organization's supporters to their most relevant legislator.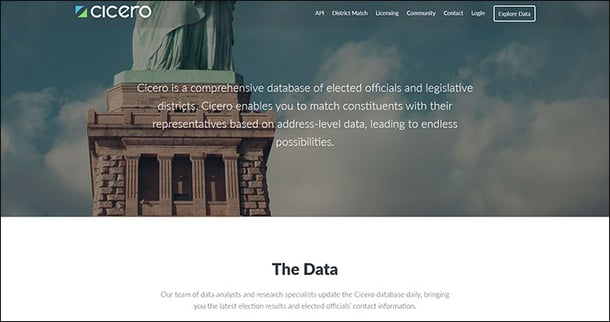 Why Cicero Made Our List
Matching constituents to their representatives using address-level data makes it that much easier for supporters to make contact with the right person. Informing supporters about who they should contact creates a more streamlined advocacy campaign.

Advocacy Software Overview
Design Action is a great service to help supplement your advocacy campaigns, especially when it comes to customizing your action pages or outreach communications.
This organization provides graphic design and visual communications for social change organizations. They'll help your organization when it comes to:
Website design

Identity design and branding

Print designs and marketing materials
If you're customizing various elements of your organization's advocacy campaign for effective visual appeal, consider having it professionally done by a provider like Design Action.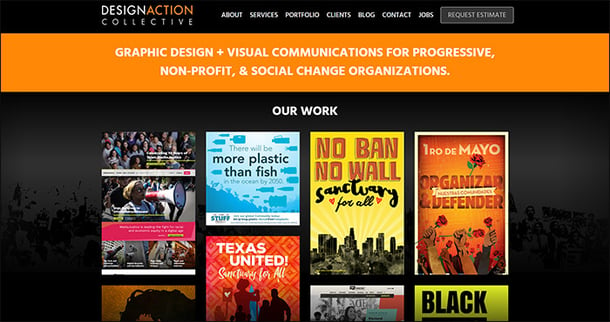 Why Design Action Made Our List
Design Action is specifically designed to help organizations who might have a tight budget. They understand that mission-minded organizations may have trouble paying the same prices that a for-profit would for professional designs.

Advocacy Software Overview
Civic Dinners is a platform that enables conversation about issues that matter. If your nonprofit is trying to get the word out about your cause, and how political issues impact that cause, getting together to discuss the issue at hand could prove very valuable.
Think about the different aspects of these conversations:
You may find that you

learn more

about various aspects of your mission by discussing the ins-and-outs with a diverse group of people.

You have a platform to

acquire new supporters

and stakeholders for your mission.

You have more people gathered together who are willing to

motivate others to contribute

to your cause, creating a bigger advocacy impact.
Gathering for a meal with others can help you further spread the word about your advocacy campaign and related legislation. With Civic Dinners, you can find or host discussions with other individuals interested in your cause.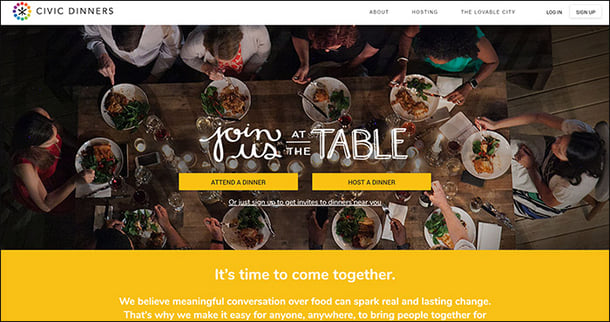 Why Civic Dinners Made Our List
Civic Dinners made our list because they have a very unique and effective outlook toward advocacy. They believe that awareness of the issues leads to understanding, which leads to commitment, and finally to action.
---
Advocacy software helps connect your mission to relevant decision-makers. It creates a unified voice of your organization and all of your supporters, strengthening the messages that you want to communicate to legislators. Plus, it provides a method of engagement that doesn't require supporters to give money!
Follow our steps to investing in advocacy software today to see what it can do for your organization.
Or, if you want to do more research first, here are some additional resources to help:
Topics:
Published on March 12, 2020