Food banks fill an essential role in communities worldwide. In these types of organizations, volunteers usually serve as the primary workforce, helping to keep operations running and ensure nobody goes hungry. There are a lot of moving parts in a food bank's operations, and it requires many different roles and responsibilities for volunteers to fulfill.
As demands for these services increase and budgets grow tight, successful volunteer management becomes even more pertinent. Here at InitLive, we work directly with food banks and other nonprofits to help streamline their volunteer program management. We've seen which implementation strategies tend to work and which fall short of expectations.
Using this firsthand experience, we've put together this guide that provides five volunteer management best practices for food banks. Here is what we'll cover in this article:
Focus on your volunteer recruitment process.

Spend time marketing volunteer opportunities.

Locate volunteer funding to maximize impact.

Let software do the heavy lifting.

Follow up with volunteers afterward.
Ready to refine your food bank's volunteer management approach and provide a more enriching experience? Let's dive in.
Focus on your volunteer recruitment process.
Before you can begin asking community members to sign up to volunteer, you need a plan on how you are going to recruit valuable, qualified volunteers. Consider what process makes the most sense for your food bank.
For many community food banks, a simple contact form on a website is used to capture new volunteers. However, those forms often don't capture the right information upfront, which can be an administrative headache down the road. Consider looking into a volunteer management solution with a customizable online recruitment form and workflow. This makes creating and personalizing your signup form easy, and it will store and manage the volunteer data collected for scheduling and communications later in the management process.


Here are some important data points to collect during the recruitment process:
Volunteer contact and demographic information

Volunteer interests (what kind of work they'd want to do)

Relevant skills and qualifications they have

Certifications and licenses

Availability
By building a recruitment process that collects all the information you need to match the right volunteers to the right roles, you will save time and provide your volunteers with a great experience.
Some food banks create shifts through their volunteer scheduling tool and post them directly on their website. This allows volunteers to quickly sign up for whichever shift works best for them. This method reduces even more administrative time and allows food banks to recruit volunteers more quickly by promoting the shifts through social media and other channels as well.
Spend time marketing volunteer opportunities.
Now that you have a functional and streamlined recruitment process ready to go, it's time to spread the word in your community. Marketing food bank volunteer opportunities doesn't need to be complicated. Here are three simple steps to spread the word and recruit volunteers to serve your cause:
Create a clear recruitment message to act as the pillar of your volunteer recruitment marketing campaign. A recruitment message should answer the question of why someone should volunteer at your organization. Use data to help explain why food banks matter and how volunteers are a large part of your food bank's operations. Remember, the ultimate goal is to inspire community members to take action.



Once you have that message nailed down, you need to be able to speak to the volunteer roles you need to fill. Build out well-written role descriptions that say exactly what responsibilities the position entails. For example, explain you are seeking volunteers to build and deliver food hampers to community members.





Create marketing collateral with direct links to sign up using your recruitment process. Then, distribute it through multiple media channels. Send your marketing collateral out to all local media outlets, share on social media channels,

share with your donors

, and ask existing volunteers to spread the word to their networks.
By taking the time to promote your volunteer opportunities, you'll be able to connect with more volunteers and build a strong team to support your food bank's efforts. Otherwise, you may be left shorthanded, making it difficult to serve your community in the ways you'd like.
Locate volunteer funding to maximize impact.
Food banks offer a social safety net for all community members, ensuring that nobody is left hungry when hard times hit. This means that there are often government grants available to food banks to help with everything from operational costs to technology and everything in between. Many grants require quantitative evidence of the work a food bank does in order to secure funding. This data can come from your CRM, donor, and inventory management solution.
However, some grants pop up that are specifically for volunteer programs within nonprofits. These grants can fund a new volunteer management solution, volunteer marketing activities, or even new program funding. To apply for these grants, you need to share important volunteer data like total hours worked per program and the number of volunteers.
There is another way to gain financial support, and that's through corporate fundraising and sponsorships. This is where a lot of funding comes from for many food banks. From grocery store donation drives to corporate volunteerism activities, there are so many opportunities to gain additional support for your organization.
No matter how your organization brings in necessary fundraising dollars, what's important is maximizing that financial support to have the most significant impact on the community. Leveraging your volunteers most effectively will ensure that is possible.
Let the software do the heavy lifting.
There is a lot of work to be done in a food bank and not a lot of time to do it. This year, food banks have experienced a large increase in community demand with pandemic and unemployment effects. Feeding America has projected that 1 in every 6 people (50.2 million total) in the U.S. could be food insecure in 2020 in the wake of the pandemic. This is up from 1 in every 9 people (35 million total) in 2019.
This has made operational efficiency absolutely necessary to serve more residents with fewer resources. To do this, food banks need to retire old management methods like spreadsheets and look to CRMs and volunteer management software to do the heavy lifting to save time.
Shift Scheduling
Before you begin creating your volunteer shift schedule, it is essential to first take a look at upcoming client needs in your CRM. This will ensure that you develop shifts and have enough staff on hand to fulfill the impending needs of your clients. For example, if you received 50 more clients last week, you may need to schedule a couple more volunteers to meet those new needs.
Once you have a clear understanding of your client's operational needs, it is time to build shifts using your volunteer management software. When creating your shifts, make sure to include detailed volunteer roles to help with shift assignments. Once the change is created, start matching the right volunteer to the right roles.
Communications
Communicating with your volunteers and clients is essential to ensuring everyone is where and when they need to be at any given time. Miscommunications not only waste time but can really affect your food bank's operations. For example, a client needs to be informed when their food hamper will be ready to either come into the food bank to pick it up or be ready for their delivery.
Volunteers need to receive real-time notifications when their shift information changes and should be able to communicate directly with the volunteer coordinator. Look for a solution that offers a volunteer app with two-way communication, so your volunteer is empowered to chat instantly with a supervisor from anywhere.
Follow up with volunteers afterward.
You work so hard to recruit new volunteers, so it is essential to retain them for the long term. The more heard and connected your volunteers feel, the more likely they are to continue to donate their time for your cause.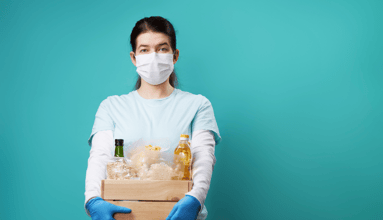 Here are a few easy volunteer retention tips:
Send a thank you message after each shift.

Gratitude and appreciation go a long way, and doing this costs next to nothing. A simple thank you and great job message or email after every shift will make your volunteers feel appreciated and engaged. Check out

InitLive's complete volunteer appreciation guide

for more ideas.

Send a monthly impact newsletter.

Send all your volunteers a monthly newsletter that communicates all the good your food bank has done in the community. You should always convey the impact and importance of the volunteers when you can.

Hold volunteer social gatherings. Whether it's with a coffee hour or a virtual game night, bringing your volunteers together for a social event strengthens them as a team and further connects them to your organization.
These are just a few ideas to get started. By going the extra mile in your follow-up communications, you can effectively encourage volunteers to stay in touch. This may persuade them to sign up for future volunteer opportunities at your food bank and stick around for the long haul.
A lot goes into running a successful food bank, and harnessing your volunteers' power can allow you to accomplish more with fewer resources. Volunteer management doesn't need to be a difficult and time-consuming process. Investing in the right tools and spending time learning about food bank volunteer management best practices will ensure that your organization and volunteers work together to support the needs of your community.
Ready to Test Drive CharityEngine Software? Click here to Start your 10 Day Free Trial today!
Topics:
Published on April 22, 2021