The development of a comprehensive and effective fundraising strategy is important in the best of times. It becomes crucial when the world of fundraising becomes more turbulent.
A comprehensive fundraising strategy will take into account the importance of tracking each donor's journey in your nonprofit CRM, personalizing content, and connecting engagement opportunities with the impact on the cause.
However, you need to first make sure you have the capacity to get your fundraising content in front of supporters. This is where multi-channel fundraising comes into play.

What is multi-channel fundraising?


Multi-channel fundraising is a strategy for nonprofits to spread the word about their fundraising campaign to a vast variety of people through the use of multiple communication and fundraising channels. This strategy's objective is to reach various donor segments, ideally, at multiple touchpoints.

Why Multi-Channel Fundraising is Important
Multi-channel fundraising is important because it helps your organization reach a larger audience.
For one thing, a lot of the content that your organization puts out there is never seen by your supporters.
Email tends to be one of the most widely used communication platforms for nonprofits. However, according to this article, 14% of nonprofit emails are sent to supporters' spam folders. On top of that, the email open rate for nonprofit emails is 25.96%. That means you're missing out on 14% of your supporters simply because they don't see your emails and three-quarters of your donors just aren't opening them for one reason or another.
Let's review another platform, social media. 69% of North American nonprofits believe social media is an effective platform to raise money on. However, each Facebook post by nonprofits only effectively reaches 4% of their supporters.
These statistics show that a fundraising campaign which only uses a single platform misses a large portion of their supporting audience. That means nonprofits are also missing out on donation dollars when they don't use multiple channels. And adding multi-channel fundraising to a year-end campaign is guaranteed to help you hit the numbers you want!
When you use multiple platforms to communicate a message, you increase the likelihood that supporters will see that message, providing more opportunities for individuals to give to the campaign.

How to Launch a Multi-Channel Fundraising Campaign
Launching a multi-channel fundraising campaign takes a series of steps that are organization-specific. Before you jump into creating content for your supporters, be sure to think through the following:
Before you get started, you need to have a goal in mind that your organization is reaching for. This goal should be SMART (specific, measurable, attainable, relevant, and time-based).




This means you should know how much you want to raise and what you're fundraising for. The goal should be possible given your fundraising capacity and you need to have an end-date for the campaign set in stone. An example of an effective fundraising goal may be:
Raise $7,000 in the next 6 months to purchase supplies to support 25 additional dogs at the shelter for a year.
How do you want supporters to give?
Generally, multi-channel fundraising campaigns encourage multiple methods of giving for a single cause. For instance, you may host a peer-to-peer fundraising campaign to capture the attention of your supporters on social media and link to your online fundraising page from your emails to supporters. Some other options for giving platforms may include text-to-give, merchandise sales, and event registrations.
No matter the platform you choose, be sure it's optimized for mobile, branded to your nonprofit, and uses a healthy balance of imagery to white space. Then, choose the appropriate marketing channel to promote such opportunities.
What marketing platforms do your supporters respond well to?
Take a look at the data in your nonprofit's CRM to see what types of fundraising campaigns you've held in the past and how well supporters have responded to different giving and marketing platforms. This will inform the decisions you make around how to conduct the campaign and which tools to use.
For example, if the majority of your supporters prefer giving via your online donation page, you should use that as your primary giving platform. And, if you have higher-than-average open and click-through rates in your email, as well as a strong Instagram presence, you may use those as your two main marketing platforms.
Defining these elements of your campaign first will help you more effectively plan the remainder of your multi-channel fundraising blueprint.
The best way to connect the points within this plan is to make sure your software is well-equipped to handle each aspect of the blueprint. Do you have access to CRM software? A fundraising platform? Marketing channels? Effective reporting for determining metrics? Make sure you have all of the tools you need in your software ecosystem before diving in.

Important Channels to Consider for Multi-Channel Fundraising
Although your email open rate may indicate that you don't reach every supporter through that platform, you can reach a larger audience when you incorporate multiple outreach channels.
For example, if your email is sent to the spam folder for one supporter, they have another opportunity to view your campaign content if you've also posted about it on Facebook.
However, to reach the most people, you need to choose the platforms with the most potential for viewership.
Some of the platforms you may consider for your multi-channel fundraising campaign include email, social media, your website, advertisements, direct mail, and call/text.
Because there are so many channels contributing to a single campaign, one of the best options for your organization is to invest in an all-in-one nonprofit software solution. When all of your outreach is integrated and working together, you'll see better campaign results.
Email
Email is one of the most popular platforms to reach out to your supporters. It's useful to communicate the newest opportunities for engagement with your supporters and keep them up-to-date with the latest news at the organization.
Make sure your emails in your multi-channel fundraising campaign are as impactful as possible in order to increase your open and click-through rates. Some strategies to draft more impactful emails include: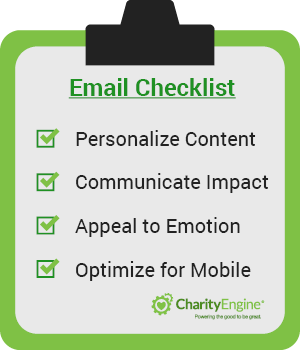 Personalize outreach.

Use the information in your nonprofit CRM to create the most personal experience possible for your supporters. For example, in the introduction of your email, use your supporter's specific name rather than a generic, "Dear valued supporter" or similar generic introduction.


Communicate impact.

Supporters respond positively when they know what impact their contribution will have for your organization. Be sure to be as specific as possible in your email when you ask for a donation. For instance, if you ask for $50 to help expand an animal shelter, talk about how that money will feed a hungry dog for 6 months.

Appeal to emotion.

Communicating impact appeals to the rational side of supporters' minds. You should be sure to also appeal to their emotions. Discuss why your campaign is important and why they should care about it. Be sure to also use imagery that will evoke emotion. For example, include an image of a dog who would benefit from the animal shelter's expansion.


Optimize for mobile.

Make sure your emails are formatted to be read on both desktop and on email.

This guide

explains that over 50% of emails are opened on mobile nowadays. It also states that when people receive an email that's not formatted for mobile, over 70% of those who open that email will delete it in under 3 seconds. Therefore, make sure the images and text of your email will resize for the proper screen size.
An effective email strategy will lead to more supporters finding and contributing to your organization's fundraising opportunities.
In your email, include a call-to-action that immediately directs supporters to the right donation page.
Social Media
Social media is now an established part of nonprofit outreach. However, one common mistake made by organizations is assuming the same content can be copied and pasted across all social media platforms.
Each platform requires a slightly different communication strategy in order to reach your audience effectively. For example, consider the following platforms:


Facebook.

Facebook lends itself well to long-form content in standard posts. While you should use less text than that in emails, Facebook allows for more text than other social platforms. Facebook stories are better suited to focus on images and short-form updates.


Instagram.

Instagram is designed for images and videos. Focus imagery on the constituents who will benefit from your campaign, on your supporters who make the campaign possible, or on the project you'll fund with the campaign. Use the caption on the platform to support the image rather than using the image to support the text.


Twitter.

Twitter is typically used by users to keep up with news and updates from organizations they care about. Frequently update your nonprofit's Twitter account with shoutouts to donors, campaign progress, quotations from leaders, and short appeals. Always direct readers to your fundraising campaign page.
It's better to use fewer social media accounts effectively than it is to use more, less effective platforms. Be sure that you only use as many social media platforms in your multi-channel fundraising campaign as your organization can effectively support.
To increase revenue, encourage your followers to promote a peer-to-peer fundraising campaign on their social media platforms.
Peer-to-peer fundraising is designed for platforms like social media. It draws on the element of social proof to encourage new supporters to give. If a potential supporter sees that their friend is promoting your cause online, they'll feel more compelled to give in support of that friend.
Website
One of the most important channels for your organization to update with multi-channel fundraising campaign information is your website. Your website is the first place potential and existing supporters will look in order to learn more campaign information.

There are many factors that go into creating an effective website that communicates your mission clearly. An easily digestible design that features high-quality images, concise text, and offers clear calls-to-action always perform well for nonprofits.

In order to best appeal to your website audience, your organization needs to ensure:
Relevancy.

Create a page dedicated to your multi-channel fundraising campaign on your website. This page will provide information about the project being supported by the campaign and how it relates back to your mission. Finally, it provides a specific call-to-action about how your supporters can get involved and help show support.


Navigability.

Make sure your supporters are able to navigate to your explanatory campaign page from any platform. From the homepage of the site itself, you should include a button that leads supporters to this page to learn more. From other platforms, such as email and social media, be sure to link directly to the campaign page for supporters to learn more.


Accessibility.

Similar to email, you should make sure your website is accessible on any screen size. Supporters shouldn't miss out on any information simply because they're reading on a mobile screen. Make sure it's easy for them to use and to find the information they need on any screen. Also, be sure to research and adhere to

web compliance and accessibility guidelines

regarding the visual and readability of your site.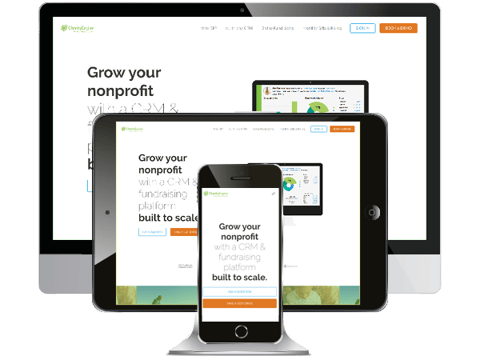 Your website is the heart of your organization's multi-channel fundraising campaign. Be sure you use it to its maximum potential and provide all of the information your supporters should pay attention to.
Advertisements
Advertisements can be used on multiple platforms in order to support your multi-channel fundraising efforts. These advertisements tend to be monetary investments your organization can make in order to get your campaign information in front of a larger audience.
Two of the common opportunities for advertisements to support multi-channel fundraising are on Google and social media. Consider each opportunity:
Google ads.

Google ads are used to gain more traction to your organization's website through search engine rankings for relevant keywords. Plus, nonprofits are eligible for

google ad grants

. These grants provide $10,000 of free advertising every month for organizations to rank at the top of Google for campaign-specific keywords.


Social media ads.

On social media, you can target a specific audience based on specific, defined parameters. For instance, you may want your social media advertisement to be seen by millennials who have expressed an interest in animals.

Ads are a great opportunity for your organization to expand the campaign audience. It should be used to support your other multi-channel fundraising efforts.
This means you may choose to promote any of your methods of giving. For instance, you may fundraise directly on social media and boost the post with your ad. Meanwhile, you may use a Google Ad Grant to drive more people to the fundraising page on your website.
Direct Mail
Direct mail isn't dead! Many audiences still respond positively to direct mail messaging about upcoming campaigns. For one thing, reading direct mail requires 21% less cognitive strain than reading an email. Plus, that mail tends to be kept in the house for an average of 17 days, providing plenty of time for supporters to take action on that mail.
When you send direct mail, consider the following strategies:
First, survey supporters

to see who

wants

direct mail. Sending out direct mail isn't free. Make sure you send to the segment of your audience most likely to respond positively to such mail in order to increase response rate and save money.


Eliminate the envelope.

If your organization is primarily collecting online donations, eliminate the need for supporters to open an envelope to read your campaign information. Self-mailers and postcards should provide a skimmable source of information with a link to learn more online.


Provide return mail materials

for supporters to use. If you want supporters to send donations by mail back to your organization, provide them a pre-stamped and pre-addressed envelope for them to send back with their donation inside.


Work with a direct mail platform. Direct mail campaign is one of the more hands-on fundraising channels you can use, but the resulting ROI is certainly worth it. And when you work with a nonprofit-specific direct mail fundraising platform (like GivingMail), you can save time and money that can be reallocated into your mission.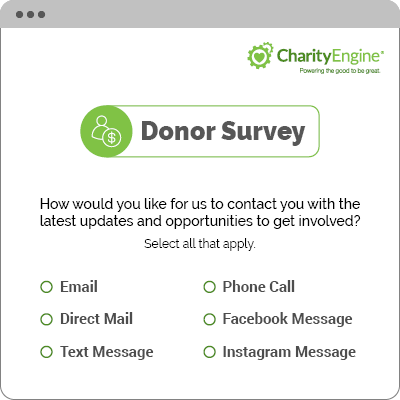 Many people of all ages get excited when something comes in the mail for them. With a smart strategy, direct mail can become an affordable and worthy investment for your multi-channel fundraising efforts.
Call and Text
Take a second to think about where your cell phone is right now. Is it in your pocket? On the table beside you? Are you reading on it right now? Chances are, it's probably within reach. You're not alone! People carry their phones with them everywhere they go.
This makes reaching out to cell phones to be a very productive marketing technique. Here are some strategies you might consider:
Use phone calls for pledge fundraising.

While many people may be hesitant to provide payment information directly over the phone, they may want to pledge a gift to your campaign. Make sure to provide that option and inform them of the next steps to fulfill that pledge.


Incorporate text-to-give fundraising.

Text-to-give providers allow supporters to give to your organization directly from their smartphones via SMS message. Generally, this process works by sending a text to the supporter with a link to your online fundraising page for them to fill out on mobile.


Provide campaign updates.

Allow supporters to sign up for text message updates about your campaign. Send occasional messages updating them on the latest activity and your progress towards your goal.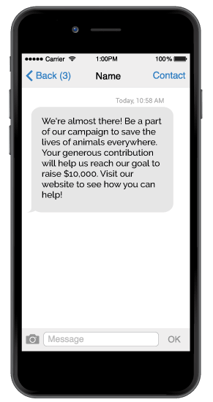 Calling and texting your supporters is a great way to directly contact them to give to your campaign. Calling donors provides personal contact with a team member so that your donors can discuss the cause with your organization. Plus, text messages have an open rate of 98% so you ensure supporters see your message when you communicate using this platform.


An Example of Multi-Channel Fundraising
All of these ideas are great in concept, but you're probably wondering what it actually looks like to host a multi-channel fundraising campaign. In this section, we'll walk through an example campaign with you. The fictional organization we're going to examine is The Puppy Advantage Foundation.
The mission of The Puppy Advantage Foundation is to rescue dogs in need and put them up for adoption and find them loving homes. However, they're finding that there are more dogs than they have supplies for at the shelter. Therefore, they're going to raise money from their supporters to fund additional supplies for their growing population of animals in need.
The first thing The Puppy Advantage Foundation needs to do is define their needs.
The organization wants to obtain supplies for 25 additional dogs. Therefore, they need to consider how much money they need to raise in order to purchase the supplies they need. These numbers may look something like this:
25 dog crates and beds = $2,000

75 additional bags of dog food (to feed dogs for a year) =$2,500

25 medical examinations (plus shots) = $2,500
Altogether, the nonprofit needs to raise $7,000 to purchase supplies to support these 25 additional dogs in the shelter.
Next, The Puppy Advantage Foundation should define its SMART goal for the fundraising campaign.
Goal: Raise $7,000 to purchase supplies to support 25 additional dogs at the shelter for a year within the next 6 months.
The next step to establishing this multi-channel fundraising campaign is discerning the giving channels.
The Puppy Advantage Foundation has found in the past that many of their supporters give to their online fundraising page, peer-to-peer fundraising campaigns, and direct mail. They've also had good luck with pledge fundraising, so they decide to include that as a channel of giving as well.
The Puppy Advantage Foundation has CharityEngine, so they already have all of the software on hand that they need to support this multi-channel fundraising campaign. It was easy for them to analyze past fundraising efforts and giving reports to decide which tools will be most effective for this particular campaign.
It's time for them to design each of these giving platforms for the campaign. Check out these examples:
Online Donation Page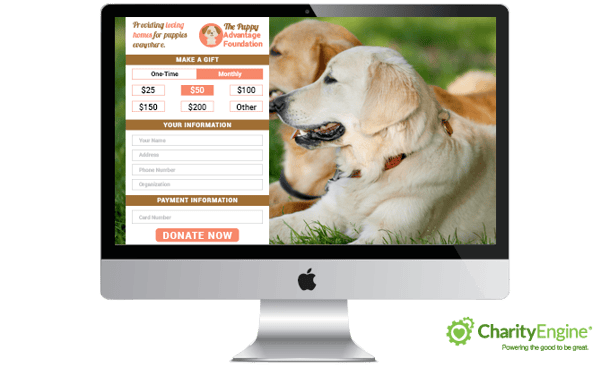 In this online donation page, The Puppy Advantage Foundation made sure to keep the text short and sweet, used a single compelling image, limited the giving form to a single page, and included a prominent "Donate Now" button as a final call-to-action.
These are all great strategies to ensure your donation form is well-designed, compelling, and will reduce donation abandonment as much as possible.
Peer-to-Peer Fundraising Campaign Page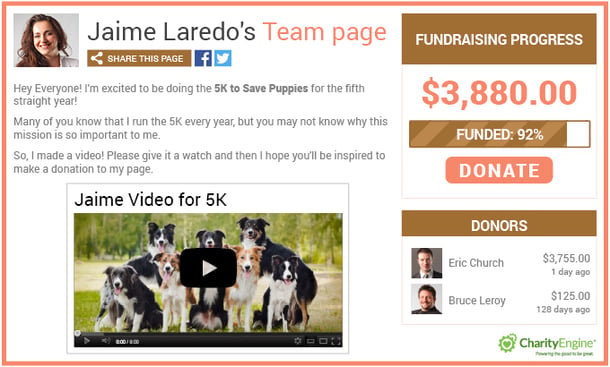 Peer-to-peer fundraising starts with your organization's campaign page. Then, you encourage supporters to create their own fundraising pages to share with family and friends.
The above image shows Jasmine Smith's campaign page. She updated it with her connection to the mission and a picture of her own dog, Fido, who she adopted from the shelter.
Direct Mail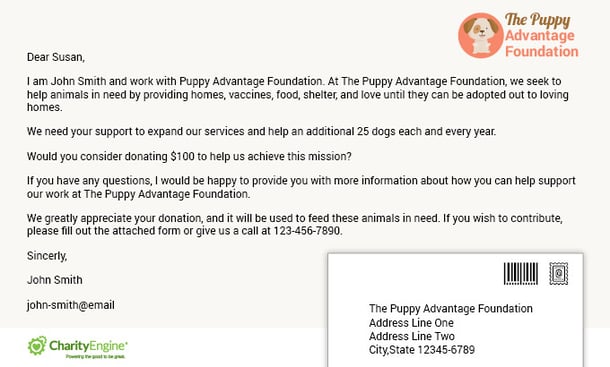 A large support audience for The Puppy Advantage Foundation includes an elderly audience who lives at a particular nursing home. Sometimes the foundation brings their specially trained dogs to the home to socialize with the residents.
This particular audience tends to prefer to give via direct mail. Therefore, the above letter comes with a pre-addressed and pre-stamped envelope for these residents to send their donations to the organization.
Pledge Fundraising


The above image is a call script that The Puppy Advantage Foundation will use to collect pledges for the campaign.
Now, The Puppy Advantage Foundation can market these opportunities using more communication channels.
Multi-channel fundraising requires your organization to consider the different fundraising platforms that will be most effective. However, it usually requires multi-channel marketing for nonprofits as well.
This organization decides to market their campaign using the following channels:
Email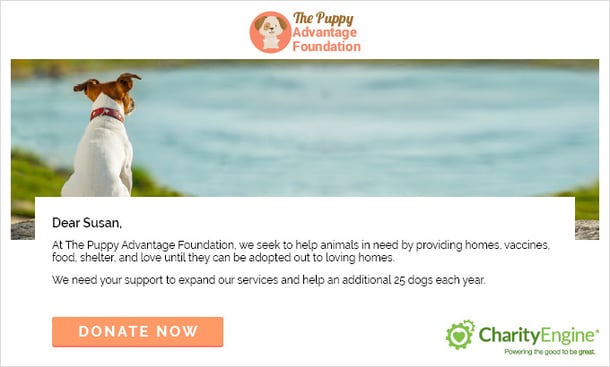 They decide to send an email as the first part of their multi-channel marketing initiative in order to promote their online giving form. This email personally addresses their donor, asks for a specific contribution amount, and provides a statement of impact to appeal to the supporter.
Facebook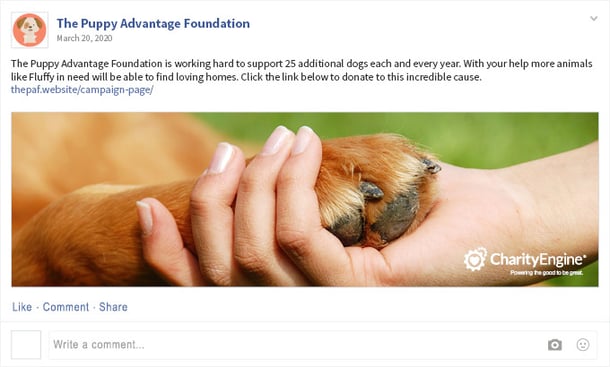 The Puppy Advantage Foundation posts to Facebook to support their fundraising page. This post simply shows a compelling image and links to the campaign page for the foundation. The imagery captures the eye while the text compels the reader to support the cause.
Instagram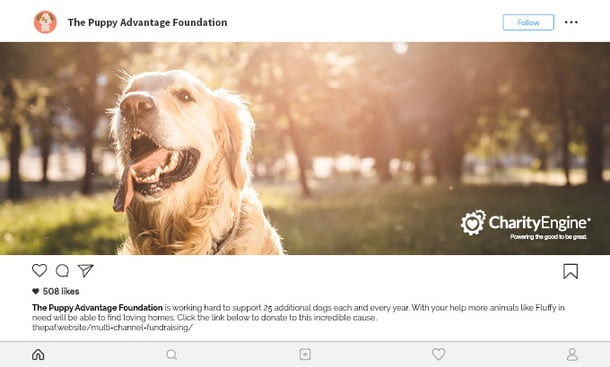 The Puppy Advantage Foundation posted to Instagram to connect supporters to their online donation page. Their image is of a dog they're committed to helping at the shelter and the associated caption pulls at the supporter's heartstrings.
Google Adwords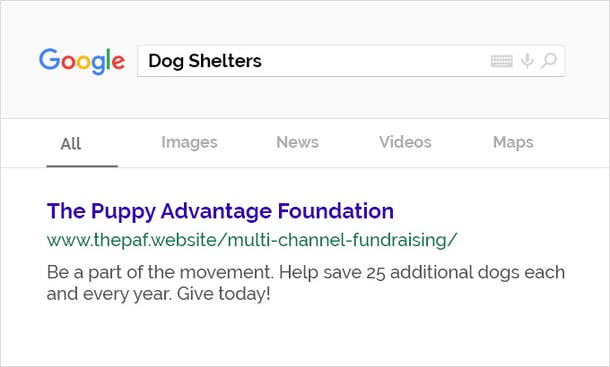 Finally, The Puppy Advantage Foundation took advantage of the Google Ad Grants for nonprofits to target the keywords associated best with their campaign topic. This allowed them to get their website in front of new, interested audiences.
The Puppy Advantage Foundation's multi-channel fundraising campaign was a success!
Now, they thank their donors for all of their hard work. The contributions of these supporters made it possible to save and find loving homes for 25 additional dogs this year at the shelter.

Starting your multi-channel fundraising campaign
To get started with your multi-channel fundraising campaign, you need to make sure you have access to the software solutions necessary for multiple channels of outreach. The best solution? All-in-one software for nonprofits.
Investing in multiple disconnected solutions is not only more expensive, but it also creates a less cohesive experience and additional work. Think about it, if the Puppy Advantage Foundation was using separate software, they'd need to manually input direct mail donations and download data from their fundraising platform, peer-to-peer platform, and pledge records, then upload it all to a single system just to measure their progress.

Instead, an all-in-one solution saves time doing all that work! You can easily pull records from a single synced software system.
Be sure your all-in-one solution covers the basis of your software ecosystem with:
Donor management software

A customizable fundraising platform

Peer-to-peer fundraising

Direct mail

Email Marketing

Event Registration

Workflow management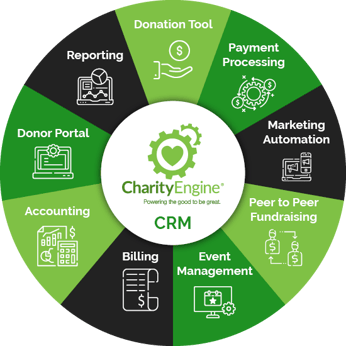 The software that does it all? CharityEngine! CharityEngine is the ultimate all-in-one solution for nonprofits. It provides everything you need for an effective multi-channel fundraising campaign and more.
Take your campaign a step further by providing recurring gift options and donor acknowledgments. Plus, with their comprehensive CRM, you can track the donor journey of each person involved with your campaign in order to reach them in the future with more engagement opportunities.

Topics:
Published on April 2, 2020